Powerful digital marketing infographics publishers must see
6 powerful infographics for publishers on storytelling through content, video and advertising.
We crawled the web in pursuit of the most informative and inspiring infographics for publishers. Here are some of the most helpful, interesting and constructive infographics created recently, in no particular order.
How to Engage and Persuade People through Storytelling (by Quicksprout)
Storytelling is a powerful human experience that started 40,000 years ago. You can use the art of storytelling to engage and persuade your website visitors. Here are some great points that break down what makes storytelling effective:
Personal stories and gossip make up 65% of our daily conversations.
Storytelling is most effective for engaging people and influencing their decisions. Detailed stories activate the parts of the brain that respond to emotion and sensory perception.
Vivid metaphors included through storytelling build greater engagement, even generating physical reactions.
See the full infographic: http://www.quicksprout.com/2015/04/03/how-to-engage-and-persuade-people-through-storytelling/
Content Revelations (by the Interactive Advertising Bureau)
Digital video is currently seen as one of the best storytelling mediums by marketers and is garnering larger, dedicated budgets accordingly, according to the recent IAB and DigitasLBi research.
Marketers and agencies have higher optimism for original digital video compared to any other video or TV media type, and respective budgets are growing steadily.
Two thirds of advertisers agree that original digital video programming will become as important as TV within 5 years.
64% of marketers anticipate increasing their digital video ad spending in the next 12 months.
See the full infographic: http://www.iab.net/contentrevelations
The Science of Storytelling (by OneSpot)
Most brands are moving towards content marketing for a lot of good reasons. Cutting through the noise is more vital than ever before and compelling stories connect to our brains directly.
When processing written facts, at least two separate areas of the brain are stimulated and engaged.
A good story that includes clear short headlines, narrative content, and relevant images can activate additional areas of the brain and helps readers remember content for longer periods of time.
Content marketing generates 3 times as many leads for less than the cost of traditional display advertising.
See the full infographic: https://www.onespot.com/blog/infographic-the-science-of-storytelling/
Online Video Advertising Insights (by MediaRadar)
The market for online video advertising is already sizeable and it's growing quickly and steadily. However, there are still many challenges and concerns about how to best capitalize on online video advertising.
Online video ad spending is expected to grow from $4.1 billion in 2013 to $9.1 billion in 2017.
The ideal ad duration is 15 seconds. 30-second ads are more likely to have skip options, and they rarely inspire a better response.
It's difficult to measure viewer engagement with auto-play videos. Consider rich media ads beside your online video ads.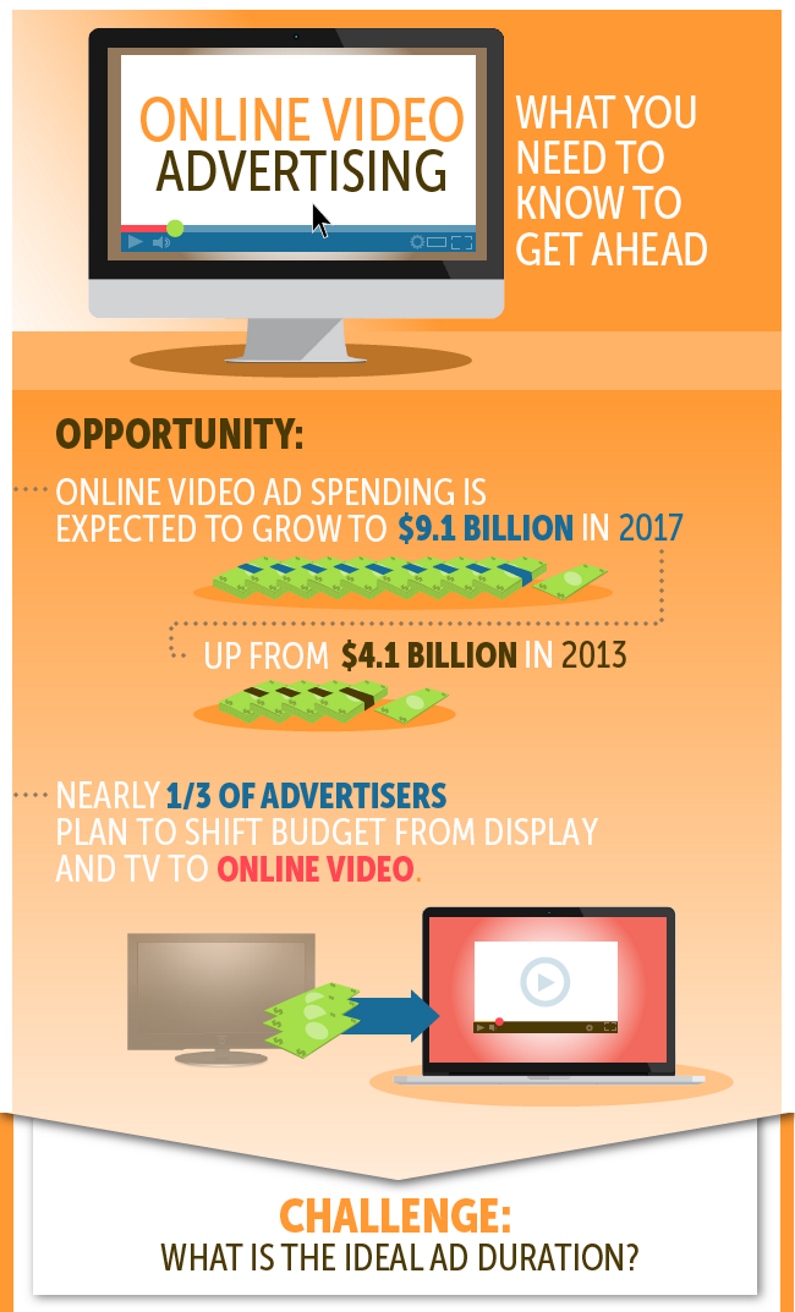 See the full infographic: http://mediaradar.com/online-video-advertising/
The Science behind Native Advertising (by Sharethorugh)
Native ads are the most effective way to advertise in the feed, regardless of platform. They match the surrounding design and therefore receive dedicated focus, capturing more attention than banners.
Visual focus is concentrated on the text of native ads, similar to editorial content.
Native ads receive about two times more visual focus than banners.
Longer, more descriptive headlines increase engagement and can improve brand perception.
See the full infographic: http://www.sharethrough.com/neuroscience/#infographic
5 Factors of Viewability (by Google)
Many factors go into determining which ads are seen on Google's display advertising platforms, from page position to ad dimensions and more:
56.1% of impressions are not seen, but the average publisher viewability is 50.2%.
The most viewable ad sizes are vertical units because of their screen persistence as a viewer scrolls around (120×240, 240×400, 160×600 and 120×600).
Ads above the fold are surprisingly not always viewable while they often are below the fold.
The Media Rating Council defines a display ad as viewable when a minimum of 50% of the ad's pixels can be seen for at least one second.
See the full infographic: https://think.storage.googleapis.com/docs/5-factors-of-viewability_infographics.pdf
Over to you
Have you seen any infographics recently that you thought were particularly good? Let us know through the comments below!