The art and science of killer abandoned cart emails
Learn how to recover lost sales through abandoned cart emails — with Pro Tips from Levi's, Under Armour, Ray-Ban, and other eCommerce leaders.
Let's assume your online retail business is booming. You've implemented product recommendations, you're continuously optimizing your funnel with a/b testing, your messages are personalized and convincing, your traffic is growing month after month.
Would it surprise you to learn that you are most likely not closing over 2/3 of your sales?
The fact that almost 75% of online shoppers leave items in their carts without completing checkout causes retailers to lose $18 Billion in annual sales revenue. It may be inevitable, but retailers can minimize shopping cart abandonment rates.
In an earlier post, we covered the main causes for shopping cart abandonment and the tactics retailers must leverage to reduce it.
The aim of today's post is to zero-in on one of those tactics, which is perhaps the most useful yet underused tactic to recover lost sales from abandoned carts: abandoned cart emails.
What is an abandoned cart email?
Abandoned cart emails are emails that are sent to re-engage shoppers who left items in their carts without completing checkout. According to research on 500 leading global brands, 44.1% of abandoned cart emails are opened almost a third of clicks on abandoned cart emails (29.9%) lead to a recovered sale.
Time is of the essence: in our experience, cart abandonment emails sent within the first hour of abandonment perform best. We recommend setting up a campaign trigger to send an email instantly after the cart is abandoned. Regardless of the reasons that shoppers abandon their shopping carts, you have a very limited window to win them back.
Abandoned cart email examples and best practices
There's no single right way to craft a killer abandoned cart email, but there are essentials and best practices you need to consider. Let's jump right into some of the best abandoned cart email examples.
1. Get the Subject Line Down
Tactic #1: Be catchy
The subject line is perhaps the most critical component of any email campaign (after all, what is your email worth if it's not opened) and abandoned cart emails are no exception.
Here's a beautiful subject line example from Chubbies Shorts, originally mentioned by Dan Wang: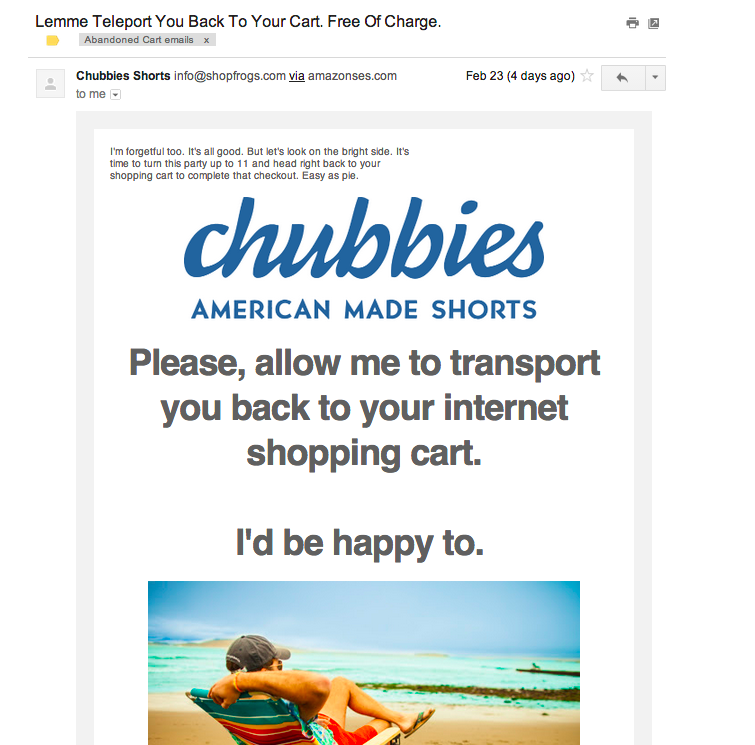 "Lemme magically transport you back to your cart. Free of charge." Look at the language: it's catchy, it makes me consider that I may not have completed my order, and it hints that there's something in it for me if I do—all without saying so explicitly.
Tactic #2: Get personal
Another useful tactic you may consider is offering a personalized email. You can do this by tailoring the subject line, asking a question, or doing both. Here are two useful examples to base your thinking off:
Personalized: Hey Sam, you forgot how much you wanted to buy this!
Personalized + Question: Jessica, aren't you missing something?
Keep in mind that personalization here is not limited to the shopper's name but can also include the particular item abandoned in the cart. A message such as, "Can you really zoom without your FlyKnits?" makes a three-way association between the end-goal, the exact product, and the notion that a shopper's life would be better off with that product in it.
Try our shopping cart abandonment tool
and discover use cases to reduce cart abandonments, maximize conversions and drive sales.
Tactic #3: Tell it like it is
Not every shopper needs a clever subject line to be convinced: the mere notion that the shopper neglected or forgot about an item can be enough of an incentive to open the email. A message as simple as, "Complete your purchase," "You still have items in your cart," or "We're still holding your order," can get the job done.
Pro Tip: Gut feelings and intuition will not help you determine if a clever or straightforward subject line works best. Continuously A/B testing your subject lines will help you get a better sense of what's working and what isn't.
2. Crush the Copy
Stellar copy is the bread and butter of any remarketing email. While it can be tempting to get carried away in the process of creating a clever message, you must clearly address the following points in your copy:
The shopper has left an item in their cart
The shopper was interested enough in the item to add it to their cart
The shopper needs to complete their order now
Here's a particularly stellar example from Ray-Ban: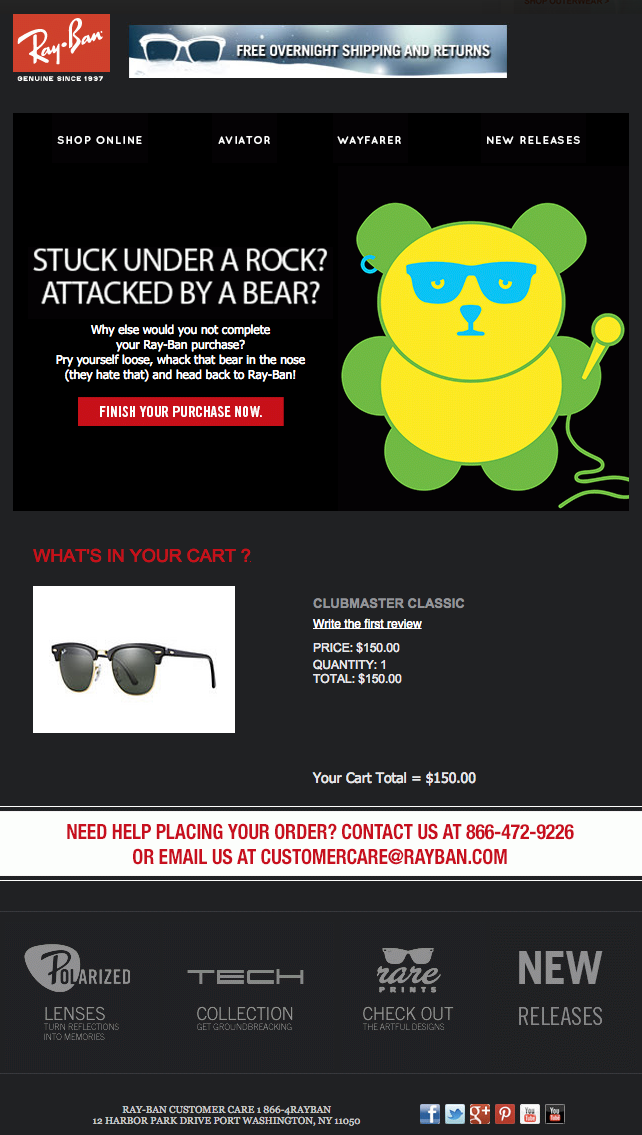 There's a trifecta of excellence here: The copy is so unexpected that you can't help but get hooked. The language is action-oriented, encouraging, and urgent, but not overly pushy. The call to action is clear as day.
Also, if an earring-clad, sunglasses-on, yellow-green bear with a microphone doesn't grab your attention, I don't know what will.
Pro Tip: Being unconventional can separate your email from the dozens of promotional emails bombarding shoppers on a daily basis. Including an image of the actual product that was abandoned in the cart is a good idea too.
3. Make it Clean, Keep it Pretty
If you know a bit of HTML and CSS then it may be well-worth your time to create an email with a clean layout and beautiful visuals. If you're a regular receiver of ASOS emails like I am, then you're already aware of how good they are at this. Here's one that stands out:
This email is not only striking in its simplicity but in the way it makes the abandoned item the sole focus of your attention. It contrasts the product's vibrant colors against a black-and-white template to draw your eye. It needs only one line of tight body copy to worry you that your desired item is in scarce supply and may sell out. It's elegant, it's visually appealing, and, most importantly, it includes active links in the header that will take you back to different areas of the store—just in case you no longer want the item.
Pro Tip: Shoppers tend to place a higher value on items that are in short supply. Pairing the scarcity principle with a sense of urgency can drastically improve your chances of recovering the sale.
4. Cross-Sell and Upsell
It very well may be that the shopper has already bought the abandoned item elsewhere. However, this presents retailers a tremendous opportunity to upsell and cross-sell. Retailers can achieve this by adding product recommendation units to the email, personalized according to the items that the shopper has demonstrated an interest in, or similar to the item that was abandoned in the cart.
Under Armour has this down pat:
Under Armour does a great job here of knowing me as a customer. It is not only upselling the Gemini 2 (the item I added to the cart) but is cross-selling me items based on the product category and product attributes that I personally prefer most (i.e., men's, running shoes, dark colors). Under Armour also maximizes the opportunity to promote its apps that let you track, analyze, map, and share your fitness activity. As a fitness enthusiast, even if I'm not in shopping mode, I now have a solid reason to jump back on-site.
Pro Tip: Shoppers engaging with data-driven product recommendations drive 2.8X more revenue than the average shopper.
5. Incentivize It
Unexpected costs and shipping fees are the overwhelming causes of cart abandonment. Many shoppers tend to calculate a final price by tallying the items, without taking tax or shipping costs into account. Once the total is above expectation, it makes for an easy excuse to exit the site and continue shopping around.
Nordstrom knows that unexpected shipping costs are the number one reason that shoppers abandon their carts and addresses this from the get-go: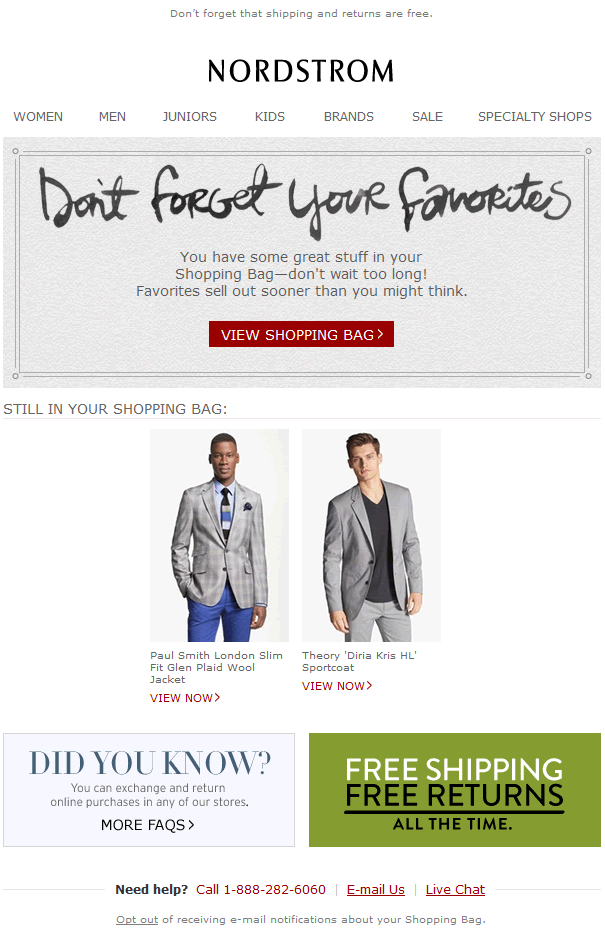 Nordstrom is alleviating hesitations from multiple angles. In the very first line, it reassures you that shipping is free, and then re-emphasizes this point via a banner in an entirely different color. The message is clear: exchanges and shipping are not going to be an issue. And, by the way, if you need any help with the order, here's a number to call, here's our email, here's how to chat with a representative.
Winning back customers who have been lured away by a final price can also be accomplished by offering a discount.
Here's how Levi's did it: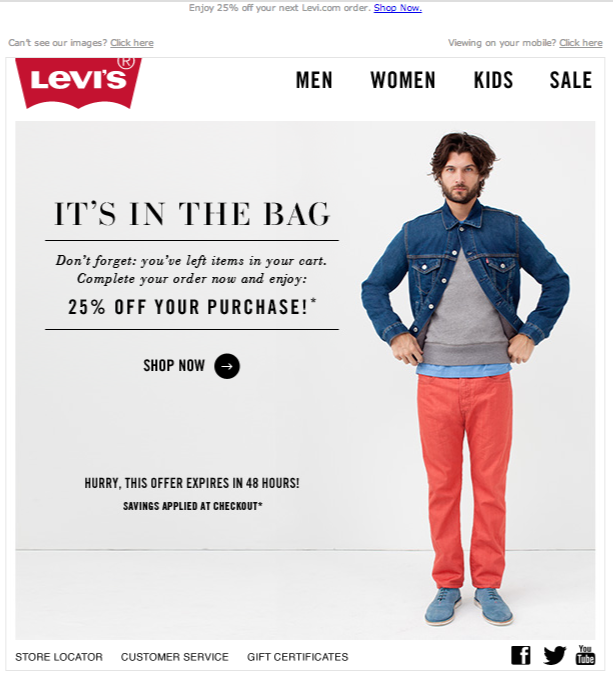 Levi's doesn't include a picture of the abandoned item but gives me a nice incentive to buy it: 25% off. Large discounts can be attractive, but you have to decide if they're right for your business. If you choose to offer a discount as a repurchasing incentive, keep in mind that while it may help you recover abandoned carts, it could also hurt your overall sales numbers.
Offering a discount also assumes that the shopper has abandoned the cart on the basis of price alone. In truth, that shopper could have experienced technical issues with payment or may have simply gotten distracted and therefore couldn't complete the order.
Pro Tip: There a number of reasons shoppers abandon carts. It's upon you to invest the time to analyze your behavioral data to determine when, how, and to whom cart abandonment is occurring. Knowing how your shoppers behave will answer the question of whether or not you should be offering a discount.
Abandoned cart email templates
Not sure where to start? The Dynamic Yield Inspiration Library has out-of-the-box personalization templates for cart abandonment.
Final Thoughts
Abandoned cart emails are as much of an art as they are a science. Don't just send one email and call it a day. Finding the right subject line, copy, email design, recommendation strategy, and incentive to offer, is a matter of continuous optimization and experimentation using the data you have. Cart abandonment may be an inevitable truth of online shopping, but cart abandonment emails can be an invaluable tactic for eCommerce marketers to overcome it.