Amazon Prime Day: Strategies to Personalize like a Goliath
A few strategies retailers can use to compete and turn a profit during the holiday season (and beyond) without feeling the weight of a massive Goliath such as Amazon towering over their bottom-line revenue.
This article was originally published July 2017 and updated in July 2023.
Cancel your plans, move your scheduled meetings, and get a babysitter because Amazon Prime Day is upon us. Created back in 2015, in its first year, Prime Day surpassed the infamous tradition of stomping over each other's loved ones for decently priced electronics the day after sitting down to give thanks on Black Friday. In the eight years since, the event has expanded to more than 20 countries, with Prime members purchasing more than 300 million items worldwide during the popular sale.
Here are some more mind-blowing facts about the scale of Prime:
Given Amazon's insane advantage and economies of scale, competing with the Goliath on the basis of convenience and price is often a losing proposition. Prime Day is the ultimate manifestation of this.
So, how does a retailer compete?
You have to get personal.
And, thankfully, you don't need to be Amazon in order to get web personalization right.
There are a few strategies a retailer can work toward today to help them go toe-to-toe with the best in the business tomorrow… (P.S. If you're looking for a book about how Amazon tailors its customer experience, be sure to check out: The Chronicles of a Personalization Giant.)
Communicate Personalized Real-Time Messages
Fostering a personal connection in your offering boils down to communicating the right message based on each customer's unique needs and expectations. This can be done by dynamically displaying incentivized notifications and overlays based on first and third-party data retailers collect on each shopper.
They might consider tailoring the following experiences based on prior on-site interactions, browsing and purchase history, etc:
Engagement notifications – Display custom promotions, marketing offers, or incentivized coupons in real time.
Behavioral Exit Intent Messages – Trigger exit intent popups according to visitor context.
Demand Messaging – Surface real-time notifications based on user activity, including low-on-stock messages, location-based view counters, or trend alerts.
Mobile App Messaging – Engage mobile users with 1:1 app notifications.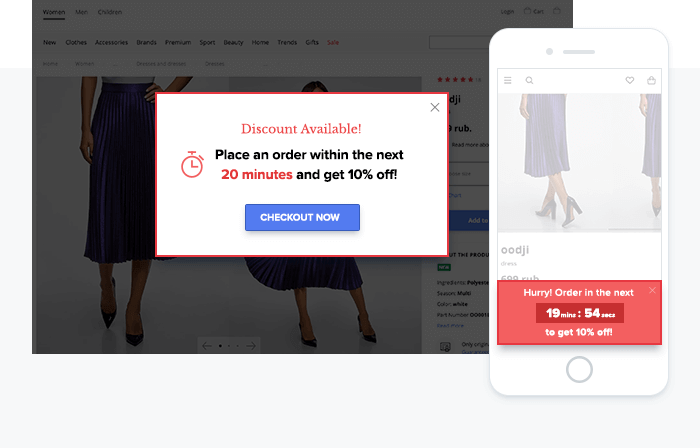 Customers quickly recognize (and ignore) blanket promotions that fail to convey a personal attachment to the product on display. Tailoring relevant and engaging messages to match individual preferences proves an organization's ability to cater to needs on a personal level and maximizes purchase likelihood.
Use Geo-Location & Device Info to Personalize Offers
Identifying a given user's device type is crucial in understanding purchase intent and providing the most relevant offerings to suit it.
Here are two powerful strategies that can be used with this info:
Strategy 1 – Detect devices shoppers are using and tailor offers according to advanced segments such as affinity modeling, geo-location, age, demographics, and date of first visit.
If a given user has an affinity for sweaters, knowing that they are an 18-year-old shopping on an iPhone in North Carolina can make all the difference when creating a compelling offer.
Additionally, weather-based targeting is especially critical for retail brands with large seasonal product catalogues. Promoting the right seasonal products to the right users is a surefire method of gaining a competitive advantage and increasing average value order (AOV).
Weather plays a vital role in shaping consumer behavior and opens up a highly-relevant avenue to influence decision-making and increase conversions.
Strategy 2 – Personalize experiences for consumers using smartphones to look up products in or around your brick-and-mortar store.
First, merge activity data to determine the products shoppers are engaging with on their smartphones. Then, broadcast beacon offers to them via bluetooth with special incentives to purchase those items in-store.
Trigger Abandoned Cart Emails
74% of sales are lost from shopping cart abandonment, and effectively communicating highly incentivized marketing messages is key to recovering potential abandonments in real time and re-engaging with your customers.
Time is of the essence as cart abandonment emails sent within the first hour of abandonment perform best. Retailers can set up campaign triggers to send emails instantly after a cart is abandoned with personalized product recommendations and incentives urging visitors to complete their purchases. Regardless of the reasons that shoppers abandon their shopping carts, there's a very limited win-back window.
Prime Your Personalization Efforts
Companies won't stay on top if their strategy is to copy Amazon, but they can compete with Amazon by connecting their customer data and using it to serve consistent, memorable, and most importantly, personalized experiences across all channels and devices.
And with the right technology, the strategies highlighted above are only a fraction of what can be accomplished.