Two decades in the making – the powerful strategies behind the Amazon recommendation engine
Built to humanize digital experiences for consumers, the Amazon recommendation engine has transformed eCommerce. And by taking a page from Amazon's book, brands can leverage winning strategies for their own personalization efforts.
This article is an excerpt from Dynamic Yield's original book about Amazon, "The Chronicles of a Personalization Giant." An in-depth analysis on how Amazon tailors the customer experience, chapter one outlines the strategy behind the retailer's product discovery and merchandising tactics, including the sophistication of the Amazon product recommendation engine.
Amazon's investment in personalization dates back to the early 2000s when it designed a plan to create a robust product recommendation engine after realizing the potential payoffs in becoming a powerful hub for product discovery. And to Amazon, it was clear that building a digital home for product inventory was not enough. Developing and continuously enhancing the Amazon recommendation engine algorithm, with access to an unprecedented amount of consumer data, could completely transform the way customers are matched with items they would most likely be interested in purchasing.
Not only would it work to provide pleasant user experiences, but more importantly, ones that felt personal. Before the era of eCommerce, the way consumers shopped was heavily influenced by the opinions and recommendations of friends and family – a component of product discovery Amazon sought to mimic online. "Discovery should be like talking with a friend who knows you, knows what you like, works with you at every step, and anticipates your needs," write Brent Smith and Greg Linden, two industry titans specializing in personalization and recommendations at Amazon and Microsoft, respectively. From the onset, the end goal was to harness the power of machines and data to humanize the digital experience for consumers.
Since filing its first patent for the Amazon recommendation engine in 2001, the company has been uniquely marrying key customer data points across its digital properties to design tailored experiences for both known and unknown site visitors. And while endless variables have contributed to the company's dramatic rise, its personalization efforts have indisputably played an integral role. As a result, Amazonization has disrupted and eaten up the eCommerce market, serving as a portal for product discovery, all while it continues to rapidly expand its reach into entertainment, subscriptions, food, voice, wearables, and more.
A masterful recommendation strategy
Recommendations truly are the bread-and-butter of Amazon's personalization operation. By far the most sophisticated and distinguished element of the company's eCommerce efforts, recommendations are visible across every page, channel, and device, employing dozens of unique and innovative strategies and taking endless forms. Upon conducting our research, 45 different recommendation widgets were visible on the app homepage alone – a true testament to the company's devotion to promoting product discovery and a signal of the power behind the Amazon machine learning recommendation engine.
Each recommendation widget served is based on a number of variables, including but not limited to:
Location
Recent purchases
Trending: near you / on Amazon / by category / by shopping trend / by season
Saved items or lists
Deals, bargains, or discounts
Purchases other customers have completed after viewing similar products
User reviews
Curated top picks for customers
As a hub for product discovery, constantly serving recommendations goes back to Amazon's core belief for retail: never pass up an opportunity to capture a sale. Now that Amazon.com has increasingly become the initial starting point for discovery, the company is doubling down on its top-of-funnel marketing efforts. And a large part of the Amazon recommendation engine revenue generated is a direct result of the company's sizable investment in personalization.
Having mastered traditional recommendations, Amazon's approach has matured as it now invests in finding unique ways to uplevel its widgets with unconventional eCommerce tactics. For starters, Amazon tends to include dozens of recommendations on both a single page and also within a single widget. Its eCommerce team has also ensured the experience of browsing through recommendation carousels is consistent across channels, creating a pleasant and familiar user experience on every device. And while Amazon does invest in content discovery, it typically takes the form of banners or email messaging – reserving widgets solely for product recommendations.
The web experience
With millions of products for sale on its site, in pursuit of driving purchases, Amazon relies heavily on recommendations to surface new products tailored to each web user. Never afraid to go a bit overboard, the number of widgets placed across each page is limitless, and the number of products served per widget knows no bounds.
The mobile experience
Amazon uses its mobile properties as recommendation-focused digital inventory, squeezing as many product and content suggestions on the screen as possible, much like the web experience.
Both the mobile site and app mimic one another, each featuring lengthy homepages with dozens of unique recommendation strategies. For example, some recommendations promote product discovery, while others encourage users to buy items previously purchased before.
The email experience
Amazon finds unique opportunities to leverage email to bring customers back to its site. It views email as prime inventory for showcasing more products and content. Transactional emails often feature recommendation widgets based on previously purchased items, seasonality, and trending products on the site at a given moment. Unlike the web and mobile experiences, however, email widgets are typically limited to just two recommendations per message.
Examples of Amazon's innovative recommendation strategies
If today's retailers want to maximize eCommerce conversion rates and revenue, they'll have to go beyond serving average recommendation experiences. Below are a few of the unique ways Amazon is implementing recommendations, which brands can repurpose and leverage to capture sales and increase average order value (AOV).
Allowing for easy comparison of similar items
When viewing a product detail page, Amazon places a few recommendation widgets below the fold, appearing after the general info and details about the product in view. This widget, which precedes technical details and product specifications in page order, allows customers to catch a quick glimpse of similar products side-by-side. Details listed include customer ratings, price, delivery information, and size info (when applicable). This widget highlights other available product options and helps site visitors narrow down their purchase decision, allowing them to immediately add the most suitable product to their cart.
Nudging users to log-in for better recommendations
It should come as no surprise that today's brands are able to better personalize site experiences when they know as much about a site visitor as possible. The Amazon recommendation system can tailor experiences on a more granular level when a user is logged in. As a result, it urges logged out and unknown users to sign into their accounts for a richer recommendation experience. For those who do not log-in, the retailer recommends items based on products a user has viewed in that particular session.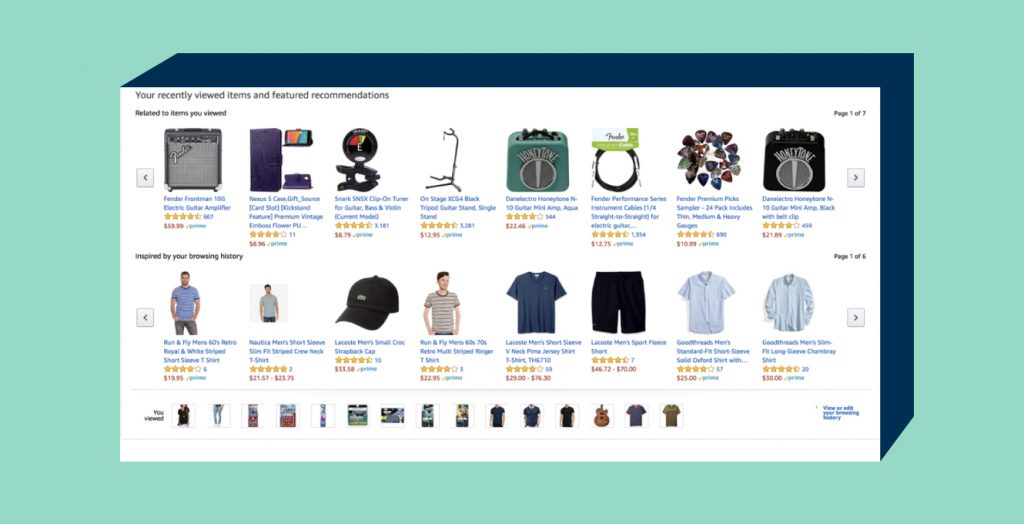 Recommending products on category pages
Amazon goes a step further with its recommendation widgets, placing them not only on product detail pages but across the site, including category and product listing pages. Strategies employed for these widgets include "Recommended for you" and "More top picks for you."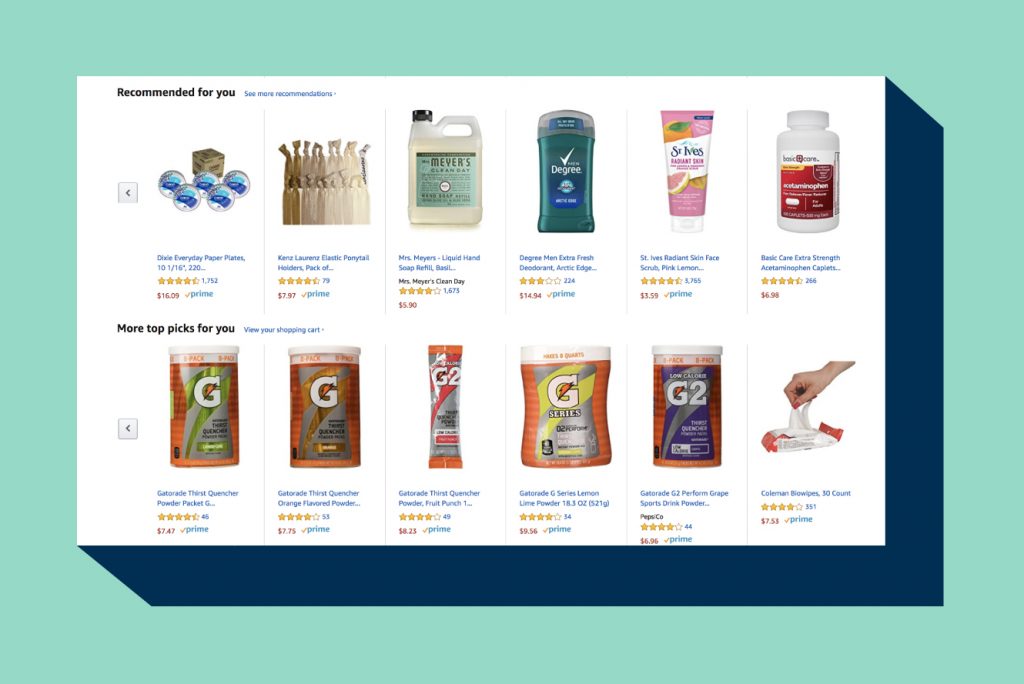 Serving subsequent purchase recommendations
Amazon devolves from its standard recommendation widget design to promote products users tend to subsequently purchase after viewing a particular product. A social proof strategy, this approach pushes users further along the purchase funnel by focusing on products most likely to result in a conversion.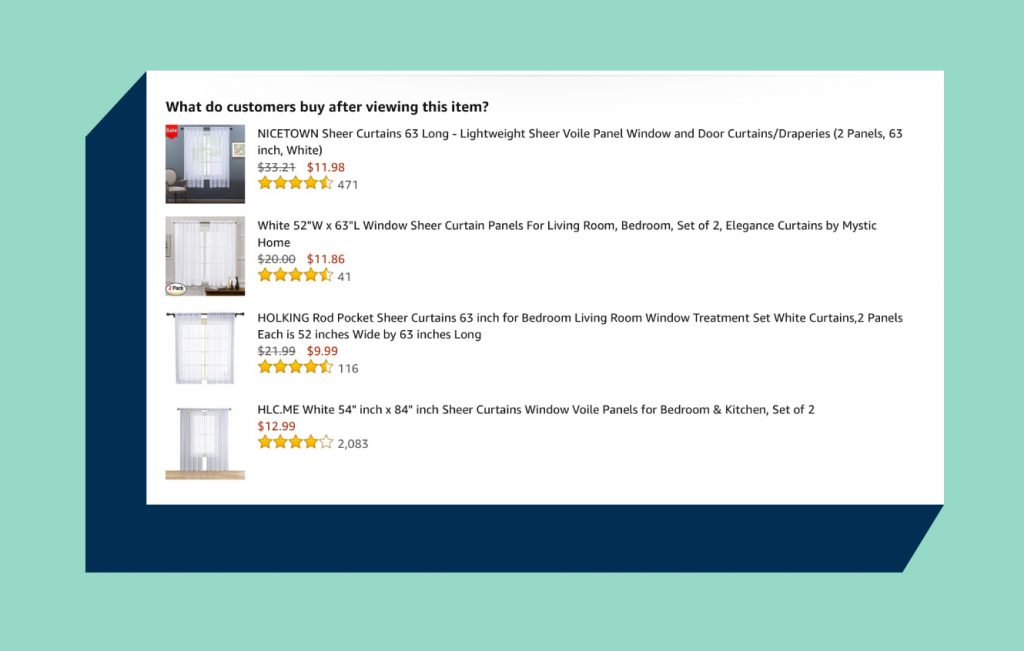 Surfacing recommendations for short-term promotions
To create a sense of urgency, Amazon extends recommendations to its time-sensitive product promotions, curating a collection of recommendations from a given day's "deals." To further entice users, it lists the previous price of the product, educating users on the savings they will accrue if they choose to purchase the product while it is temporarily discounted.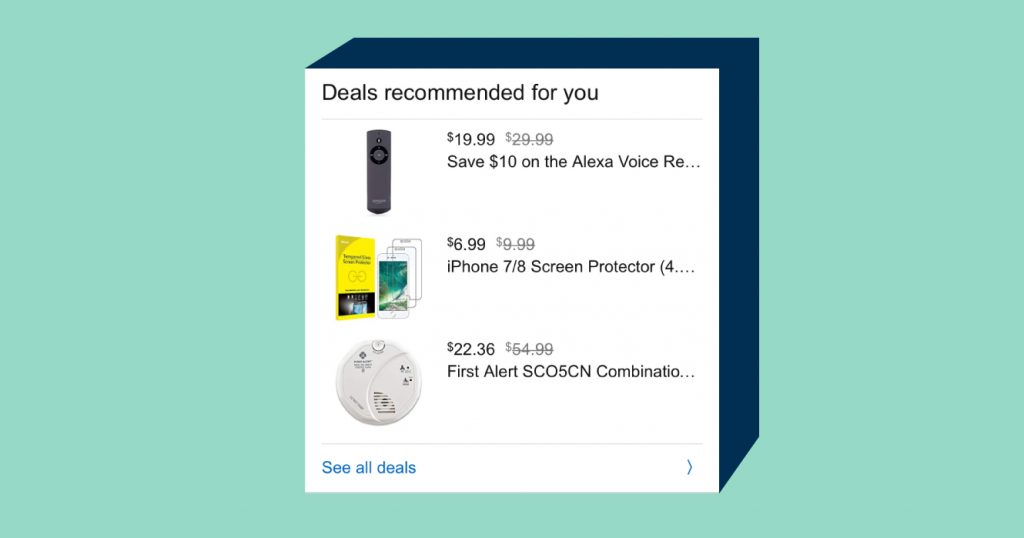 An opportunity to make recommendations work harder
eCommerce merchants may look at Amazon and see the odds stacked against them, but there are endless possibilities when it comes to improving the customer experience which aren't limited to the retail giant. By taking a page from its book on recommendations, brands can stand taller and reap greater rewards, carving out a piece of the market for themselves.
Interested in deploying Amazon-style recommendations on your site? Learn more about Dynamic Yield's personalization platform.