Beating email fatigue with timely personalization
Liad Agmon on how marketers can deliver positive customer experiences using high-impact, personalized email campaigns.
Read the full transcript
Email is this one area where there is a lot of debate internally within our customers about creatives, about the message. How do I send my customers a hundred emails a year without sounding repetitive? What we are pushing our customers to do is to use the same technologies they use for ad serving and for the onsite optimization within emails. You want to send a few variations of the content, and to have an algorithm decide in real-time when the email is opened what content do I show each individual user. We encourage them to connect their CRM data to the merchandising within emails. The nice thing about email is that you have the email of the customer, which means that I can connect them to my CRM and I know all their purchase history. Can you do merchandising based on history of purchases? It's gonna be much more efficient than some merchandiser deciding, oh, I want to show five shirts for all my customers. So adding algorithms to the world of email has created, for our customers, not only an increase in CTRs, but we measure attribution, also viewability attribution. Because I can open the email when I'm on the road, I'm not gonna go and click and transact right now, 'cause I'm busy, but if the email was compelling and I saw compelling products, I'm gonna go back home afterward and I'm gonna make a transaction on the desktop. So if you can do the attribution between the email opens and the transaction on a desktop, suddenly you can start measuring the impact of your email campaigns in a much more efficient way, because realistically email campaigns don't have more than a single-digit CTR, but the economic impact is bigger.
Email.
It's still one of the most effective channels when it comes to the highest return on investment. And while some brands may be concerned about breaking through the noise in consumers' inboxes, 78% of marketers have actually seen an increase in email engagement over the last 12 months.
But with that comes pressure to increase the number of emails sent in order to deliver on revenue and the risk of sounding repetitive to customers who may receive upwards of one hundred plus emails a year. We found 19% of consumers receive upwards of 15+ emails a day from a variety of different retailers!
So, how can a marketer balance the need to deliver high-impact email campaigns with positive customer experiences? The answer lies in gaining a deeper understanding of email personalization marketing, the different types of email campaigns marketers can look to, the content in emails themselves, and teams' abilities to use data to their advantage.
For starters, what is email personalization?
Email personalization is the process of tailoring email content and campaigns according to subscribers' unique identifiers, such as location, loyalty status, shopping behavior, affinities, and more to increase key business metrics. Emails allow companies to connect with consumers outside of their websites, and when personalized, can help users pick up where they left, access relevant content and recommendations, learn more about the company, or capitalize on exclusive offers.
In an era where tailored digital interactions are the baseline consumer expectation, brands need to be aware that this expectation goes beyond the site and extends across channels. Only when every touchpoint displays a personalized, cohesive experience will you be able to truly deliver engaging user experiences, and email provides another opportunity to captivate user attention and drive conversions. This ability to use data effectively in email has high rewards, too. Per >McKinsey, organizations have seen a decrease of up to 60 percent in customer churn as a result of a data-driven approach to customer experience.
And because email requires users to opt-in, once a consumer does, it's a positive cue that they are interested in what you have to offer. As a result, it's on marketers to ensure they deliver on the promise to meet their needs and expectations.
The different types of personalized emails
Before diving into a campaign, it's important to understand the various types of personalized email campaigns available to marketers that serve different objectives.
The first kind is a promotional email. These are your classic email, communicating a sale, change in inventory, new offering, or time-sensitive deal. These messages often capitalize on holidays and seasons or announce new product launches or inventory arrivals, for starters.
An example of a holiday-focused promotional email
Another type is a transactional email. These types of messages provide purchase confirmation, info, and receipts for online transactions. And more recently, these emails are an option for in-store shoppers as well, as it provides both an eco-friendly and efficient way to access purchase receipts. Transactional emails are not just limited to purchases, however; they can provide confirmation of account set up, email password recovery, delivery confirmation, and more.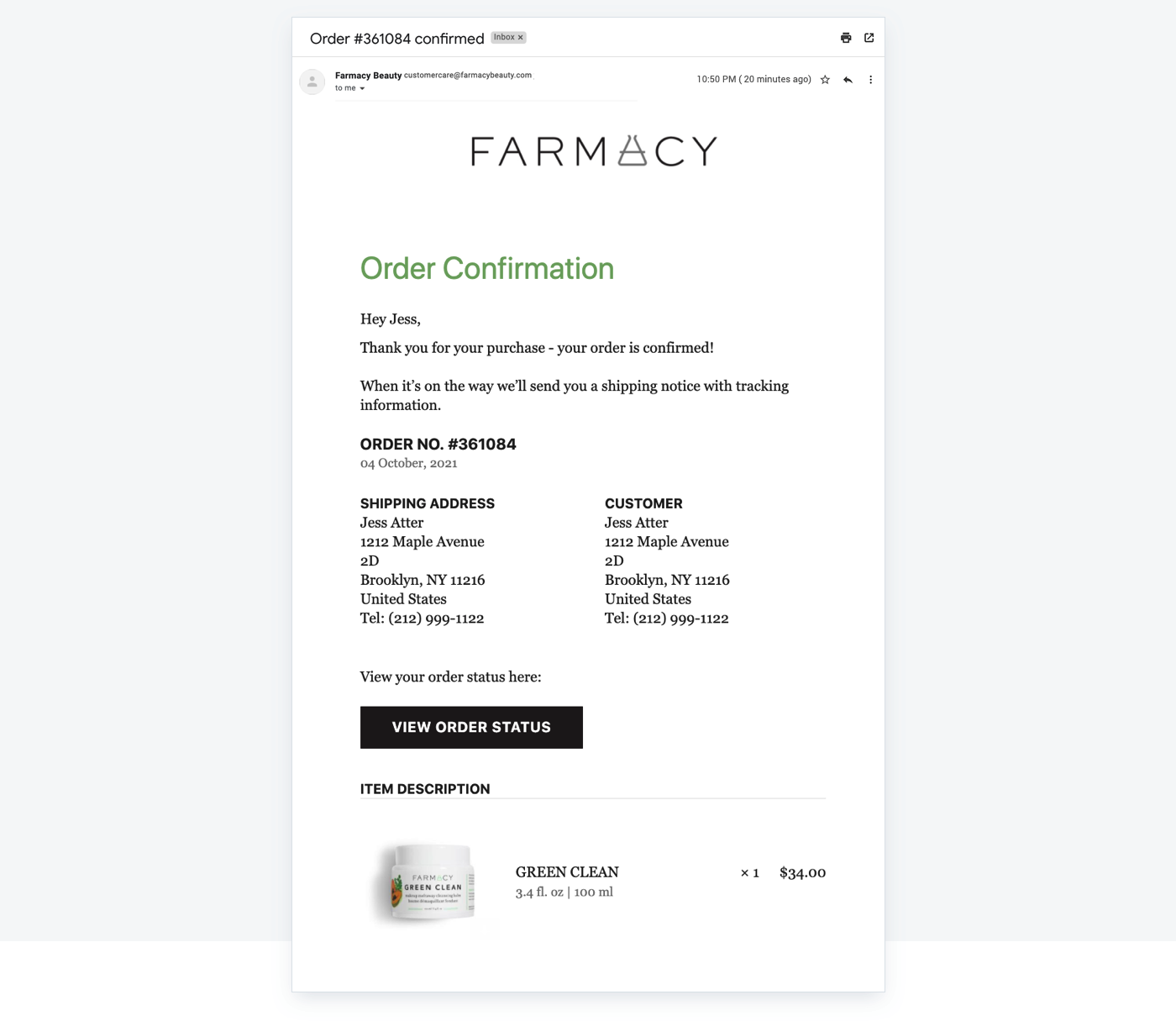 An example of a purchase confirmation message via transactional email
An additional type is a behavioral email. These are most recognizably seen in the form of abandoned cart emails, but really can take the form of a message designed to communicate about a user's recent engagement with a brand, be it site activity, a store visit, or a recent purchase. Often in the form of a triggered email, these messages are typically automated and the result of a predefined user action, such as leaving the site while going through the checkout flow.
An example of behavioral email design to recover a cart abandoner
Personalizing emails from top to bottom
Like websites, nearly every part of an email can be tailored. From the Subject Line to the content, every inch of the email presents an opportunity to captivate attention. For example, using punchy Subject Lines (and testing them) is a first crucial step, as it may be the deciding factor to whether a user will even open the email at all. Here are a few more hard and fast email personalization tips to consider:
Personalize headers and banners according to geo, time, season, and more, as well to present relevant, in-the-moment offers
Direct emails to user's first names when possible for a personal touch
Use Dynamic Content to ensure the most relevant content and offer renders for each user upon open time
Pepper in recommendation widgets directly within the message for any campaign type when possible
Include countdown timers when communicating exclusive or time-sensitive promotions
Best practices for email personalization
With so much available to marketers to personalize, getting it right is crucial. From access to data to having the right tech in place, organizations that take the time to put the right personalized email strategies in place will be able to drive up conversions in no time. So, let's walk through a few things to keep in mind before hitting the ground running with personalized emails.
Apply familiar technologies to email marketing
As consumers everywhere have grown tired of generic online experiences, technology has evolved to help marketers better match the needs of their customers through web personalization.
The emergence of dynamic creative has allowed marketing teams to produce more relevant experiences by leveraging data to serve specific ad creative to specific segments of audiences. And onsite optimization has made it possible to tailor highly targeted and engaging messages to visitors based on past behavioral data and preferences.
It should be no surprise then, that the technologies we now rely on to test the effectiveness of our onsite experiences can also be used within our email marketing strategies. With the right personalization solution in place, teams can expand their digital campaigns beyond the site, tailoring each and every inch of their emails while testing to perfection.
Connect data to real-time creative using powerful algorithms
While creative and messaging are crucial to a successful email campaign, without the right data to support the variety of content you create, a marketer is really just taking a shot in the dark.
Thankfully, because we have a customer's email, we can connect them to our CRM, unlock valuable information about their purchase history, and build custom content for key segments.
But as consumers continue to interact with a brand over the course of campaign creation – across touchpoints, channels, and devices – teams must ensure a constant flow of customer data is available in order to produce the most relevant, up-to-date experiences. The nature of this real-time feat can be solved by yet another familiar technology: a machine learning-powered algorithm.
Let's say a marketer wants to send a few content variations of a particular promotional email. The decision-making process behind what content is shown to each individual user becomes largely more powerful when an algorithm is employed to apply real-time data at the point of open.
That way, if a customer interacts with a brand in a meaningful way after the point of the email's initial creation, they will still be served the most relevant content based on the freshest data available about that individual.
The same ideology can be applied to merchandising within emails. It is much more efficient for a merchandiser to connect CRM and purchase level data to their campaigns rather than show five of the same shirts to an entire customer list. Doing so ensures each email is tailored according to a user's expressed preferences and interests, ensuring an exceptional and personalized email experience.
Segment your audiences to ensure every email is relevant
Besides general brand, privacy, or product updates, rarely does a one-size-fits-all approach work for email campaigns. This is why establishing an audience segmentation strategy that works for your business goals is essential. A few ways to break down your audiences are by:
Demographic data, such as location, geo, gender, income, and more
Loyalty status
Past purchase activity
User affinities
Level of email engagement
Email subscription age
Examples of various audience segments that can be used to send personalized emails.
Breaking down your audience segments will help your team deliver timely and appropriate messages, as well as ensures personalized content within emails – content, banners, recommendation widgets – are hyper-tailored to each email recipient.
Compelling offers transcend the customer journey
"Remember, realistically, email campaigns don't have more than a single-digit CTR, but the economic impact is bigger." - Liad Agmon
Emails are a crucial touchpoint in the customer journey, and for teams looking to generate sizable ROI using this channel, a personalized email strategy is non-negotiable. It provides brands with an opportunity to connect with their customers outside of the site, on the go, or later in the week.
Every second you have a consumer's attention is a crucial one, which is why these interactions should be personalized. That way, even if a user sees an email, let's say, on their mobile device while running errands, if the content or products featured are relevant to them, this disruption in the customer journey doesn't mean it's the end of the road. The ability to tailor the message to the user increases the likelihood that they come back later if they don't convert directly after opening the email. That's the power of creating cross-channel personalized experiences – it leaves users satisfied and seen, no matter how they interact with your brand; and the rewards of doing so may just shock you.