Why Furniture Brands Should Stop Using Antiquated Segmentation Strategies
In a digital landscape filled with choice, furniture brands must rethink how they engage customers online. Here are the pitfalls of old-school segmentation when engaging modern furniture buyers - and how to avoid them.
We're living in the age of consumer-centric commerce, where the buyer has seemingly infinite options to choose from. And the expectation from shoppers to see their unique needs and preferences met throughout the buying process is even higher, especially when it comes to big-ticket items such as sofas, beds, and dining furniture. So how can furniture retailers differentiate themselves within a saturated market and make sure the experiences they deliver resonate with a variety of audiences at different points in the customer journey? The answer lies in how well they are able to personalize, which begins with proper segmentation.
Old habits = outdated segmentation principle
Today 8 out of every 10 consumers have bought furniture on the Internet and over 90% of industry growth is from online sales. That points to a major opportunity for retailers, but only if they prioritize the types of contextualized experiences that elicit sales and drive long-term brand loyalty. Yet many furniture brands still implement traditional segmentation strategies to personalize experiences based on outdated factors such as socio/economic status. Even previous interactions and purchase history can no longer accurately predict what a customer will be interested in today. For example, while a typical sofa could last anywhere between 7 – 15 years, a customer may want to replace it sooner due to a change in lifestyle, location, or personal taste. This is why there should be no place for antiquated demographics or rigid adherence to historical trends within the online furniture experience, and beyond.
Intent is the new digital currency
Each audience has different needs, wants, and preferences which furniture brands can capitalize on if they recognize the signals. This can be achieved through intent-based segmentation, which divides shoppers by their demonstrated or understood readiness to buy. A variation of the classic marketing funnel theory that depicts individuals progressing through clear stages on their (decidedly non-linear) path to making a purchase, intent segmentation seeks to identify the correct buying stage and adjust the site experience, messaging, and navigation accordingly. In practice, brands can break down these audiences by:
Low Intent – New and exploring users with limited data or site action
Medium Intent – Some buying signals but users need encouragement
High Intent – There are clear signals and the users are ready to buy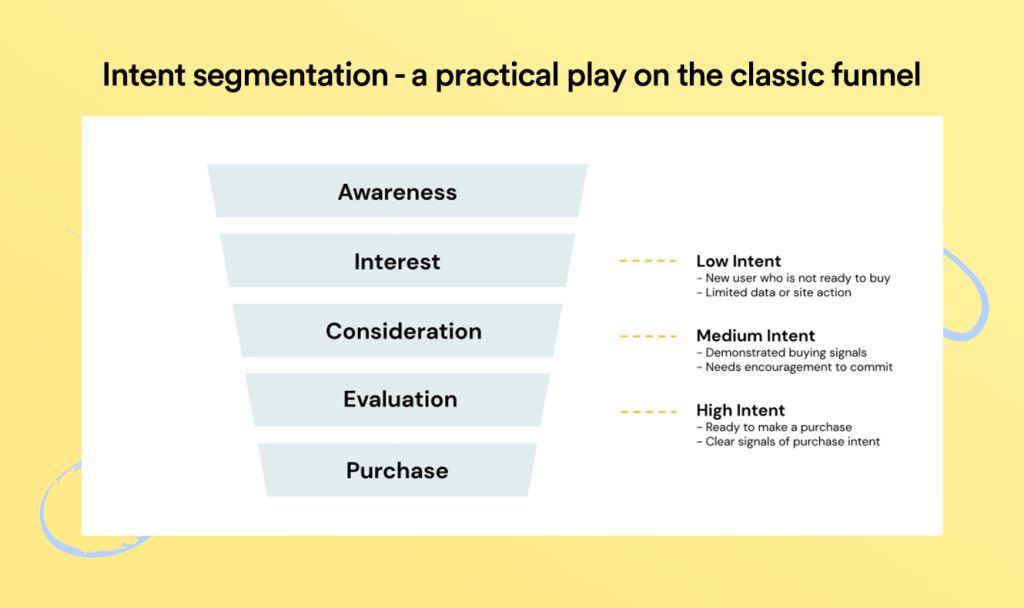 Intent segmentation meets customers in the moment they're in, nudging them down the funnel. And because this method is driven by user action, it flexes with furniture site visitors as they go through the buying stages, and then restarts after a purchase or time between sessions.
Understand intent, avoid personalization faux pas
Not only does tailoring the digital shopping experience to an audience's intent level help optimize the purchase funnel, but it can also mean furniture brands don't mistakenly deliver the wrong content, messages, or offers at the wrong time for the inverse effect.
Take a few of these common situations, which can be avoided and rectified with intent segmentation:
Being overtly pushy with low-intent audiences
Low-intent furniture browsers are not ready to make purchase decisions, so avoid marketing messages around urgency, scarcity, or even discounted sale information.
Instead, offer guided selling with simple-to-use tools at the product category level that help them identify the best product for their needs, e.g. product quizzes and guides. Use plain-speak widget copy to explain why they're seeing a particular recommendation and offer incentives as a reward for taking actions like a first purchase as well as a loyalty program or newsletter signup.
Distracting medium-intent shoppers
Medium-intent users may have demonstrated some buy signals, but not so many that their buying intent is very clear. They need a push to finalize a buying decision but can be put off by too much choice or overtly promotional messaging. Keep them focused with product recommendations based on items they've demonstrated an interest in as opposed to the most popular. Use exit intent experiences, inactive tab notifications, recently viewed recommendations, and comparison pages to help get them back on site and to their preferred purchase options. Live chat can help seal the deal.
Over discounting high intent browsers
This audience is ready to buy, so make the path as linear as possible from site entry to exit. They're also not afraid to spend more than the average site visitor. Secure sales and boost revenue by focusing promotional messages on complimentary products and accessories rather than on discounting the primary purchase. Finally, win them over with relationship builders in the form of loyalty points, cards, or rewards messaging. Whatever the experience, it's important to validate its impact through proper A/B testing, which can help teams ensure positive results and optimize them over time.
The modern purchase funnel requires a modern segmentation strategy
Furniture brands and online commerce players alike need to guarantee they speak to customers at the right moment and don't put too much stock in historical behavior as a predictor of future transactions. Thankfully, the signals traced to intent can be incredibly effective, allowing teams to finally say "goodbye" to ineffective and antiquated approaches to segmentation, and "hello" to higher engagement, conversions, and sales.