Personalization's Influence (and Necessity) Across The Online Grocery Journey
Personalization can enhance the online grocery shopping experience for all customers, as well as boost basket sizes and cement loyalty for brands.
Among the myriad shifts in consumer behavior from the pandemic, the enduring impact on consumer grocery shopping stands out prominently. While many customers have returned to stores to browse the aisles, a large portion continues to take advantage of the added convenience of delivery or curb pick-up for their weekly essentials. As of 2022, consumers were still buying in bulk, with low-threshold, fast-delivery services for supplemental ingredients also consistently being used.
As people integrate digital into their grocery shopping routines, grocery and CPG providers can expand their digital offerings. A McKinsey & Company survey found that Grocery e-commerce penetration is expected to double in the next five years – from 11% to 23%.
The growing need for personalization amid increased competition
Today, 76.5% of grocery customers expect a tailored digital shopping experience and are frustrated when they don't get it. This creates steep competition for capturing loyalty and retaining customers, and those lacking mature online offerings risk delayed growth. Because of this, many have begun to implement grocery/GPC personalization strategies like wish lists and auto-baskets—but there are so many more opportunities to take it to the next level and generate improved margins with larger basket sizes and higher customer lifetime value.
Here's what teams should be focused on at a high level:
Segmenting groups of users with similar characteristics to provide tailored experiences for them that are then further refined based on incoming data.
Delivering 1:1 personalization of recommendations and offers according to the individual's past purchases, affinity, or in-the-moment activity.
Balancing relevance while still showcasing important site-wide events, seasonal or promotional products, or preferred store-level stock.
Automatically optimizing content, offers, messaging, and recommendation experiences with machine learning to maximize performance over time.
This will be critical to grocery/CPG companies blending the conveniences of online shopping with the benefits of buying in-store, ensuring the offline experience is reflected online and vice versa.
Aiding the customer journey through personalization
From the homepage to category and department pages, product pages, the checkout process, and beyond (think aisle or shelf pages), there are many places to factor these tailored experiences into the buying journey.
Here, we go through the stages and how your brand can use different personalization strategies to aid the process.
Streamline product discovery by personalizing the homepage for first-time visitors
As a potential customer, entering a virtual grocery storefront for the first time can be overwhelming. Often, promotions and offers make up the majority of the page, and the user has to navigate to the search bar to start shopping for their first item. By contrast, returning logged-in users often have their favorites and previously purchased items displayed, ready to add to their bags.
This massive disparity between the new and returning customer experience can be easily solved with greater personalization on the homepage. For example, you can surface "quick start" product recommendations for new users, showcasing the most popular products in the store's top categories, such as a pack of tomatoes for Fruits and Vegetables, a carton of butter for Dairy, a loaf of bread for Bakery, kosher salt for Food Cupboard, and a gallon of bleach for Household Essentials.
This first-time homepage experience can also leverage content personalization that includes:
Unique selling points (USPs): Repeat buyers may not need to know table-stakes offerings such as 'Freshness Guarantees' or delivery options. However, placing these messages front and center can help a new shopper gain confidence in ordering with your brand.
Social proof messaging: Review modules and social proof messaging/notifications can help convince new customers to take a chance on your brand. Knowing that a trending item is flying off the shelves may be just what it takes for a new customer to add-to-cart and click "order."
Seasonal or weather-based offers: While you may not have data about new customers, specifically, there are still opportunities to personalize for anonymous users using contextual data, such as location and even temperatures (see weather-based targeting). For example, a dynamic content module can show barbecue items and ice-creams during heat waves or turkeys and cranberry sauce during the festive period.
Increase order frequency and basket size with personalized product recommendations
Brands in the industry have a wealth of data available to personalize the journey of customers who have made more than one purchase. As stated, most online grocery stores use wish lists or smart baskets to help customers repeat regular orders. The next step would be to integrate recommendation widgets at critical points throughout the customer journey and suggest products, both previously purchased and new to the customer.
The search bar is an excellent place for this, as its results can be auto-populated to suggest frequently purchased products and those similar to recent purchases—even before the shopper clicks search.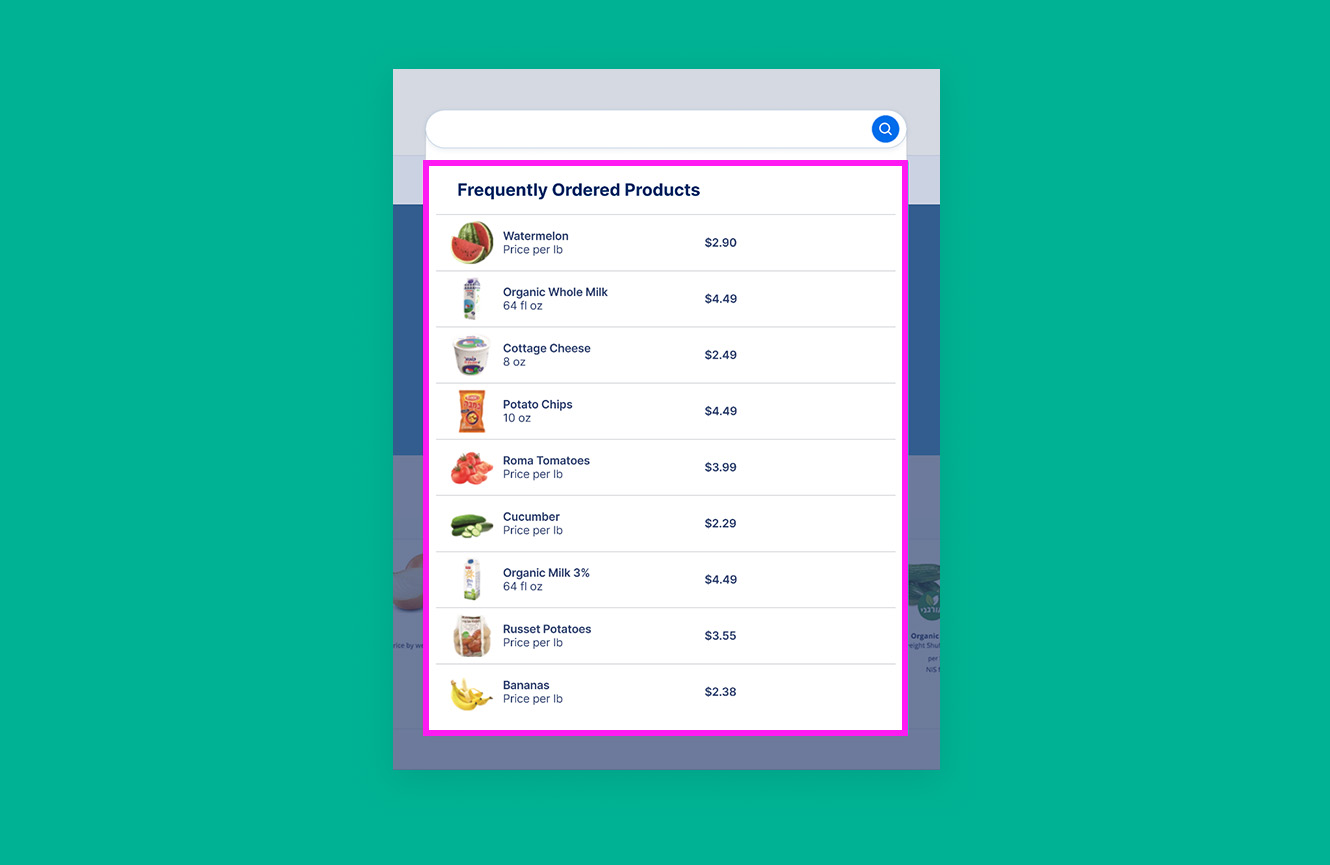 You can use your brand's search function to serve product recommendations based on a user's previously purchased items
You can also offer a "just for you" personal shopping page that includes recently purchased items and brands, and product recommendations based on the customer's displayed shopping behavior and diet preferences.
Improve add-to-cart rates with same-session affinity-based personalization
There's a misconception that personalized experiences can only be shown to identified users who have explicitly stated their preferences (based on data stored in a grocery retailer's CRM system). But in fact, even data collected during anonymous browsing sessions can be used to increase add-to-cart metrics using powerful, same-session personalization (so long as it is obtained with the proper consent). For example, suppose a first-time visitor comes to the site and browses only vegan or vegetarian products. That data can be used in real-time (through affinity profiling) to showcase only non-meat products in recommendation carousels on the next page. It's also possible to ensure these users don't see meat-related promotions (such as BBQ meat offers) or only see plant-based or meat-free alternatives.
For known users, these recommendations can also be enhanced by purchase data. Once the user has ordered, relevant items related to past purchases can be showcased. So, if they've bought vegan cheese slices before, shredded vegan cheese or something similar is recommended the next time they visit.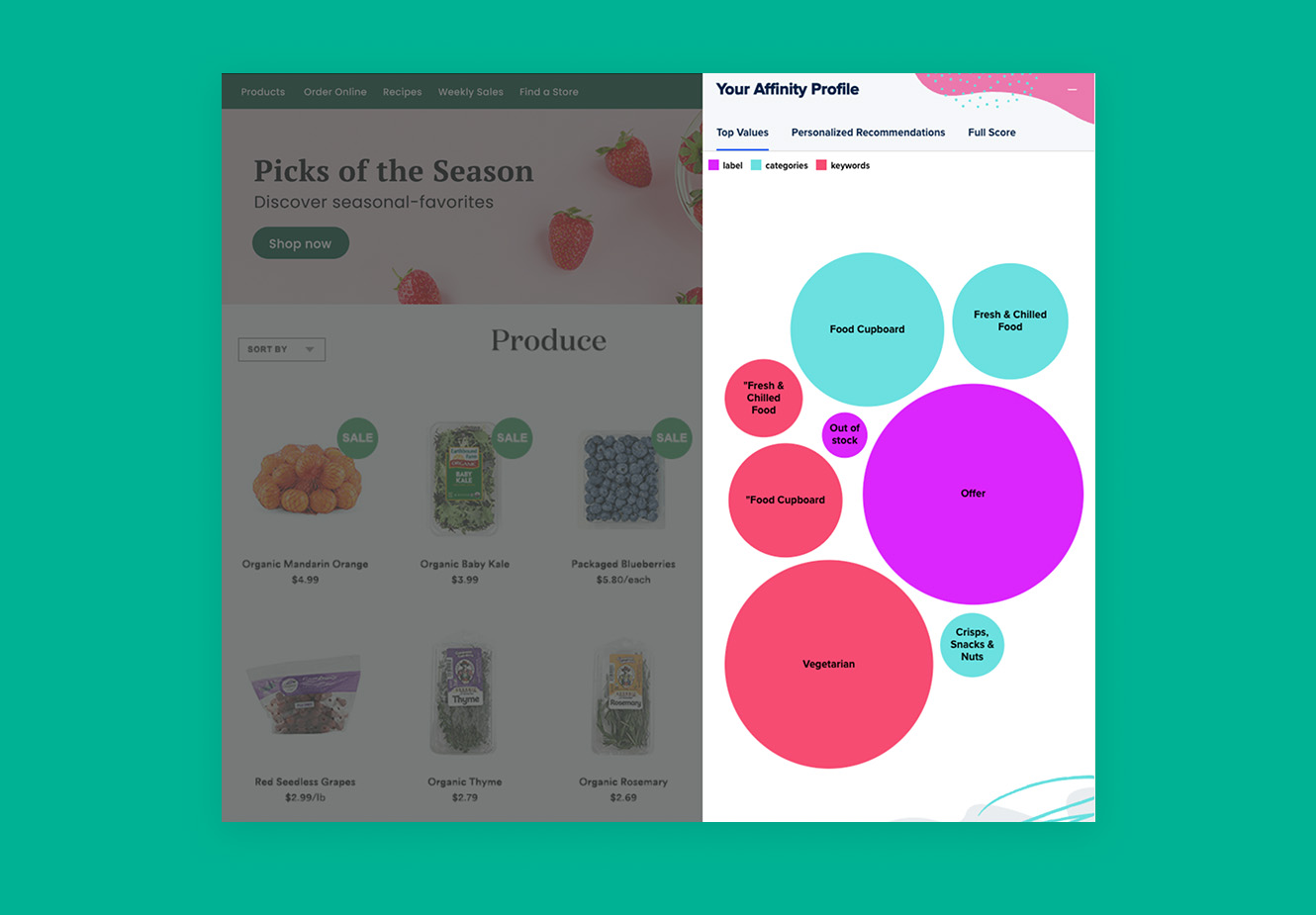 Visual representation of a user with a strong affinity for purchasing vegetarian-related items, products with offers, and those categorized as pantry or cupboard staples
Maximize basket value during check-out through strategic add-on personalization
Just like in the store, once a customer reaches checkout, your goal should be getting them to complete a purchase – whilst also providing them a last-minute chance to add something extra to their basket. Unlike in-store, however, the online checkout process provides an opportunity for personalized recommendations or relevant add-ons and offers for users who have purchased at least one time before.
For example, you can recommend frequently bought together products via a pop-up modal when an item is added to the cart. If a customer adds strawberry jelly to their cart, the pop-up can recommend three popular peanut butter options. If a customer has marked a peanut allergy in their dietary preferences, alternative nut-based butter products could be displayed instead.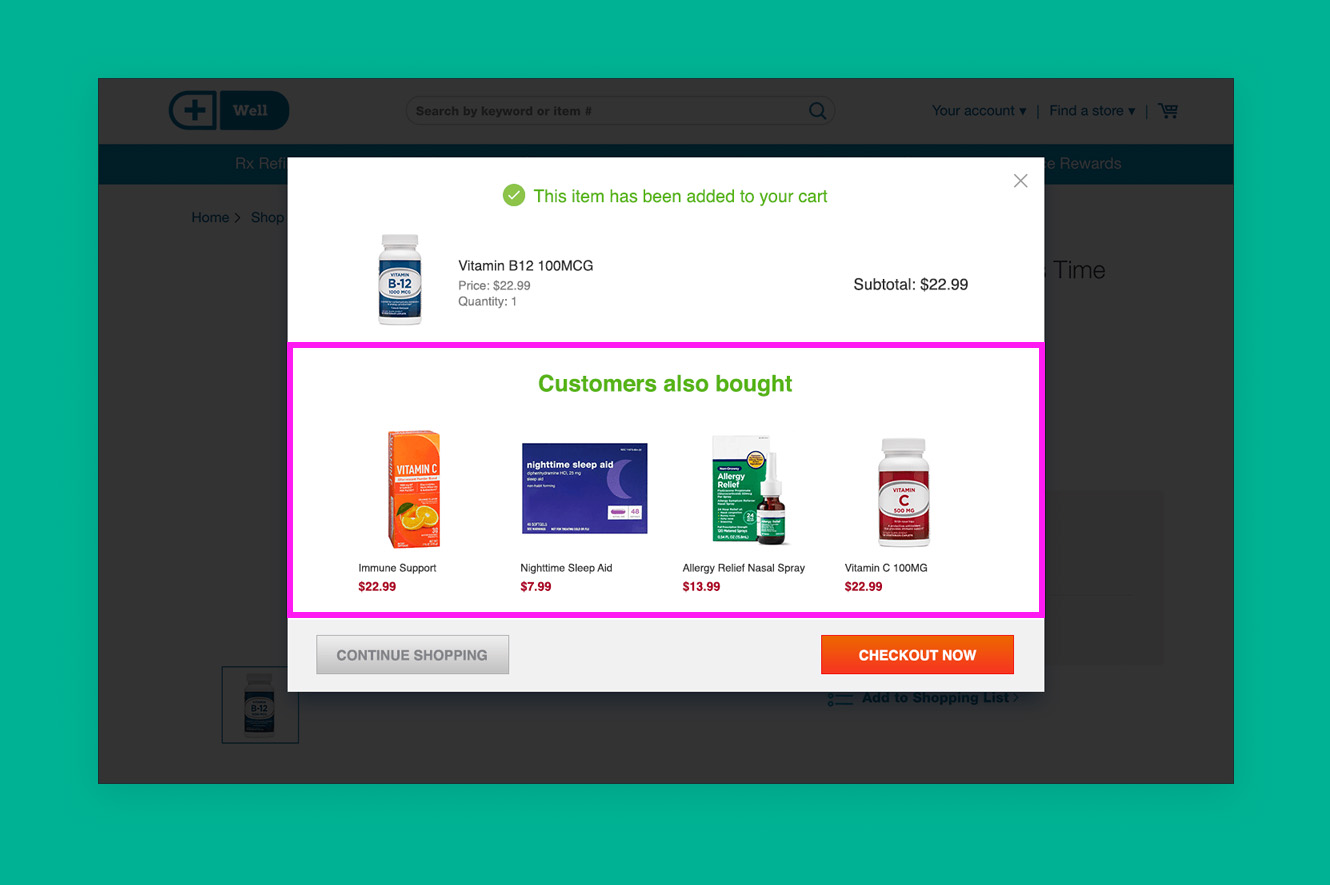 In this use case, a user who adds vitamin B12 tablets to their cart will see other items frequently bought together, such as over-the-counter cold-and-flu season staples like immunity support tablets and sleep aids
These recommendations can also be placed in the pre-checkout cart phase to showcase items related to the entire basket rather than individual products for increased discovery and engagement. Imagine a customer adds baking ingredients to the cart – other baking ingredients included in similar carts can be recommended. Additionally, like the in-store experience, you can cap the item price and encourage users to add these items without too much deliberation.
For next-level personalization, highlight missed offers relevant to the customer, such as those that can help them hit the threshold for a three-for-two or buy-one-get-one-free promotion. You can further program these recommendations to align with business priorities by showing overstock items or products with vendor deals.
Generate repeat purchases post-checkout with email personalization
After a user makes a purchase, you should use the data collected from their transaction to restart the next purchase journey. This can effectively be done by delivering personalized emails that tout promotions, content, and products based on the customer's affinity to items, brands, or categories. For example, suppose they tend to buy seasonal produce. In that case, an email can recommend fruits and vegetables that are in season and other popular items like novelties, drinks, and even cooking supplies. When it comes to churned customers who have not purchased in a month or more, an email recommending their previous order or similar items can jog their memory and get them back to the website to shop again.
Many brands are integrating their ESPs with specialized personalization solutions to deliver these highly tailored email experiences more efficiently, which were historically very difficult to achieve.
Seize the power of personalization to elevate your grocery game
The paradigms of consumer behavior have shifted, catalyzed by the pandemic and accelerated by the convenience of digital shopping. Today, the stage is set for a new era of personalization within the grocery industry, one that leverages data-driven insights to connect with consumers on a personal level, reshaping the grocery journey from mundane to delightful.
The window of opportunity is open but not indefinite—early adopters and innovators of personalization technology and trends will inevitably redefine grocery dynamics, so the time to invest is now. Those who hesitate face a significant opportunity cost that will be deeply felt in smaller market share and customer loyalty.