How to Create High-Converting Mobile Product Pages
Optimizing product detail pages is essential to maximizing the limited real-estate on a mobile device. Check out this post for seven actionable strategies.
Mobile users are extremely busy, often multitasking and rarely shopping for pure leisure. Therefore, convenience and ease of navigation are the key differentiators between mobile websites that delight users and those that cause them to go back to Snapchat.
Mobile shoppers will move on to your competitor's website to make a purchase if they can't reach their goal within a few taps. If the experience is not optimized for ease of use, they simply will not transact.
Of particular importance to eCommerce companies is the design and performance of product detail pages (PDP) on mobile. Too often, a retailer will optimize their homepage only to serve PDP pages that fail to accommodate the unique idiosyncrasies of the mobile web. Additionally, many mobile designs will slash key product information from the desktop version of sites, selling their products short in the process.
To overcome these common pitfalls and build mobile PDPs that drive conversions, please check out these best practices and must-haves for Mobile PDPs.
Mobile PDP Best Practices
1. Keep all product information from desktop website:  Change the way information is presented to make it handy and actionable on a smaller screen but don't remove any valuable product details. 65% of smartphone users agree that when conducting a search on their smartphones, they look for the most relevant information regardless of the company providing the information. 51% of smartphone users have purchased from a company or brand other than the one they intended to simply because they received a more relevant experience there.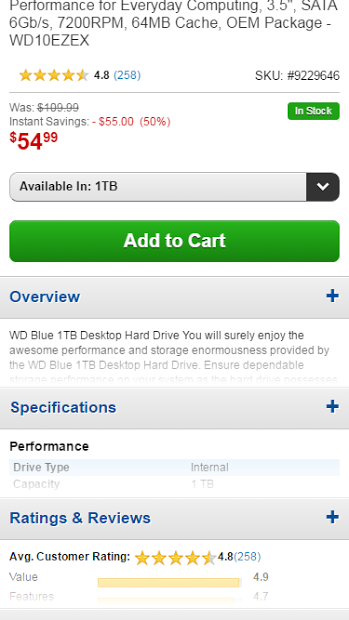 2. Use quality pictures: Though the screen on a smartphone is smaller, quality of aesthetics still reigns supreme. To compensate for the smaller screen, give your visitors the ability to zoom in on images. The best option is to have flexible zoom allowing to make the picture full screen by double-tapping it and to use two finger pinch zoom to enlarge it even more.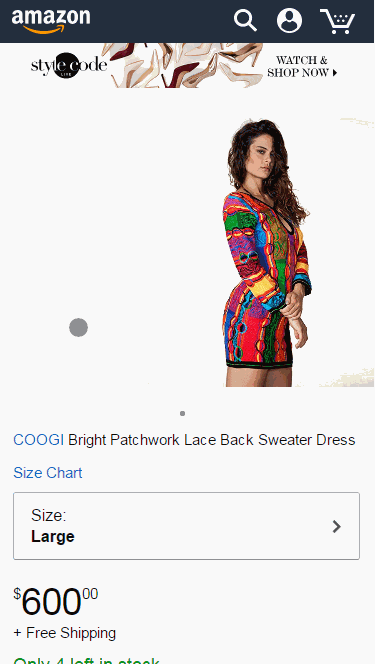 3. Save data and bring users back to context! Save data within the session so that if a mobile visitor loses her connection to the internet she doesn't have to look for and add all the products to the cart again. Additionally, be sure to save data for logged in users (and encourage them to register or log in showing this as a benefit) so that they can add products to the cart on mobile and see all the same products in their cart on desktop. Today's shopper toggles between devices but expects one seamless experience. Starting a session from scratch when a user logs in is a sure-fire way to lose a sale.
As another tip, only 30% of consumers agreed that the mobile web experience becomes increasingly relevant while browsing. So using your data to create more meaningful experiences as users interact from one page to the next is in another highly influential strategy.
4. Prominently feature recommendations: On mobile devices, visitors often feel more comfortable tapping on recommended products, rather than spending a lot of time browsing the site. As a result, recommendations can be even more effective on mobile than on desktop and should be a cornerstone of your PDP
5. Use icons instead of text for big lists of options: Tap-optimized dropdowns or overlays for choosing sizes, colors, and bundles take less screen estate on your product page and are a more intuitive design
6. Pay attention to your back button: If hitting back causes a user to lose his session entirely, frustration will ensue and could reflect negatively on your brand. Be cognizant of what will happen when a user presses the back button (since this is such a common action), especially if you are using overlays.
7. Encourage completion of purchases on other devices: With much less screen estate and the absence of a proper keyboard on a mobile phone, often users prefer to complete orders on desktops. While it's a good idea to incentivize mobile checkouts, the visitor should be provided with the opportunity to move across devices smoothly while they shop.
Mobile PDP Checklist
Optimize your Mobile PDPs for Action
When a user is on a mobile PDP, she is actively engaging with your products. Thus, it is vital to create a path from PDP to checkout that is as seamless as possible to increase conversion rates, average revenue per user, and average order value.
Given the propensity of mobile visitors to abandon their carts, a "buy now" button is an extremely helpful tool to try and quickly jump users through several stages of the purchase funnel. Using a buy now button in addition to an add to cart button on mobile PDPs can cut down on items that are placed in carts and forgotten and drive easy conversions. However, the effectiveness of a buy now button depends on the site. If the average number of products in an order on an ecommerce site is high, a "buy now" button can decrease AOVs by taking a user to checkout before she is done shopping. Ultimately, it comes down to leveraging data on how your mobile shoppers transact and constructing your PDP page accordingly.
As more traffic shifts to smaller screens, optimizing all aspects of your mobile site will be essential to building experiences that engage your user base. Given the wealth of information on product pages, optimizing PDPs for action can no longer be an afterthought for ecommerce companies – it must be core to your onsite strategy.