Personalization in QSR: The Possibilities You Didn't Know Existed
Advancements in technology are opening new doors to drive loyalty and maximize business profits for QSR through personalization.
While the worst of the pandemic has come and gone, its impact on consumer expectations has remained, spurring significant digital transformation within the QSR industry. In fact, most QSRs now offer advanced online and mobile ordering, with a growing number digitizing their drive-thrus – as of spring 2021, 8 of the top 10 QSRs were already using digital menu boards.
But is it enough to compete with the likes of Amazon, CVS, and Apple, whom consumers have come to increasingly rely on given their ability to provide individualized, seamless, and convenient experiences across both online and offline channels?
In this article, we'll dive into the massive potential for QSRs to elevate their game and how personalization can be used to influence real-time ordering behavior, maximizing business value in the short-term and customer loyalty over the long term.
Available data in the QSR landscape
QSRs create an unparalleled volume of data each day, yet most are unsure of how to go about using it beyond tailoring experiences for known, identified customers on mobile (which only represent 10% of transactions).
This is easy to do using purchase history, loyalty program data, dietary preferences, and engagement information, but QSRs can enhance their dataset and establish foundational personalization for anonymous visitors by also incorporating contextual factors into their touchpoints. Think location and weather, item availability and popularity, time of day, and existing order items.
Given the digitization of almost every customer interaction across the restaurant experience, QSRs can use all of this data to optimize 100% of transactions.
Influential areas for QSR personalization
Below, we'll explore how QSRs can use known and contextual data to capitalize on poignant opportunities for personalization across their main channels:
Online (Mobile app, mobile web, and desktop personalization)
In-store (digital menu boards, drive-thru, and kiosk personalization)
Messaging (email, push notifications, and SMS personalization)
Additionally, how it can be used to influence the delivery of omnichannel experiences.
Online (mobile app, mobile web, and desktop)
When COVID shut down in-restaurant dining, QSRs focused significantly on developing their online channels, growing their identified user base through takeout and delivery. And despite in-store's return, changed dining habits mean these channels will continue to grow.
Thus, QSRs should continue to prioritize online channels and use the rich data collected to further enhance the customer experience for these users in the following ways:
Influence real-time ordering with personalized recommendations
QSRs can leverage a known customer's loyalty program data to tout special promotions, personalized messaging or recommend menu items based on purchase history or dietary preferences. But they can also offer personalized recommendations to unknown customers, too, using location-specific data. For example, they can use dynamic banners to highlight messaging that nudges customers towards trending items based on the restaurant's product popularity, ice cream on a summer day, or showcase specific products, like on-the-road-friendly treats for a location off the highway.
Drive loyalty with fresher food during pick-up or delivery
Time plays a differentiating role in the customer experience when it comes to food: Some meals don't travel well or are best eaten right out of the oven. QSRs can dynamically update their menus to include or exclude specific items based on a user's selected order fulfillment method. For example, if they're looking for dinner to be delivered, menus could hide things like ice cream cones since they'll turn to soup by the time they get to the customer. Have a lot of inventory of things that are best eaten in the restaurant? Personalization can be used to highlight special product availability and other offers that encourage store visits and pick-up.
Maximize business profits with optimized order timing
It's a bad experience all around when a customer decides to order online for pick up–and then still has to wait for their food in the store. Or even worse: When an early fired order means orders sit on the pickup shelf for long periods of time and have to be remade for the customer. QSRs can use personalization technology to strengthen their order timing workflows, for instance, using location data to prompt order preparation when customers are approaching the restaurant.
An entirely personalized approach
With the right operating system, these personalization strategies can be deployed simultaneously. For example, let's say a vegetarian user opens a QSR mobile app around lunchtime on a hot summer day. Not only will they find their homepage populated with veg-friendly lunch options, they'll also find cold soft drinks highlighted. Upon selecting in-store pick-up, the app displays an ice cream recommendation previously withheld due to delivery constraints. Using location-specific data, the app provides an accurate estimate of when the customer can expect the order to be ready and waiting for them.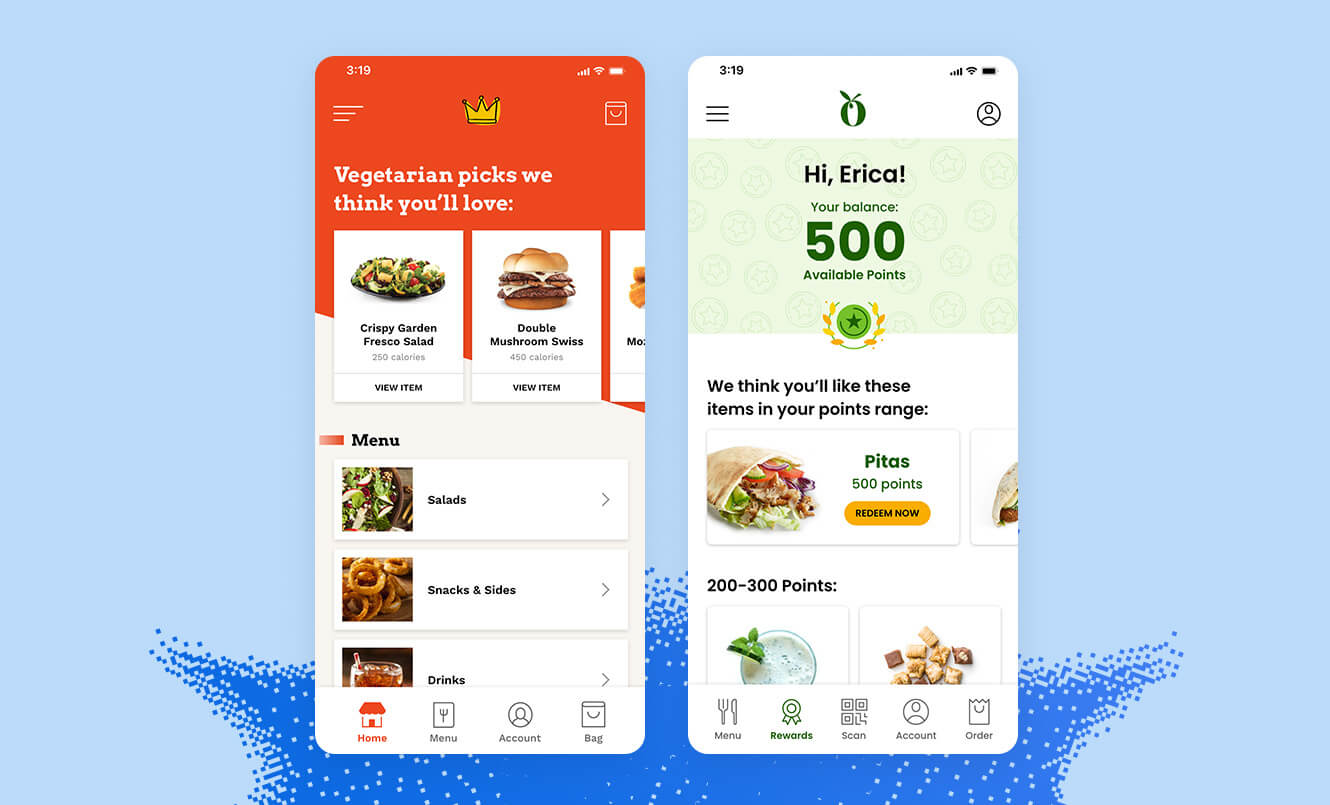 Mobile apps can deliver personalized QSR experiences based on contextual data, like location, weather and time of day, and existing data points specific to the individual user, like dietary preferences and past purchases.
In-store and drive-thru
QSRS have adopted digital menu boards and kiosks, with some restaurants even choosing to move the ordering process to a completely self-serve experience. This increase in adoption means there are many growing opportunities for in-restaurant or drive-thru personalization. A growing restaurant industry trend in 2023 shows many QSRs are taking a cue from McDonald's new era of digital menu decisioning, displaying relevant items on its digital menu boards and self-service kiosks based on real-time and store-level data, such as time of day, current restaurant traffic, and item popularity.
Yet this is only the beginning of the possibilities. Here are some ways restaurants can use personalization to benefit the in-store and drive-thru experiences:
Maximize business profits with a quicker ordering experience
When customers come to quick service restaurants, they want exactly that: Quick service. Just like how QSRs can change their online ordering menus to account for a fresher food experience, they can dynamically alter their in-store and drive-thru kiosks to help with business KPIs. By eliminating items that are not relevant for the time of day or, in-optimal for the chosen experience (e.g. family-sized meals and accouterments for dine-in or foods with longer prep times for drive-thru) QSRs can present a streamlined menu display that helps customers complete orders nearly 10% faster and reduce wait times.
Influence real-time ordering behavior with upsell and cross-sell opportunities
In-and-out service shouldn't have to come at the expense of opportunities to increase the average check size, either. Rather than tellers relying on scripted offer recommendations, QSRs can use dynamic menus and kiosks to instantly highlight the most relevant products or leverage suggestive selling to complement a customer's current cart—simultaneously on the same screen.
Use digital menu boards and kiosks to go beyond, "do you want fries with that?" and recommend more relevant items based on a customer's existing order as well as contextual factors like seasonality or product popularity
Drive loyalty by converting anonymous visitors to known customers
Many customers may prefer to be greeted with a simple "Hello" rather than an inquisition for member loyalty status. Using digital signage via the menu or ordering kiosks can help bolster the customer experience by simultaneously prompting loyalty members to input their information without disrupting the person-to-person interaction. Additionally, for those who haven't already opted into a loyalty program, QSRs can use these customer touchpoints to highlight loyalty points for each item or transaction that could be redeemed upon sign-up, or offer a special deal in real-time to those who download the app. As QSRs invest more in their loyalty programs, these initial touchpoints provide more opportunities for easy program growth.
Messaging (email, push notifications, and SMS personalization)
Once a visitor becomes a known customer, additional personalization is possible through messaging channels like email, push notifications, and SMS marketing. Unlike in-store or online channels that are responsive and dependent on the customer's activity or presence, messaging channels let QSRs be more proactive and initiate conversations directly.
Similar to online channels, a foundation for personalized messaging can be built from available contextual data, with content augmented using known loyalty program data, purchase history, dietary preferences, and overall level or frequency of engagement.
Maximize business profits by winning back lapsed customers 
Sometimes all a customer needs is a reminder that they haven't visited a location in awhile. QSRs can leverage push notifications, SMS messages, or even emails with personalized offers to re-engage lapsing customers who haven't engaged in-store for a defined period of time (e.g. 30, 60, 90 days).
Emails like the one above can entice and encourage customers with seasonal favorites, limited-time offers, and general benefits of ordering with the app.
Influence real-time ordering by keeping customers in the loop on important updates
Personalized push notifications, SMS messages, and emails can also be used to provide up-to-the-minute updates about a customer's current pick-up or delivery order status, limited-time deals and menu items, or location-specific promotions. For example, imagine you have customers attending a major event like New York City's Thanksgiving Day parade, and it's a cold one outside. You can send them a push notification about a limited-time deal for a free hot chocolate that all loyalty program members in town for the parade can enjoy.
Drive loyalty with personalized messages and offers
While many brands already incorporate birthday treats and check-in status rewards into their loyalty programs, QSRs can save money by not blanket offering promotions and instead deliver personalized messages and offers that seamlessly integrate with a user's lifestyle. For example, rather than offering a free $5 reward on your next visit, you can trigger a push notification, SMS, or email offering a particular free menu item after they've bought a certain number of that item.
Brands can even apply the same logic but for menu types, (i.e. those who buy a certain number of vegetarian items in a row are served an email campaign with vegetarian messaging.) This personalization doesn't have to be limited to offers either—thresholds for certain order-types can trigger different experiences as well. For example, if a customer orders a string of kids items, messaging can be triggered once new kid-friendly meals or promotions are deployed.
Optimizing each channel and experience for business results with advanced deep learning
Deep learning based recommendations are quickly becoming the standard across industries for predicting the next best series of products, including within QSR. However, these algorithms can also be trained to understand specific nuances only found in the restaurant industry. For example, recommending french fries will yield almost 100% take rate given most consumers are likely to purchase this as a part of their order anyways, so optimizing for this KPI will do little when it comes to incremental revenue.
The right QSR personalization platform will review every check that a product was included in to understand its impact against various KPIs (e.g. check size, revenue, etc.) as well as across channels, allowing teams to set a realistic baseline for performance and further optimize the recommendation model's predictions based on seen and unseen data.
The omnichannel opportunity
Just like other industries, customers experience a brand in one way – they don't see it as "online" or "in-store." Therefore, the opportunity for QSR teams is to not only take full advantage of each channel's unique features with personalization but also use them to inform subsequent experiences on other channels.
Harnessing the full power of this cross-channel data (on top of what's already been discussed), QSRs can deliver a truly cohesive, omnichannel customer journey. One where a user's drive-thru order impacts the experience, content, and messaging they see the next time they open the mobile app and vice versa, or a personalized push notification or email is triggered based on a period of inactivity, complete with a relevant offer to re-engage.
Personalization per channel builds capabilities for omnichannel experiences to ensure cohesion across the entire customer journey.
The next step in QSR personalization
Today, consumers expect their preferences and interests to be reflected at every interaction point – which they see as part of one overall experience with the brand. QSRs are no exception to the rule, requiring those in the industry to go beyond a channel-specific approach to one that is truly omnichannel. The full potential of personalization within QSRs is here—it just needs to be capitalized on. By harnessing the massive swaths of known and contextual data available to them with the right strategies and QSR personalization platform for activation, teams can take advantage of this opportunity and deliver these category-defining customer experiences, influencing everything from real-time ordering behavior to loyalty.