Revolutionizing The Drive-Thru Experience By Personalizing for 100% of Guests
QSRs only know 10% of their drive-thru guests. These strategies will help you deliver personalized experiences to the other 90% of your traffic.
The drive-thru generates 60-70% of US fast food sales and billions of dollars each month, representing the most popular sales channel for QSRs. This also makes it prime for personalization, which can help businesses operating in the space maximize results through the delivery of tailored drive-thru experiences – yet most are unable to effectively scale these efforts.
But why?
For starters, QSRs are largely focused on associating drive-thru transactions with identified guests. On the surface, it makes sense, seeing as they can use what they already know about the individual to provide greater relevance. However, these guests only account for 10% of total drive-thru traffic. The larger opportunity, therefore, lies in creating personalized experiences for the 90% of unknown customers who visit the drive-thru.
In this post, we'll cover how you can cater to both identified and unidentified guests throughout the entire order flow – increasing check sizes and revenue without compromising on lane speed or order fulfillment times – attaining personalization for 100% of drive-thru visits.
The possibilities of drive-thru personalization for unknown and known guests
A personalized drive-thru experience can take many forms, from showing a tailored menu board layout to listing the most relevant items and providing product recommendations, with each able to be baked into the entire order flow: before the order starts, during (after adding items to the basket), and ahead of checkout.
This can be achieved regardless of whether they are a loyal customer, a mobile app-using regular, or an out-of-towner who may never visit your restaurant again – each guest yielding different opportunities for personalization if QSRs ask the right questions.
QSR drive-thru personalization for unknown guests
An unknown guest is a customer that does not identify themselves in any way, leaving you without knowledge of their past purchases, preferences, dietary restrictions, or any other personal information. In some cases, even identifiable guests could be considered "unknown" if the data you have collected on them is very limited. But just because you can't identify a customer doesn't mean you can't tailor their experience by leveraging the information that is available.
Anonymous drive-thru personalization is still possible using a number of helpful contextual factors, such as:
Restaurant location
Product popularity and current inventory
Time of day
Existing order items
These derive from the conditions and environmental parameters that all other customers in the drive-thru line are experiencing, making it more feasible to optimize for them than meets the eye. For example, in just 6 months, McDonald's rolled out personalization across 12,000 US drive-thrus, showing relevant menu items based on time of day, current restaurant traffic, and popularity to enhance the overall customer experience.
When done effectively, the impact on efficiency, speed, customer satisfaction, and overall revenue cannot be ignored.
Let's take a closer look at each of the contextual factors for anonymous drive-thru personalization:
Restaurant location
A restaurant's location has identity-like traits that should be integrated into the digital menu board display and used as a major factor in personalization decision-making. For example, a restaurant in an urban city will have stark differences in order patterns, volume, and preferred menu items in comparison to a rural-based restaurant.
On a larger geographic scale, the cultural differences between regions, states, and cities have a significant impact on menu item preferences and buying habits.
A refreshing frozen drink will appeal more to a sunburned Californian than a bundled-up Minnesotan, where hot coffee or tea is more likely to hit the spot.
By leveraging location to personalize the drive-thru, a QSR can highlight its best-selling or trending items on the digital menu board while deprioritizing those with lower demand to deliver an experience that is restaurant-aware.
Similar to a restaurant's location-based data, the weather forecast can also influence the moods, needs, and purchase intentions of consumers. This is when weather-based targeting helps to prioritize more climate-appropriate choices.
Product popularity and current inventory
Different products tend to become popular in different places, and the guest experience should reflect the current trends across regular menu items. QSRs can use these trends to not only optimize local limited-time offers for guests but also save money for the business by not slashing prices or blanket promoting the same offer across locations.
It's also important to not recommend products that are currently unavailable at a specific restaurant, avoiding potentially negative customer experiences before they have a chance to happen. This can optimize lane speed and order fulfillment times as well, given that it takes time for guests to decide on the next best option after learning an item is unavailable. Being that 80% of consumers will consider leaving a restaurant or drive-thru when they see a long line, it's critical to facilitate the flow of traffic in this way.
Time of day
There's a clear distinction between different day-parts and the experience your guests expect when they visit your restaurant at 8:00 am for breakfast versus 1:00 pm for lunch. While you'd likely want to recommend coffee and pastries during breakfast, a chicken sandwich is usually a better option during lunch.
And while QSRs with digital drive-thru menu boards complete orders nearly 10% faster than locations with traditional, static menu boards, they can maximize this touchpoint even further by changing more than just the menu display by the time of day and updating their recommendations strategies and featured products as well.
For example, items might be offered all day (e.g. coffee), but sell better during breakfast hours than at any other time. Despite being part of the same menu, highlight these products during peak times, then swap for higher-performing items later in the day. You might consider setting KPIs and business rules for the breakfast menu that are different from the lunch menu or dinner menu for more accurate product recommendations.
Existing order items
Regardless of a customer's identity, the existing products in their basket can tell you a lot about what other products they might be interested in, their preferences, and the propensity to add other items to the order.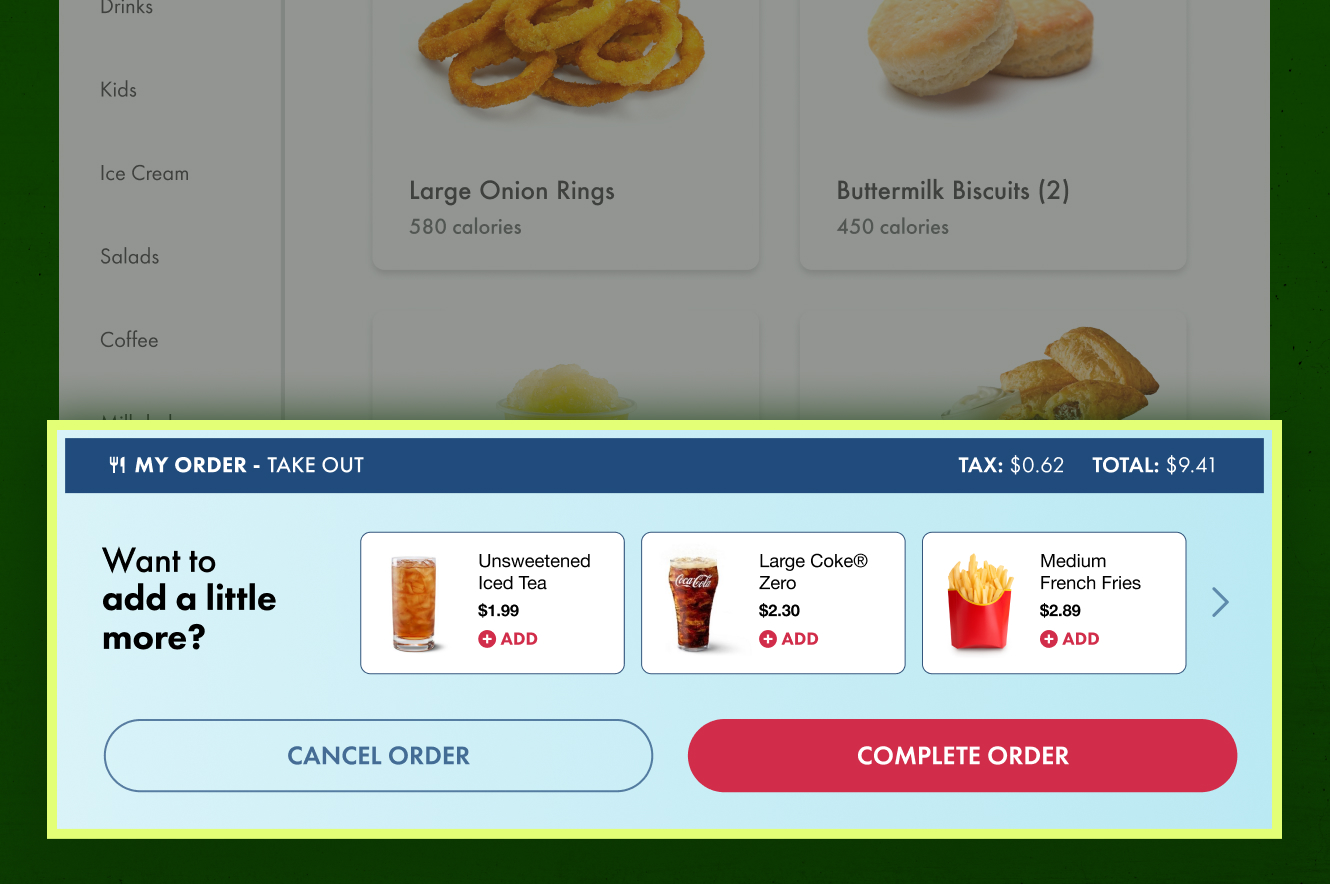 With a sandwich and a side already in the cart, a cold drink just might be the perfect way to round out the order.
With limited real estate to deliver these recommendations, you want to make sure the items you put forward are the best options for that specific order, and it's important to consider which items are reasonable recommendations for the situation. For example, a customer who just ordered a full meal is likely not interested in another meal, which is an important nuance that only personalization technology specifically for QSR is designed to address.
It makes sense in this scenario to leverage suggestive selling and recommend popular or complementary items throughout the order process as well as before checkout to improve the overall experience and increase check size with an unexpected but welcome last-minute addition to their order.
QSR drive-thru personalization for known guests
Guests who frequent your restaurants and willingly share their information or are members of your loyalty program expect all the forms of personalization mentioned above – and more.
This small but powerful 10% of identified drive-thru guests reflect the deepest personalization opportunities based on information such as:
Purchase history from all selling channels (including mobile app, web, and in-store kiosk)
Customer data from loyalty programs
Engagement across digital channels like email or SMS
Dietary restrictions or preferences
These factors can be further augmented with all the contextual criteria previously described that are still at play to provide even more relevant drive-thru experiences.
Loyal customers can simply reference their member IDs or opt-in to license plate recognition for their personalized recommendations in the drive-thru experience.
Drive-thru personalization for known customers can begin in-app and should incorporate pertinent information like dietary restrictions or preferences, as illustrated above
Mobile ordering
While the drive-thru menu board has a larger screen size for personalization, it is less interactive than the mobile app experience, where the user can take more time to place their order vs hoping to avoid a honk from the car behind them – but both are equally important to achieve a fully personalized drive-thru experience for 100% of customers.
This is especially true as guests are more commonly ordering on their mobile devices and picking up at the drive-thru these days, with lanes sometimes designated solely for this purpose.
A mobile personalization solution needs to complement the drive-thru boards with a unified approach that considers both general guest preferences and those per selling channel. For instance, the same guest may prefer grabbing their morning coffee at the drive-thru but would rather order lunch on mobile and pick it up at the store.
Super-charge your business outcomes with a personalized drive-thru experience
The drive-thru represents a critical sales channel for QSRs, but historical personalization efforts have primarily focused on the 10% of known customers. To achieve 100% personalization attainment, there needs to be a greater focus on tailoring experiences for the large majority of unknown guests based on factors like restaurant location, product popularity, time of day, and existing order items – all of which can positively impact average check size, lane speed, order fulfillment, and revenue.
The drive-thru provides an opportunity to engage with your guests beyond the transaction or the static menu. It's a unique way to encourage all of your guests (known, unknown, mobile, or in-store) to keep coming back.
Sign up for the XP² newsletter
Join thousands of readers from Target, Citi, Spotify, Hulu, Google, Sephora, and other innovative brands who read our bi-weekly XP² newsletter, delivering educational content, research, and insights straight to your inbox
You may unsubscribe at any time. Visit our
privacy policy
to learn more about how we process your data and your rights as a data subject.
Thanks for
signing up!