Dynamic Yield Academy – self-service education for evolving personalization practitioners
Marked by a fresh design and now open to all users interested in personalization education, we're proud to reintroduce the Dynamic Yield Academy.
Knowledge is power when it comes to the expansive world of web personalization, which is why we've made it a top priority to educate practitioners in the space about how to best achieve meaningful results. In its first iteration, our online Academy was built to simply certify Dynamic Yield users. To date, hundreds of marketers and engineers who use our platform have graduated from the program, armed with a new set of skills to help them build, launch, and analyze personalization campaigns.
But with new features and capabilities that are constantly being added to Dynamic Yield's already robust platform, combined with a rapidly evolving market, our customers were hungry for more. We aim to ensure practitioners at every level of maturity can enrich their knowledge, improve workflows, increase efficiencies, and unleash the full power of our solution – whether just starting off or deploying sophisticated use cases. That's why we're excited to share the next iteration of our mission to support and prepare digital marketers and developers with the tools they need to be successful and seasoned personalization experts.
We've opened up our Academy – filled with courses, on-demand videos, and seminars – to all! Anyone interested in taking their CX skills to the next level can access all of our educational content, as well as a calendar of upcoming training events, on mobile and desktop devices. Still fully self-service, discover what's new, what's changed, and what's inside the latest manifestation of our Dynamic Yield Academy.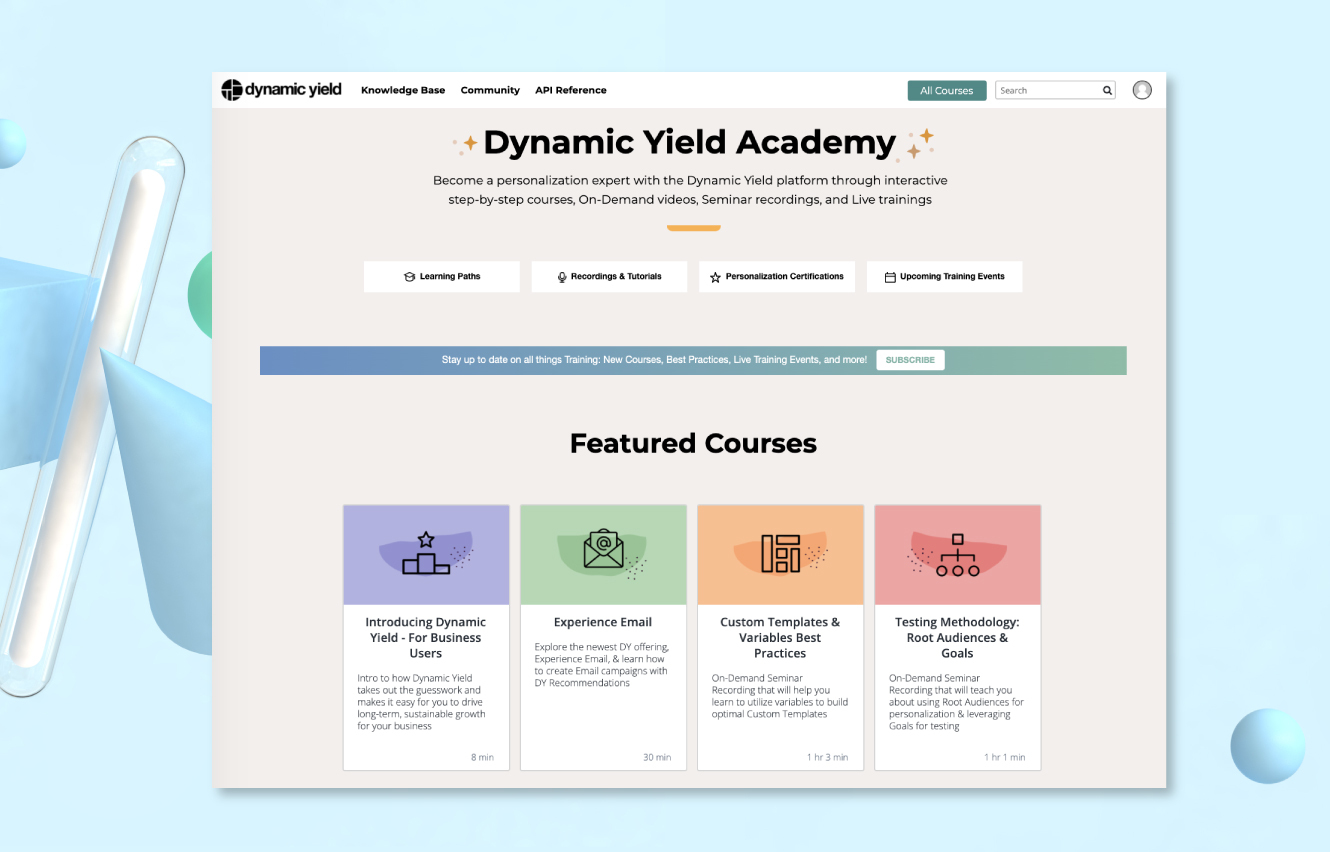 Bringing personalization education to all
Long-time Dynamic Yield users have enjoyed access to our customer and partner-only Academy, filled with trainings and certification programs designed to get all business and technical users up to speed on our platform. But for far too long, our e-learning courses, on-demand seminar recordings, and certification exams were dispersed across our site. As a result, we set out to find a home for all educational materials we meticulously have been building and refreshing over the past few years. With this expansive refresh, everything is housed under one roof, and users can now also register for intimate, live training events, directly from the Academy site.
Additionally, part of our organization's mission to build exceptional customer experiences is an ability to provide real value for marketers – whether or not they are customers or partners. While going through the motions of this redesign, we decided to no longer gatekeep education, opening up the Academy to all in the process. And with so much immersive content available, our filtering systems, search functionality, and general layout make it easy for anyone interested in personalization to find lessons, watch seminars, or test their knowledge.
What's inside the Academy
Our Academy is filled with interactive courses, video walkthroughs, seminars, and certification exams, constantly updated to reflect the most up-to-date information and best practices. Let's take a closer look under the hood of each section.
Learning Paths
Our interactive Learning Paths are designed to help marketers, developers, product managers, and more gain a deep, practical understanding of personalization and our platform. Each course contains a sequence of engaging, user-friendly, 101-level courses that walk users through Dynamic Yield, bucketed into five core topics:
Campaign creation
Product recommendations
Experiences & targeting
Behavioral targeting
Templates and variables
Additionally, we have two on-demand fundamental courses, home to video modules that catch both business and technical users up to speed on the basics and essentials needed to use the Dynamic Yield platform effectively. These lessons are especially useful for new hires at an organization that is already using Dynamic Yield, as it gives them an opportunity to watch these lessons on their own time. It also gives practitioners outside of Dynamic Yield's direct network an opportunity to peek into the types of individualized training experiences we offer exclusively to our customers.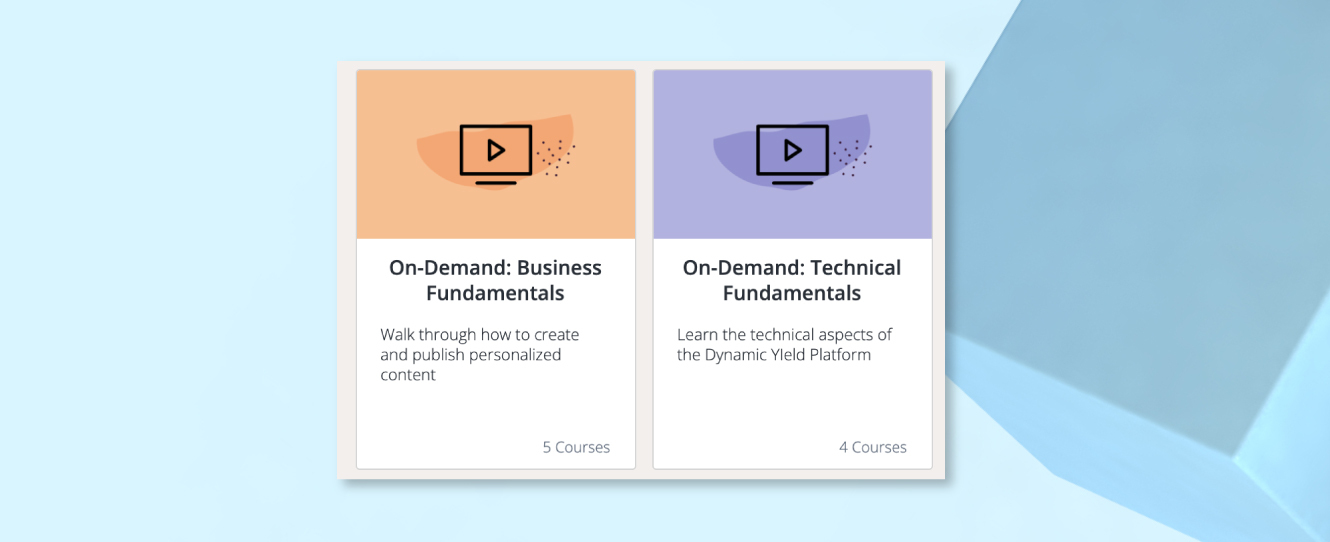 Recordings and tutorials
Over the years, our Training team has hosted a number of Advanced Personalization Seminars, helping business and technical users take their personalization skills to the next level. These sessions now live on our Recordings & Tutorials page, which is a library of recordings from past interactive training events. With each running about an hour long, they walk through a variety of topics, including cross-device optimization, badging, multi-touch campaigns, and more.
Personalization Certification
We're continuing to offer our Certification program, which qualifies graduates as professionals in omnichannel personalization for the digital world. Our Business Certification and Technical Certification exams include 15 questions, with a passing score of 80%. Users have two attempts for each exam each month, and the questions refresh each attempt, ensuring test takers really put their knowledge to the test. And best of all, all graduates get a shiny new digital certificate they can show off and add to their LinkedIn profiles.
A more accessible learning experience
In addition to our interactive coursework, we've made it easier to find lessons and videos on specific topics practitioners are solely interested in. By clicking the green "All Courses" button located in the top right of the Academy, users can browse the full library of educational content, use our new search functionality, as well navigate the filter menu to browse lessons according to:
Recency
Role
Learning level
Language
Course Type
Component
This experience gives users the flexibility to learn on their own time, opting for individual 10-30 minute lessons over hour-long sessions if they are short on time, find the content they are looking for with ease, and browse which lessons we have available in other languages (primarily Spanish for now, but German, you're up next!).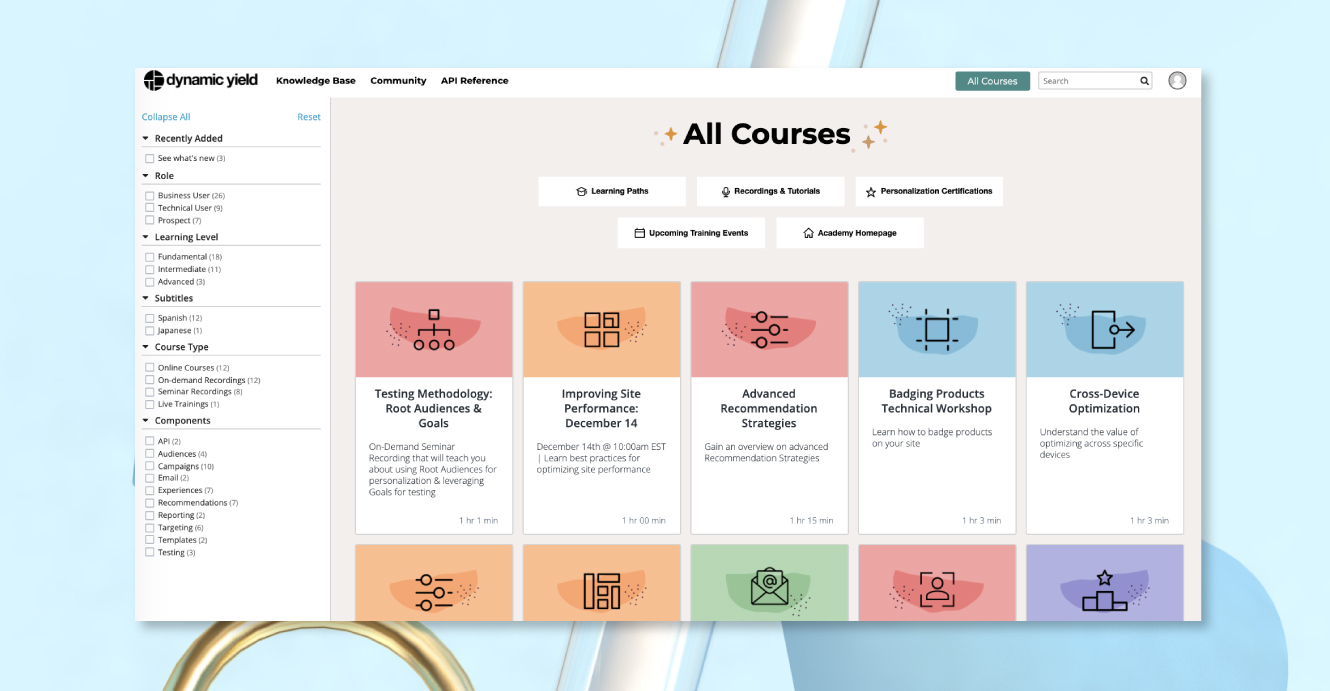 Non-stop learning
Anyone can deliver highly-personalized experiences, and now they know exactly how. And this is only the beginning as we continue to create and introduce more content to the Academy – enabling practitioners to grow with our platform and push the limits of what's possible in the field. In the meantime, I encourage you to browse our lessons, test your knowledge, show off your certifications, and spread the word! Together, we can build the next generation of digital personalization practitioners.