End-to-end QA for personalized experiences.   
Deploying enterprise grade personalization across all aspects of the consumer journey can seem like a daunting task. There is data flowing in from several customer touchpoints, a myriad of moving parts and processes to keep track of and a plethora of unique experiences to serve.
Therefore, it is essential to use a unified personalization stack to have one source of truth for both data management and activation. However, it is equally important that this stack is equipped with tools that make the nitty-gritty elements of building personalized experiences as painless as possible.
At Dynamic Yield, we have developed several capabilities that make building personalized experiences easier. These tools enhance visibility into the mechanics of the inner workings of Dynamic Yield, helping our customers with configuring, debugging and experience previewing. Two of these key features are explored in greater detail below.
Introducing Preview Links and the Preview Extension
Previewing your Experiences prior to going live is crucial, as all measures should be taken to guarantee that your experience and all associated variations render correctly according to your design and desire. Previewing your experience is especially important for quality assurance (QA) and user acceptance testing (UAT) purposes and often requires input from several members of your team. Therefore, it is vital to allow additional organization members– including those without Dynamic Yield credentials– to preview content that will be launched on your website.
Meet the World's First Personalization Technology Stack
Personalization, Recommendations, 1:1 Messaging, Testing & Optimization in a Single Platform
Dynamic Yield offers several previewing options including preview links that can be shared externally and across your organization or an on-screen preview extension for users who have login credentials. The preview extension opens easily on the right side of a user's screen, allowing for all variations to easily be selected and viewed.
With these tools, Dynamic Yield allows users to preview several common deployments including dynamic content, overlays and notifications, landing page variations, display ads and javascript actions.
Introducing the Implementation Helper
Dynamic Yield's Implementation Helper makes it easy for marketers and developers to implement and validate their Dynamic Yield implementation. To make QA a breeze, the helper highlights the implementation status of your Dynamic Yield script, mandatory eCommerce events and page Context API. Additionally it indicates the audience you belong to based on the targeting parameters you have set.
The Implementation Helper is an easy way to verify and validate the correct implementation of the context API, events, and audiences. Understand exactly how your audiences will experience your website and make important changes before going live.
This results in less time spent performing QA on experiences, allowing you to personalize with greater agility.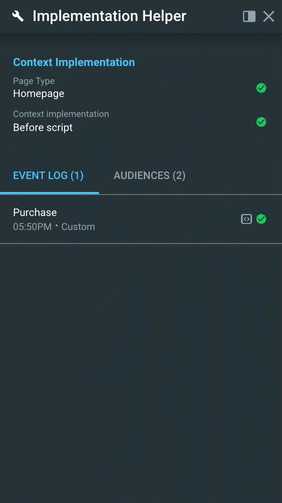 QA can often be a less glamorous and overlooked element of a technology stack's capabilities but it is essential to maximizing the value of a tool. By providing the industry's most advanced preview and configuration capabilities, Dynamic Yield makes QA and UAT as seamless as possible, giving more time back to your marketing and development teams.