Sabon NYC Boosts eCommerce Holiday Sales by 35% with Homepage Personalization
Leading Personalization and Conversion Optimization Solution, Dynamic Yield, Delivers 35% Uplift During Black Friday and Cyber Monday Sales.
Leading Personalization and Conversion Optimization Solution, Dynamic Yield, Delivers 35% Uplift During Black Friday and Cyber Monday Sales
New York (December 12, 2014) – Dynamic Yield, the leading automated real-time personalization and optimization solution, announced today that Sabon, an international luxury bath and beauty products retailer, has increased Black Friday and Cyber Monday sales 35% by implementing Dynamic Yield's personalization solution. Sabon saw dramatic improvements across key performance metrics including user engagement, total page views, time spent on site and most importantly, sales.
Personalization is an increasingly critical driver for successful optimization of the digital shopping experience. Dynamic Yield's solution exposes visitors to products and promotions that are relevant to their individual preferences, leading to an increase in ASP (average selling price), sales, user satisfaction, repeat visits and user engagement.
Dynamic Yield empowers marketing professionals to control the personalization process without relying on IT involvement. The solution automatically personalizes and optimizes the user experience in real time based on performance, relevance and other key metrics.
With Sabon, Dynamic Yield optimized holiday offers displayed on the homepage, including video and promotional content during the key shopping days of the year. By "breaking down" the home page (and other web page elements) into many units, Sabon was able to test and optimize different variations of holiday offers and products they wished to try during those days. Dynamic Yield's optimization algorithms then chose the best variations to present in real time.
"For luxury brands like Sabon, delivering a personalized shopping experience online, like customers would receive in person, is a critical component to driving sales and improving the relationship between brand and customer," said Dynamic Yield's CEO Liad Agmon. "This holiday season, expectations soared for online shopping. Personalization and Automated Optimization helps brands maximize their eCommerce potential by delivering a tailored and optimized shopping experience that improves brand engagement, bolsters customer satisfaction, and ultimately, drives revenue."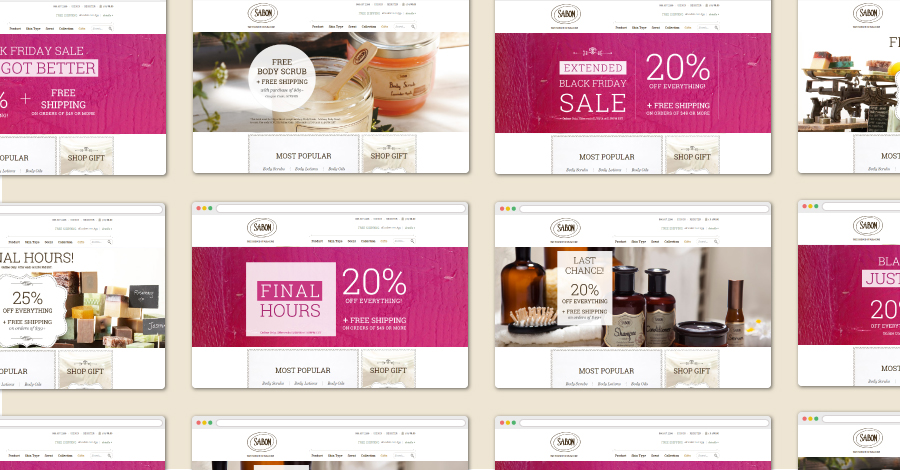 This image shows different Homepage variations that Sabon presented to visitors during the holiday weekend and that were optimized automatically by Dynamic Yield's solution to maximize sales and ROI.
Founded in 1997, Sabon's founders have always been committed to providing industry leading customer service. Striving to exceed customer expectations by anticipating needs, desires and dreams, and by offering unrivalled levels of service. Utilizing Dynamic Yield, Sabon was able to bring this same standard of service online, expanding and dramatically improving their eCommerce capabilities. Each visitor to Sabon's site during Black Friday through to Cyber Monday was engaged based on past browsing behavior, referral data, and various other metrics. Dynamic Yield empowers marketing professionals to own the personalization process automatically and in real-time.
"With Dynamic Yield, we were able to optimize our homepage slideshow, upload different variations of standalone products and different sale offers to guide customers through the sales funnel," said Hezi Rotem, CEO of Sabon. "Instead of theorizing what would work best, we were able to try different promotions with Dynamic Yield's automated algorithms. These enabled us to compose and generate crucial decisions in real time. As Black Friday and Cyber Monday piqued, optimization initiatives were continuously being generated, even while we were offline without human involvement. As a result, we saw record conversions."
About Dynamic Yield
Dynamic Yield is the leading provider of real-time, automated personalization and content optimization solutions for online marketers, retailers and publishers. The company's technology allows leading online brands to maximize ROI by automatically delivering the right content to every visitor at every stage of the funnel. Designed for the marketing professional, the platform is super intuitive, requires absolutely no coding following implementation, and delivers optimized experiences automatically and in real time. The company was founded in 2012 and has raised $15M to date from the New York Times Company, ProSiebenSat.1 Media AG, Bessemer Venture Partners, Marker LLC and Innovation Endeavors.
For more information about Dynamic Yield, please visit www.dynamicyield.com.
About Sabon
SABON is a global boutique chain known for the uncompromising quality of its products, sincere service, packaging and store design. With over 130 stores in 9 countries and expanding, SABON is a true international brand, appreciated by well-known designers and a wide consumer audience worldwide.
SABON's inspiration derives from our devoted customers. We source the finest materials, collected from high-quality delicate herbs and botanicals, to encourage the secrets of longevity and to promote good health. By using prime ingredients, we are able to offer an experience dedicated to revitalizing an individual's body, mind, and soul. We strive to consistently exceed customer expectations by anticipating their needs, desires, and dreams.
From its early day, SABON has been extraordinarily aware of nature, and has made a point of using natural materials and preserving the environment in which we live. All products are designed, manufactured and packaged by SABON in Israel. Influenced by the healing properties of the Dead Sea, with its vital minerals and salts – we support our friends of the Earth, and refrain from testing our products on animals. We aspire to leave behind an untarnished world that is as beautiful and rich as the one we inherited.
—
SABON was founded in 1997 by two visionaries, Sigal Kotler-Levy and Avi Piatok. The first store opened in Sheinkin Street, in the heart of Tel Aviv.  The SABON story began with making firm handmade soaps based on a 70 year old Australian formula, sold fresh and by the pound. The spectacular, and much loved, collections of body and bath products are available in stores across Israel, Europe, Japan, and the United States.