Introducing: 6 Notification Templates to Increase Your Conversions
Templates aren't just for widgets, like product recommendations, anymore. They are an essential part of any web business' personalization and optimization plan.
When it comes to website personalization and conversion optimization, artificial intelligence and machine learning is all the rage. Those technologies are cool and sexy. They sound decidedly futuristic. Templates, on the other hand, sound old and fusty, like something you find in Microsoft Word. (Resume template anyone?) If you're writing about personalization and optimization in 2017, why would you discuss templates?
Templates can be used as an essential part of your optimization plan. In fact, Dynamic Yield's product offers a built-in templating feature, allowing customers to easily build custom templates – or take advantage of our predefined library of high impact templates. Many of our customers are so in love with templates, that they have been using them for things like on-site notifications, dynamic display ads, exit intent overlays, and more.
Why are we offering templates as part of our enterprise-facing product?
They're easy to customize: Templates normally do not require specialized coding knowledge to alter and deploy; your average marketer can get in there and make changes to template design and behavior. This is especially important to companies that don't have deep developer staffs with the ability to write code. But even for companies with developers on staff, the simplicity and elegance of the template design is a boon because the HTML code is very easy to manipulate for more tailored variations. No need to go through endless cycles of development anymore.
They're simple to scale: Because templates are easy to use, it follows that they would be easy to scale. If you need to create several variations, merely follow the protocol for creating one, rinse, lather, and then repeat.
To create testing variations: The most important feature of a template is creating variations within a preset framework. Want to change the color of an offer overlay notification? Enter the template and choose a different color option from a pull-down menu. Want to change the font on a sale's countdown message? You can change that, too. Good templates make it simple to change aspects of design and behavior.
Here are six easy-to-deploy, effective templates for your site.
Satisfaction Questionnaire
Sometimes, if you want to know what someone thinks of you, you just have to ask. (eCommerce isn't dating; there's no need to be coy.) This template allows businesses to do just that — ask their customers how to improve the onsite user experience. Beyond receiving valuable feedback, serving customers a short questionnaire at some point during the purchasing funnel will allow retailers to collect valuable user information, which will enable their audience segmentation efforts. With the collection information, retailers will be able to better personalize the experience. For instance, a business can suggest the loyalty program to users who gave high marks to reward customers who are likely to be repeat offenders. For those who gave lower marks, retailers can offer coupons in order to incentivize them to return and try the site again.
Coupon Notifications
Discounts are an effective way to drive consumers towards conversion so installing a coupon overlay template seems like a no brainer. Using Dynamic Yield's targeting capabilities, different coupons can be presented to different user cohorts. For example, you can expose a user who has spent more than 30 seconds on any given product page to a coupon but only once per session. Or this notification can be shown to first-time visitors. Or to a visitor who has navigated back to the homepage, category page, or product page after they've started the checkout process, which indicates a hesitation to complete the purchase. Showing this kind of customer a coupon might prod them into conversion, thereby overcoming the dreaded "cart abandonment" problem.
Social Proof Notifications

It's a natural impulse to want to know what other people are doing. Or buying. Social proof notification allows you to do just that. By showing users how many people have purchased a product or have viewed it, retailers can tap into the "keeping up with the Joneses" impulse. You can also use this template to alert customers to how many of a particular item is left in stock in order to create a sense of urgency and spur conversion. Retailers can even localize this information to show users how many people in their ZIP code have looked at and/or purchased the product they're currently gazing.
Floating Cart
This is a mobile-only feature though this is hardly a drawback as more and more eCommerce activity has migrated from desktop computers to mobile phones and similar devices. Anything you can do to improve the oft-discussed "mobile conversion gap," you should do. Especially when it is as easy to use as this template.
The Floating Cart widget makes the cart clearly accessible on every single page of the site. We recommend only deploying it only after a visitor has added items to her cart. (No need to have a floating empty cart haunting a browsing customer like a little ghost widget.)
Stickers (Notification Only)
This template allows marketers to deploy notification stickers, alerting users to marketing offers. These are highly adaptable and can be targeted to specific user segments, such as consumers who viewed more than three products during the session. Stickers can also be deployed on any page of the site, at any point during the purchasing journey.
Sale Countdown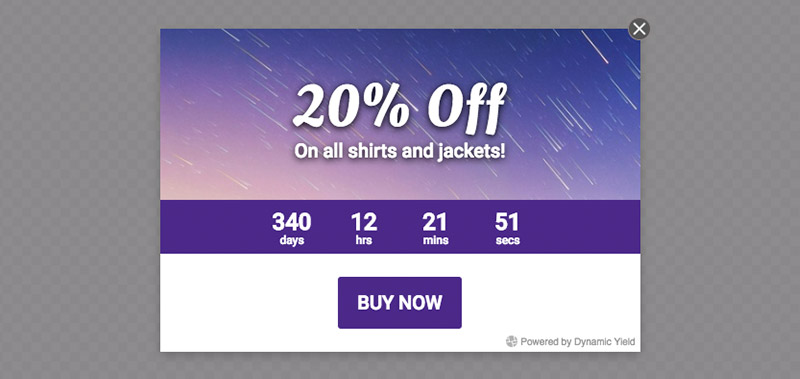 When you see a countdown clock, it can mean 1. You're Jack Bauer on 24 trying to save the world from a terrorist's bomb. 2. You're watching the space shuttle liftoff from Cape Canaveral. 3. You're on an eCommerce site which is trying to create a sense of urgency and anticipation for a big sales event.
Though all three kinds of countdown clocks can make your heart race and palms sweat, this template deals in the latter, less dangerous example. The fate of your revenue, not the free world or Mars colonization, depends on its effectiveness.
With this template, a retailer can create an overlay or a notification that shows customers how much time remains until the apocalypse, er, the big sale. Countdown clocks aren't just for space shuttles and bombs anymore.
All of our templates are available on the support site for Dynamic Yield customers.