Record-Breaking Belief in Personalization Spurs Ongoing Market Maturity
Our fifth annual research report shows prominent process developments made to meet new customer expectations for personalization, even stronger for Dynamic Yield customers.
It's no secret that personalization has continued to shift consumer behavior and modernize so many aspects of our daily lives. From social media and streaming entertainment feeds to online grocery services, banking, travel booking, shopping, and more – the expectation for tailored experiences is growing exponentially. In fact, McKinsey found that 76% of consumers now get frustrated when they aren't met with personalization.
But what has this increased demand really looked like for businesses and how well can they translate personalization efforts into real results?
To better understand the situation, challenges, and opportunities currently in play, Dynamic Yield conducted its annual personalization maturity survey across roles and sectors in the Americas (AMER), Europe and the Middle East (EMEA), and the Asia-Pacific (APAC) regions. This marks the fifth consecutive year publishing our research, which includes 196 responses from individuals in the C-Suite, Marketing, Merchandising, CX, Product, and IT.
Here's a quick look at what we found: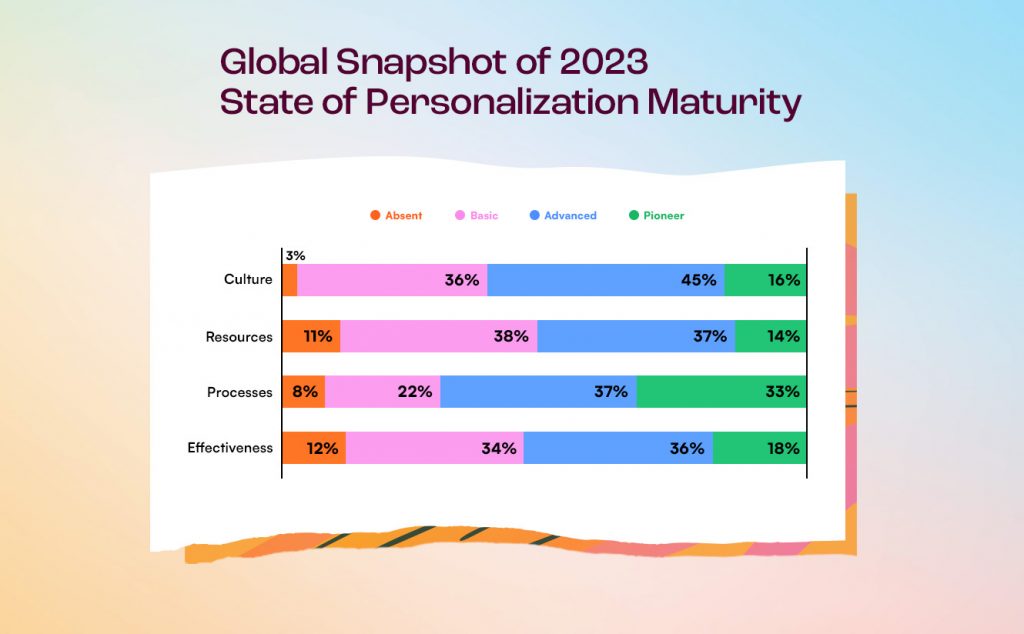 Our take on the findings
Valued not only by consumers but the companies who wish to meet their expectations, 98% of those surveyed believe in the benefits of personalization to the larger business strategy or have made it core to their CX operations (up from 93% last year, which is part of an upward trend we've seen in motion since 2018).
This has led to more organizations than in previous years (75%) viewing personalization as a top priority in which they plan to invest further. Not surprisingly, a greater shift from Absent to Basic levels of maturity was seen in 2023 as teams across industries began to practice at least the foundations of an individualized approach.
However, as the market has matured, an understanding that technology alone is not enough to be successful in personalization became clear. Reflected in the vast majority of companies reporting Advanced in their efforts (similar to last year), the right methodologies and processes are now being developed to ensure their programs cut through the noise, make an even greater impact, and deliver the level of personalization that consumers both expect and reward.
You can read the complete report findings by clicking the image below.
Dynamic Yield customers raising the bar for personalization across all maturity categories
For greater accuracy and granularity of insights, this year we expanded the survey to sixteen questions while also refining the corresponding personalization Signals from eight to four.
Here's how the rest of the market faired when we analyzed our maturity results against those of Dynamic Yield customers across Culture, Resources, Processes, and Effectiveness.
While both came back Advanced in overall maturity, Dynamic Yield customers scored Advanced in three out of the four Signals (Culture, Resources, and Effectiveness), but Pioneered in the way of Processes, whereas the rest of the market reported Basic across those same Signals, and a level down in Processes (at Advanced).
Additional takeaways exclusive to this article's analysis include:
Culturally, 76% of Dynamic Yield customers reported personalization being a top company priority and have plans to invest more in the practice, compared to 55% of non-customers.
Diving further into Culture, 52% of Dynamic Yield respondents said they understand the benefits of an individualized approach to the larger business strategy and have allocated resources towards personalization, a sentiment shared by 31% of others in the industry.
From a Resource perspective, 40% of those within the customer base cited having dedicated program owners in place as well as a team to support their personalization efforts, a situation twice less likely to be reported among non-customers (17%).
Process-wise, only 7% of Dynamic Yield customers shared they lack an established process for circulating personalization results, which was higher among non-customers (23%). Further, almost half (47%) of platform users adhere to a process for circulating results to relevant teams and executives vs. 25% of non-customers who do the same.
When it comes to the Processes around analyzing test outcomes, 34% of outside respondents either declare a winner and move on or don't do anything with the insights they find – a number that shrinks to 13% when applied to Dynamic Yield customers. Further, 54% use derived insights to adjust and run future personalization campaigns vs. 26% when assessing the rest of the market.
In regards to program Effectiveness, 9% of Dynamic Yield customers said they determine the winner of personalization campaigns in the moment and without clear KPIs, which happens more often for non-customers (28%). Concurrently, 31% of respondents from the customer base are aligned on performance metrics and overall program objectives vs. that being the case for 12% of outside survey participants.
With quite significant fluctuations in responses, those on the outside looking in might be tempted to question the validity of these results. After all, it is a Dynamic Yield report based on an assessment we created.
However, through our work with hundreds of leading brands over the last decade, if there is one thing we know, it's how to build an effective personalization program – one that goes beyond mere technological requirements and encapsulates all of the various levers that can make or break a team's efforts.
From this knowledge, we've built a clear definition of what personalization maturity actually looks like which our customers now use to evaluate their current position and forge a clear plan for how to push their programs forward.
Today's process investments are tomorrow's maturity advancements
The progression we've seen in the state of personalization maturity shows promise for the future. Underscored by the doubling down on program processes, we believe these will pave the way for more organizations to evolve and eventually become pioneers, allowing them to take advantage of today's possibilities and tomorrow's emerging opportunities.
Be sure to check out the full report.
to learn more about how you can continue to climb the personalization maturity mountain, and don't forget to discover where your own company stands by answering these 16 questions.