The Core Insights from Personalization Pioneers Berlin 2023
From guiding AI and scaling localization to audience strategy foundations and agile infrastructure, find your program's edge with the day's learnings.
The fourth and almost final Personalization Pioneers conference of the year took place on 25-26 October 2023 at Prince Charles and Alte Münze in Berlin, where international leaders in customer experience gathered to share and discover the most recent advancements, strategies, and trends in testing and personalization.
If you missed the opportunity to attend Personalization Pioneers Berlin, there's no need to worry. Below, we've collated some of the most valuable lessons and insights from the day's content programming (as well as via this key learnings report). And stay tuned for updates on 2024's theme, dates, and locations towards the beginning of the new year.
1. AI will take your job… to space
During his keynote on "How to find your personalization edge," Ori Bauer, CEO at Dynamic Yield by Mastercard, emphasized that despite the significant advancements in AI and its projected future progress, there exists a substantial opportunity for individuals to guide and manage the integration of AI within their professional roles as experience optimization leaders. Bauer highlighted the critical role of people in shaping AI, underlining that it will not replace jobs but propel them into new frontiers.
Moreover, he stressed that harnessing the power of AI for personalization remains one of the most effective tools for successfully navigating complex macroeconomic trends and meeting the evolving demands of today's consumers, given its ability to both predict and adapt to their wants and needs.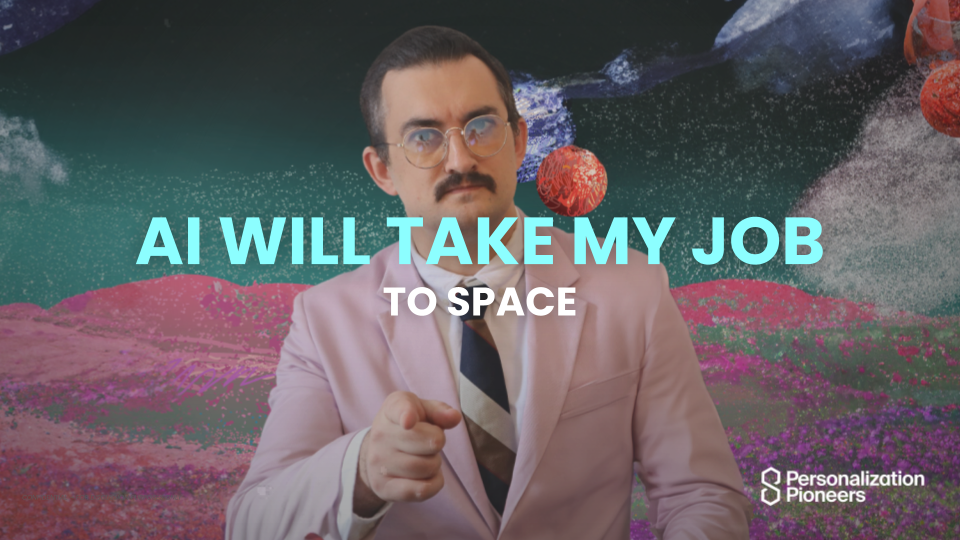 2. Global < local < personal
In his keynote on "How to achieve global localization through personalization," Manuel Fernandez, D2C eCommerce Director at Electrolux, describes how the organization meets global goals while still capturing regional-specific nuances. The secret sauce? Team structure. A central personalization team defines the overarching strategy and global KPIs, executing campaigns at scale across the local markets. Dedicated, regional D2C (direct-to-consumer) teams sit in their respective countries and connect with the local customers to communicate needs and ideas, and then regional use cases are produced to satisfy local and global KPIs.
For example, the regional team in Germany highlighted that 'Corporate Partners' are significant drivers of traffic and revenue. Unlike most users on the homepage, 'Corporate Partners' aren't looking for support, warranty, or repair services – they have a singular intent to buy. So, for users who access the homepage from a 'Corporate Partner' channel, commercially-focused content would be featured, like high-visibility recommendations and best-performing category highlights. Compared to the control group, this local and personal experience delivers an average of +4% uplift in average order value (AOV).
3. Segmentation for the multi-dimensional customer
Özgür Turhan, the Head of eCommerce & DTC at TUI Cruises, started his keynote on "How early segmentation can anchor successful personalization" by describing why the company invested in personalization. Not only would their diverse customer base respond better to personalized user journeys, but fostering a consumer-centric, data-driven culture offered an incredible opportunity for the business to evolve.
From the beginning, everyone at the company—from in-house marketing, CRM, and data analysts to those who dealt with the cuisine, accommodations, and excursions for the cruises—had a clear vision for its audience segments: 'Solo Travelers,' 'Families,' and 'Couples/Empty Nesters.'
They decided this would be a good foundation for the company's personalization journey. They centered their first tests around increasing engagement on the homepage, adjusting the banner to feature messages like "feel-good time for two" and "discover family travel." By speaking directly to their core audiences, the brand experienced a 48% uplift in overall click rate.
Turhan said that with a general sense of their customers, TUI could use the data from their A/B testing efforts to adjust their strategy accordingly. For example, the organization knew there could be a considerable variation in what a cruise means to different people. This insight allowed them to experiment with mixing targeting conditions to include travel preferences (e.g. booking lead times, travel season, cabin type, and price point). By further refining and meeting their customer's wants and needs in real-time, the brand achieved exponential success.
4. Ask questions, validate, and scale
In a keynote developed by Eliad Elkabetz, the Head of Product and Operations for Global eCommerce at SodaStream, "A sparkling strategy: Maximizing customer engagement and loyalty while minimizing business risk," attendees got to hear about the brand's successful approach to its 16 operational sites worldwide. In sum: A little engagement goes a long way in working towards recurring revenue generation.
The team uses an interactive, one-question pop-up quiz to segment new visitors upon arrival. By simply asking whether a visitor owns a SodaStream device, the brand can segment in real-time and guide users towards the best next experience, whether that's machine discovery for first-time purchasers or flavor profile creation and personalized accessory product recommendations for returning users. Once a user shows loyalty, the website focuses on converting the user to its existing cylinder recycling service.
This has created a revolutionary infrastructure for testing key business campaigns. Within its four priority market sites (which generate 80% of its online revenue), the SodaStream team asks the right questions, isn't afraid to test their hypotheses, starts with a small amount of traffic and carefully allocates more to each tailored experience upon good results. These sites are used to fine-tune initiatives before deploying them across their 10 smaller markets, catalyzing growth and optimization in a scalable and secure manner.
5. Agility is one of your most important assets
The past few years were monumental for On; the brand was listed on NYSE, survived a supply chain crisis, and re-platformed with the launch of a brand new website. And in her keynote session, "Boosting On's World of Sports with the Power of Personalization," Lena Hauck, the company's Digital Personalization Specialist, shared how building for agility allowed them to do all of this while continuing to expand its product catalog beyond shoes and rapidly grow the business.
Hauck walked through how On's preliminary personalization approach started in 2018, and in the first year of implementation, product recommendations helped lead DTC to become ~15% of the overall business. As the brand grew, the team shifted focus to new customer acquisition and retention. In 2020, as the world shifted from offline to online, this continued to fuel On's growth. While personalization helped the team adapt to the customer needs of a growing audience, the team faced new challenges at every turn: Popularity in 50+ locales meant they needed increased localization while lacking audience info. Their IPO meant they had more exposure to new clientele but with more significant risks of having a greater negative impact. Additionally, a catalogue expansion led to the team having to focus on helping new and returning consumers navigate the paradox of choice, plus cater to different audience segments.
Rather than stay the course, the business decided that it needed to set a better foundation for future, continued growth for both its eCommerce business and the larger brand. They set about launching a new, digital 24/7 flagship store built on agile infrastructure that they could use to constantly A/B test and learn more about their user's wants and needs. Their new recommendation strategies centered around helping their customers see the brand beyond footwear: They could easily place product recommendations and content modules across the homepage, product detail pages (PDP) and product listing pages (PLPs), as well as at the cart, using them to highlight that customers could get everything they needed for a certain sporting activity at On. Then, to optimize these strategies, they A/B tested different algorithms to see which ones best suited their goals.
Learn more about On's journey with personalization in this on-demand Talk. 
Catch up on this year's tour
While this year's Personalization Pioneers' tour is coming to a close, you can review the latest trends, next-level tactics, high-impact use cases and methodologies featured from each 2023 installment's recap: Los Angeles, London, NYC, Singapore (coming soon).