An RFP (request for proposal) is a call for additional or extra resources in an organizational setting. It typically provides a comprehensive set of questions for your vendor to complete that will enable your team to assess and compare your top vendors. An RFP is an official document and the reasons for the request have to be citied in as much detail as possible.
An RFP provides your organization with the opportunity to express its needs and find the firm best suited to execute them.
RFP writing can be a daunting and involved process. This is why we decided to provide you with a free RFP Template for Personalization and Experience Optimization platforms that can be used to select a final set of vendors that you will invite into your offices for an in-person or virtual interview and demonstration(s).
This Personalization RFP template has been designed for B2B and B2C companies to select a Personalization and Experience Optimization vendor that will enable their cross-functional teams to deliver more relevant digital interactions for their customers on any channel or device, whether in a commerce or non-commerce environment.
The template is intended to provide a base set of questions to ask enterprise-class vendors as part of your company's selection process. As you use this template, please do add your own set of questions and/or modify the existing questions to ensure your company and program-specific needs are addressed.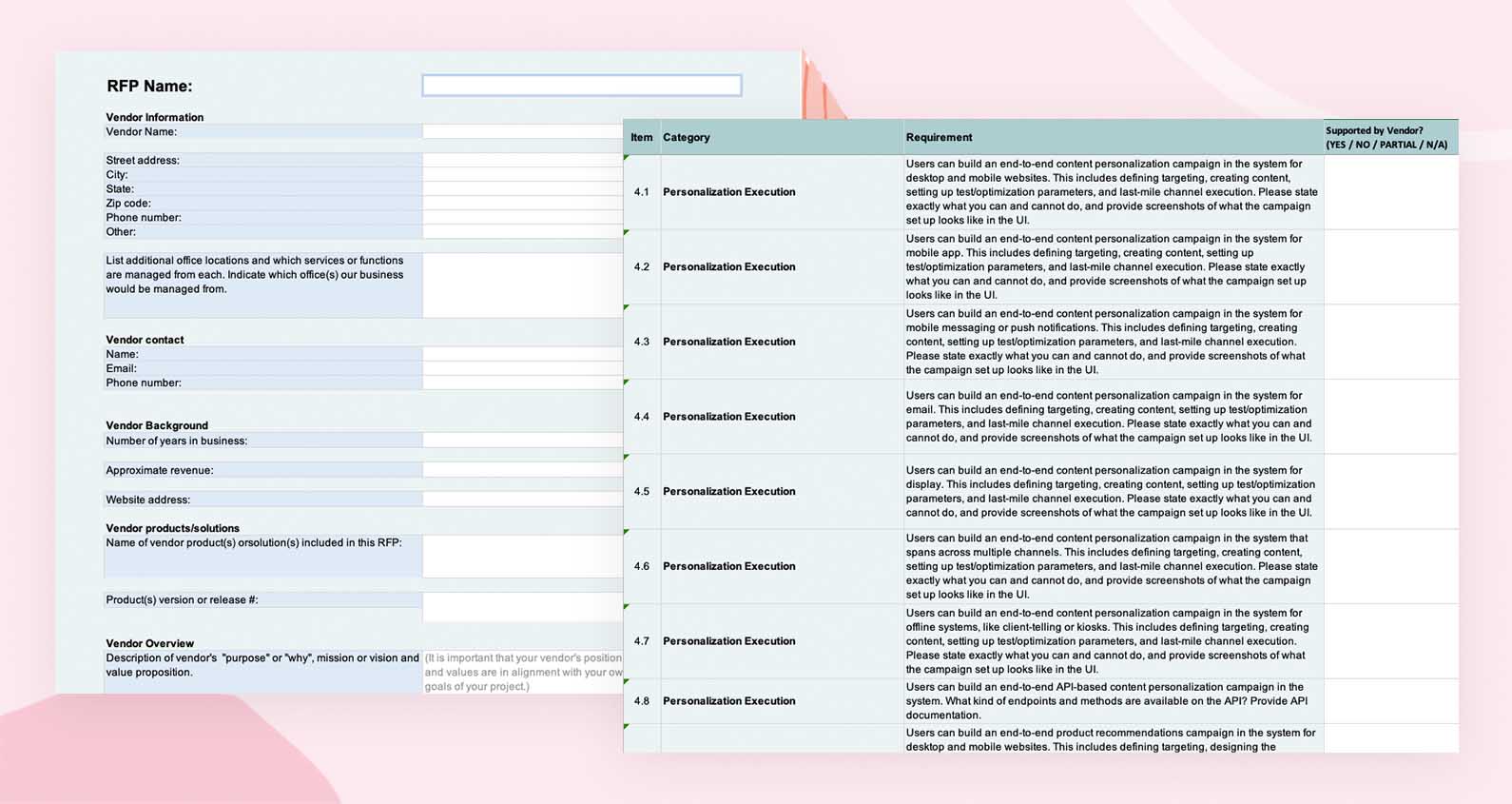 Download your free copy of the RFP Template for Personalization and Experience Optimization Platforms
Key sections of this free RFP include:
Vendor & RFP Information
Basic information about each vendor
An opportunity for your vendor to share their company's background, core competencies, and competitive differentiators
Detals regarding the program
General Requirements
Pricing
Our RFP template also includes 70+ suggested questions to ask your select vendors across the following categories:
User Tracking & Data
Audience Segmentation & Reporting
Testing & Optimization
Personalization Execution
Personalization Campaign Management
Recommendations
UI Workflow
Implementation & Integrations
Product Lifecycle & Support