Personalized holiday email campaigns to inspire gift givers
Learn how to use the Dynamic Yield platform to build powerful, personalized email campaigns that will help your holiday strategy shine this year.
As we inch closer to the holidays, email communication plans for this year's holiday shopping season are becoming increasingly paramount for marketing teams. With 60% of consumers stating that they've made purchases as a result of a marketing email that they've received, it's clear that an effective email marketing strategy can positively impact customer acquisition and retention efforts.
This year, many shoppers will be moving away from purchasing experiences and instead, opt for buying more traditional, tangible gifts. Below, learn how to use Dynamic Yield's email capabilities to personalize content that will guide users back to your site as they shop for gifts this holiday season.
Dynamic content email campaign: Gift guide banners
If your team is adding a holiday shopping gift guide or gift-specific category pages to the site, promote these pages in your marketing emails using a Dynamic Content Email campaign. Not only will a banner image ensure users are aware of your site's gift-specific offerings, but it will create a convenient way for all users to access these pages. We recommend including these banners in all email marketing communications sent to customers, even if the users haven't been identified within the Dynamic Yield platform.
An overview of how to set up your dynamic content email campaign
Create a dynamic content Email campaign and leverage a holiday-specific banner image for the campaign's default experience. Note: Dynamic content email campaigns will always have a default experience that will be served to users that have not yet been identified by Dynamic Yield. Apply the URL link for the gift guide page or the main gift-specific category page of your site for each variation of the Default experience. Users that have not yet been identified by Dynamic Yield or that do not meet the conditions to belong to one of the audiences that other experiences in the campaign may be targeting will be served with the default experience.
Once you've finished creating the Default experience, you'll be able to create additional experiences to target specific audiences. For example, if you have an audience of users that have browsed for and/or purchased products from the category for Women and you have a gift-specific subcategory page for "Gifts for Her," you could target your "Women's Browse & Buy" audience with an experience that has a banner.
An example of a personalized email with a banner highlighting holiday shopping
Another idea could be to target based on brand purchase history. For instance, if your DY personalization plan constitutes audience segments of users that have previously purchased products from specific brands, you could create experiences with banner images that promote those brands and that will link users to a brand-specific category page when they click on the banner in the email. You could also target based on "bargain browsing behaviors." For example, if you have an audience of users that typically only browse or purchase from the Sale category of your site, you could create an experience targeted to that group of users with a banner that promotes seasonal sale items and links users to a holiday sale category page.
After creating as many audience-targeted experiences as you see fit, publish the dynamic content email campaign and copy the code snippet that will pop up within the DY admin. Then, paste the code snippet into an email template within your email service provider (ESP).
Email recommendations campaign: Gifts to give (& get for yourself) 
Including product recommendations in marketing emails can have a major impact on ROI. In fact, personalized product recommendations can lead to an increase in sales conversions of 30% and boost CTR by 35%. Drive-up conversion rates during the holidays by adding a recommendation widget to your marketing emails to surface gift ideas that users can purchase for loved ones, or even treat themselves with.
An overview of how to set up your email recommendations campaign
Create an Email Recommendation widget template that has a variable for title text and a variable for the background color of that title text. Then, create a new email recommendation widget campaign with the following configurations:
Select the widget template that you created and then select the "Popularity" recommendation strategy.
If your product feed includes a category or keyword(s) for "gifts," or if your team is planning to promote any specific items or brands for the holidays, add a Custom Filter Rule to ensure the widget serves those items that will be relevant to holiday shoppers.
You can also define additional Custom Filter Rules for audience targeting depending on your team's personalization goals. For example, if your team has built an audience for returning customers that regularly purchase higher-priced items, you could add a Custom Filter to target users in that audience with items within a specific high-dollar value range.
After you've saved the email recommendation widget and have embedded the code snippet into your ESP, the widget will look similar to the example below.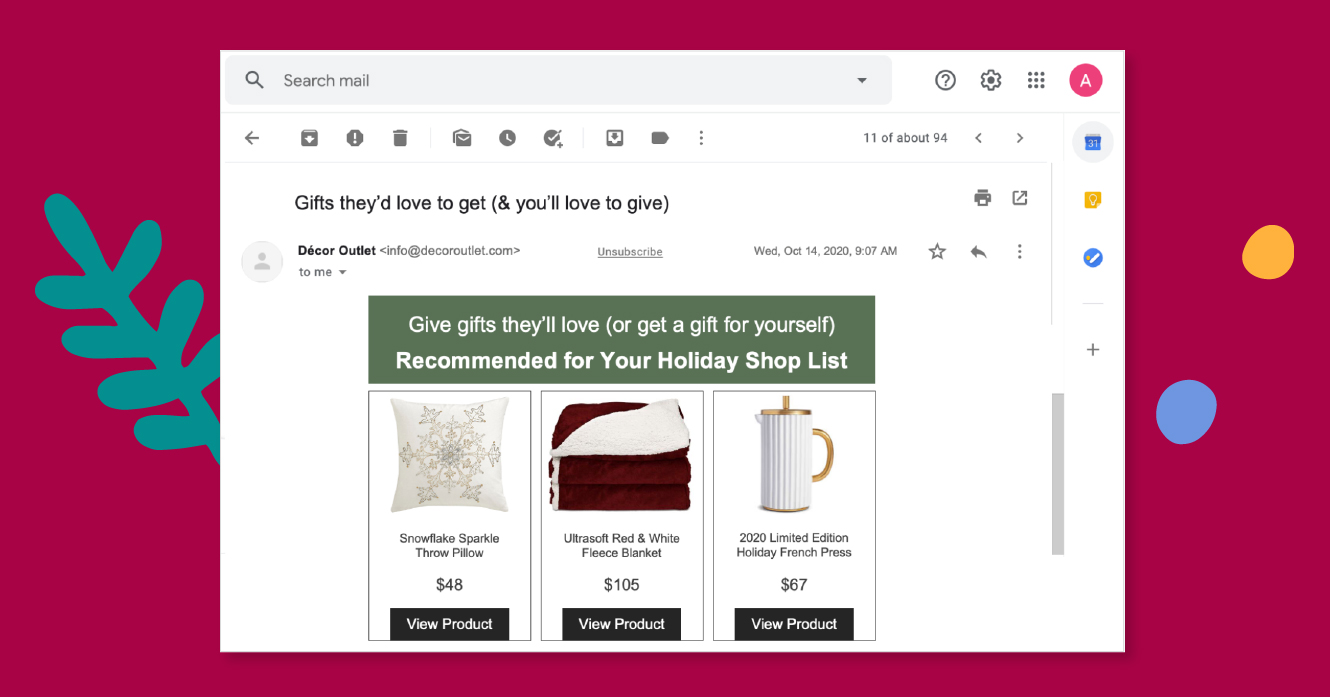 An example of personalized product recommendations in an email campaign.
Triggered email campaign: Cart abandonment email
Most consumers have had the experience of browsing a site in search of the ideal gift to buy someone for the holidays, finding a product they've liked enough to add to their cart, but ultimately end up leaving the site without completing a purchase. Sending users a cart abandonment email can be a handy approach for nudging them to convert, especially during the holidays. In fact, 21% of users will click on a cart abandonment email that they receive, and 10.7% of those emails lead to a shopping cart abandonment recovery. Leverage Dynamic Yield to send a Cart Abandonment Triggered Email when a user adds a potential gift item to their cart and leaves the site without completing a purchase.
An overview of how to set up your triggered email campaign
If your team has not done so already, incorporate a category or keywords to the product feed for your site's 2020 winter/holiday collection, gift-specific items, or any products that would be relevant to promote for holiday gift-giving. Then, add a new Cart Abandonment campaign with the following configurations:
Apply the Trigger condition for "product with property," and select the product property(s) that best corresponds with the gift-related elements of the product feed.
For the Cancel Send setting, we recommend that you use the default settings of 'purchase' or 'new session started' or you can override the default settings and define your own.
We recommend defining the Delay Send setting as "1 day" after products are added to cart. However, you have the option to specify the number of minutes, hours, or days that you'd like the system to wait to send the email after the 'Add to Cart' trigger event has occurred.
For the Frequency Capping setting, we suggest that you specify sending "Up to 1 email per 1 week(s)." This way, if users revisit the site throughout the week to add items to their cart and leave the site before purchasing as they're trying to decide if they want to follow through with placing an order, they won't be unintentionally bombarded with several emails about the items they've left in their cart.
For the variations of a triggered email campaign, select the out-of-the-box "Cart Abandonment" template and use the design variables of the template to incorporate messaging for the subject line, email header, and cart details applicable to the user leaving a potential gift in their cart.
An example of a triggered holiday email to recover holiday shoppers that have abandoned their carts.

I hope these campaign ideas inspire you this holiday season and encourage you to continue testing additional ideas that could help your bottom line over the next few months. The eCommerce space is packed with more competition than ever before, but armed with powerful, personalized email campaigns to implement, you'll be able to stand out from the crowd and deliver highly engaging customer experiences that shoppers will remember.
And for any Dynamic Yield customers looking for feedback on campaign ideas or inspiration from other leading brands in our customer base, pay a visit to our Community site to share tips and tricks with other marketers.