Personalized product discovery for livestream shopping
Maximize sales from your live commerce shopping experiences with Dynamic Yield's AI-powered personalized merchandising solution.
Livestreaming, popularized by the gaming and esports industry, which allows online users to watch gamers play their favorite titles has grown significantly over the last decade. Expanding its reach to music broadcasts, creative content, and "in real life" streams, the market was worth an estimated $30 billion back in 2016.*
Fast forward to 2021, a year after the pandemic ushered in an entirely new wave of online engagement, and that number ballooned to $70 billion – forecasted to rise more than double that by 2027, to $184 billion.* Given the impact of COVID-19 on retail, it was only a matter of time before influencers and brands found a way to connect with their fans and customers through what is now referred to as livestream shopping.
A way to create digital shopping television channels that has caught fire in China, one internet celebrity known as Viya reportedly sold $2.8 billion worth of goods using the channel in 2019, alone.** Globally, this kind of live commerce shopping generated $60 billion during the same year, which was predicted to double in 2021.*** And with the U.S accounting for less than $1 billion of these sales, we see a massive opportunity for brands to incorporate live selling into their eCommerce marketing strategies.
Even better, teams can enhance live streaming use cases such as this and differentiate the overall experience with personalization.
Personalization Meets Livestream Shopping
As Dynamic Yield continues to prioritize and develop new and innovative ways for our users to engage with their customers across emerging channels, we're proud to introduce Live Commerce, an AI-powered product discovery solution for live streaming.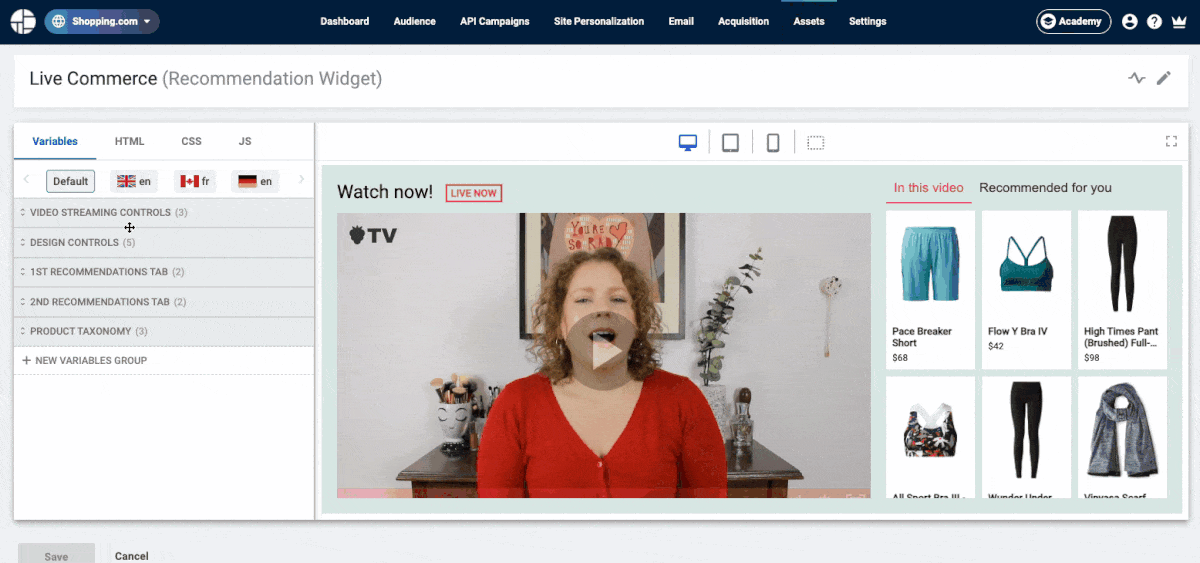 Built to showcase shoppable content in a personalized and more relevant way, merchants are now able to bring this popular experience to life. Using our out-of-the-box Live Commerce solution, simply adjust the video and design controls and embed live streaming videos from services such as YouTube, Facebook, Instagram, and other channels.
From narrow to expansive, personalized product selections
While the latest eCommerce trend represents a new and exciting way to sell, live streaming videos are limited in that they typically only include links to the set number of products highlighted as part of the event.
With Dynamic Yield's Live Commerce solution, teams can add multiple layers of personalized offers to maximize engagement and revenue opportunities. For starters, tabs can be used to include different product recommendations, from what's shown in the video to items based on Popularity, Similarity, Recently Viewed, Deep Learning strategies, and more. Merchandising rules are also available to customize the products shown even further – each feature aiming to ensure individual shoppers see products according to their unique affinity, historical purchases, and other important buying intent signals.
eCommerce is going the way of live streaming
Set to become increasingly popular in coming years, major brands like Amazon and Sephora are already generating millions of views with live streaming videos. And now, with Dynamic Yield's flexible Live Commerce solution, the rest of the market can not only follow suit but personalize these experiences with AI-driven recommendations.

* https://www.mytotalretail.com/article/the-rise-of-livestreaming-for-e-commerce/
** https://www.ggvc.com/insights/is-live-streaming-the-new-frontier-of-ecommerce/
*** https://www.bloomberg.com/news/features/2020-09-14/what-is-livestream-shopping-it-s-the-future-of-u-s-e-commerce
Sign up for the XP² newsletter
Join thousands of readers from Target, Citi, Spotify, Hulu, Google, Sephora, and other innovative brands who read our bi-weekly XP² newsletter, delivering educational content, research, and insights straight to your inbox
You may unsubscribe at any time. Visit our
privacy policy
to learn more about how we process your data and your rights as a data subject.
Thanks for
signing up!
Driving Big Results with Personalization