Introducing: Product Recommendations Use Case Explorer
Visualize all of the ways in which you can deliver powerful product recommendations for higher revenue and ROI.
An integral part of the shopping experience, product recommendations have been proven to influence consumer buying choices, increasing engagement, conversions, and revenues at scale for eCommerce businesses large and small. In fact, visitors who engage with product recommendations generate 180% higher revenue per visitor and on average, 1.2X higher order value.
But when it comes to serving product recommendations, there are various factors that must be considered in order to maximize performance, such as the user, location, experience, data, strategy, and context of the widget. With so many options and variables to think about, merchandisers and marketers are challenged with deciding on the right approach to take, often resulting in valuable hours lost in selection, and when misguided, less than impactful results.
To help reduce this guesswork, Dynamic Yield introduced a Product Recommendations Use Case Explorer — a free tool to meant for exploring innovative and powerful examples of product recommendations that drive higher revenue. Our third tool designed to help marketers better visualize all of the amazing personalization opportunities possible, if you haven't tried the rest of them, check out our Shopping Cart Abandonment Use Cases and Mobile Web Preview Tools.
This tool showcases 15 different ways to implement product recommendations throughout the funnel: across web, mobile, email, and off-site. Preview all of them on your own website (made possible through iframes) and toggle between desktop and mobile for a better idea of how each will render per device. Additionally, see how two very distinct user personas with their own product affinities might experience different recommendations strategies.
Based on actual data and real success stories from our customers and partners, this selection of 15 use cases are among the most powerful leveraged in eCommerce. Just the tip of the iceberg, marketers should experiment with recommendation units in as many places as possible.
The use cases in this tool are categorized by four main objectives: to maximize product discovery, reduce cart abandonment, improve mobile web experiences, and remarket across channels.
Here's a short explanation on each one of these themes.
Maximize Product Discovery
Most websites offer an overwhelming amount of content, leaving consumers feeling a bit lost. So, unless visitors come with a specific goal in mind and directly seek out the search field, they're most likely to browse using your main navigation menu.
Instead of presenting the usual laundry list of categories and subcategories, embed recommendations within the navigation bar to showcase products as new arrivals, most popular, or even personalized to an individual's buying behavior.
Reduce Cart Abandonment
While there are a number of reasons why shoppers choose to abandon their carts, doing so has cost companies $18B in lost sales revenue each year. Retailers now need to exercise tangible, effective recommendation strategies to ignite engagement and increase purchase completions.
For instance, visitors displaying exit intent can be incentivized with a personalized discount to be used during checkout, served via a sleek side panel notification including more relevant items to explore and potentially add to cart.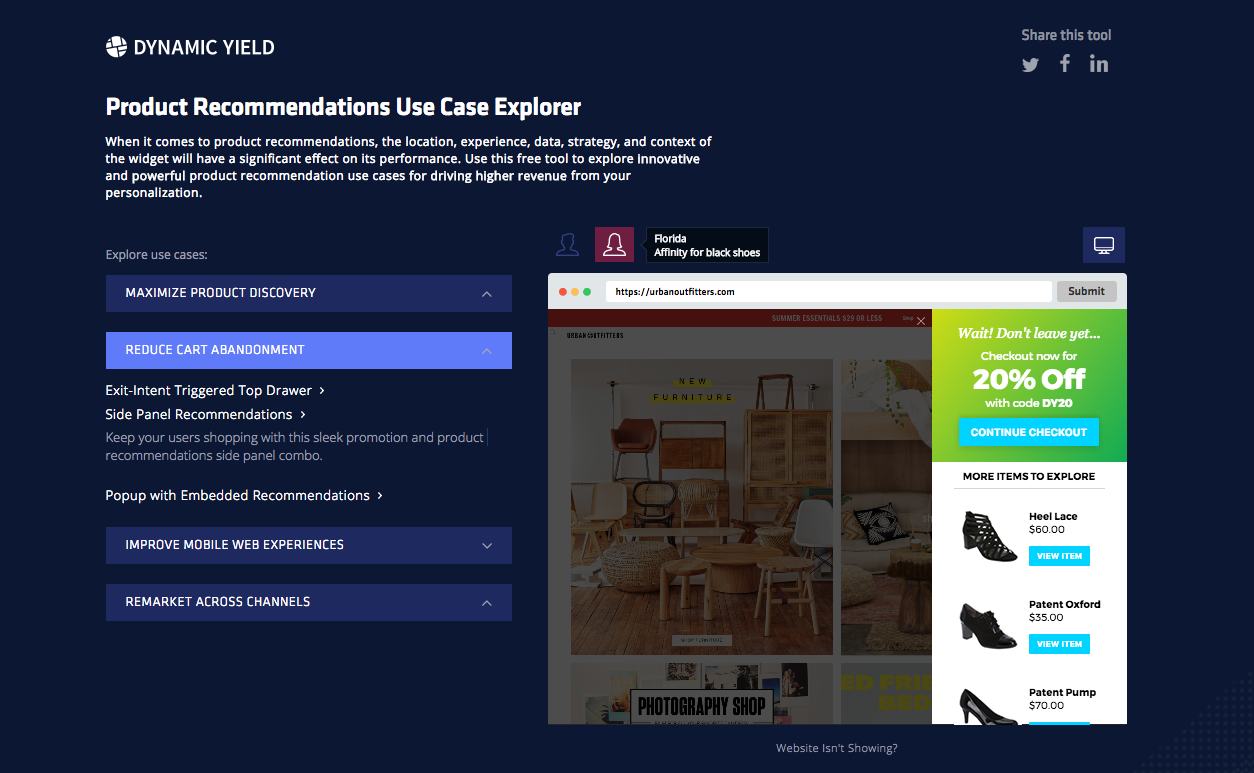 Improve Mobile Web Experiences
The biggest problem with the mobile web today is that the experience is not tailored specifically to a five-inch screen, and the harsh reality is that customers will simply not transact on mobile websites that are not optimized.
To make the most out of the limited real estate offered on a mobile device, this mini, swipeable navigation widget is a great way to serve personalized recommendations and bring the user closer to the checkout process.
Remarket Across Channels
The customer journey doesn't start and end with a brand's site, which is why all available channels and devices should be used to create a seamless omnichannel experience, whether that be via display, through an app, or in email.
For those who have invested in downloading an app, keeping them engaged is of the utmost importance. By serving rich push notifications that are showcased as a personalized product recommendations slider, for example, users can be brought back to context and drawn into the app for further activity, increasing app retention rates and driving sales.
Hopefully, our Product Recommendations Use Case Explorer will help you visualize all of the ways in which you can deliver powerful product recommendations. To ensure the most value from your recommendations, and to realize the highest ROI, make sure you've selected an engine that allows for flexible strategy setting, testing, and advanced settings to leverage your merchandisers' expertise.
And don't forget, Dynamic Yield's library of out-of-the-box templates makes it easy for you to trigger and test each of these powerful use cases.
Make recommendations the cornerstone of your business. Request a demo now to improve engagement and increase revenue with personalized product recommendations.