Responsible Personalization – A Dynamic Yield Philosophy and Commitment
The core framework and technological foundation underpinning privacy and data protection within Dynamic Yield's Experience OS, explained.
We can see the value in our personal data and digital sovereignty reflected in new laws, regulations, and restrictions that aim to better protect consumer privacy. With
Europe's GDPR
,
California's Consumer Privacy Act
, and the removal of technologies like 3rd party cookies among major browsers and invisible tracking pixels within email (Apple iOS 15), brands and solution providers alike have been forced to shift their practices.
Representing a massive movement in the constant evolution of marketing, companies can no longer sit idly by if they want to earn the trust of today's increasingly perceptive consumers.
Unsure of where to begin or how to implement personalization in a safe yet positive way, Dynamic Yield is making it easier for teams to achieve Responsible Personalization.
Dynamic Yield's Commitment to Privacy Through Responsible Personalization
As long champions of the data protection and privacy movement, we have invested significantly in privacy measures that support our Responsible Personalization mission, prioritizing compliance with the latest legislation and principles over the years.
To date, those include:
Dynamic Yield's Accreditations and Certifications

GDPR

CCPA

SOC 2 Type II

ISO 27018

ISO 27017

ISO 27001

ISO 27701
A full list can be found at dynamicyield.com/compliance
Beyond meeting our obligation as data processors, we've also made sure to assist our customers as controllers when it comes to safely managing their personalization programs with our platform.
Responsible Personalization as the Foundation of our Technology
For Dynamic Yield, Responsible Personalization isn't just a philosophy, it is the core framework and technological foundation underpinning our Experience OS and guiding new product development, which is based on the following principles:
You decide on the level of personalization – we operate against it
Your data is private – we don't share or expose it
You know how it is being rendered – we are transparent in our practices
With these in mind, the following solutions were developed to support the technological foundation brands need to safely and compliantly set their holistic data strategies in motion.
Cookieless Consent
Our out-of-the-box "No Consent, No Cookies" solution guarantees no Dynamic Yield cookies will be used to store visitor behavioral data unless they've actively opted-in, a requirement mandated by the GDPR.
Involving only one line of HTML code, once implemented, Dynamic Yield leaves no footprint, with the ability to still deliver cookieless personalization based on contextual data (local weather, browser, referral, etc.) or activities from within the session (element clicks, mouse hover, exit-intent, and more).
For example, generic recommendation use cases can be delivered based on popularity without personal targeting rules.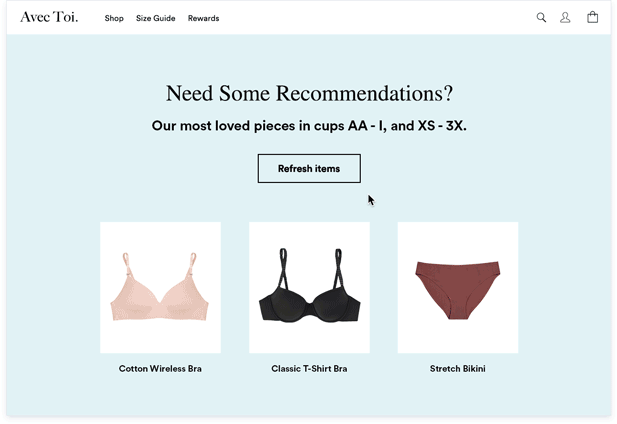 Check out our Inspiration Library to find more examples of use cases that don't rely on cookies.
Additionally, we integrate with Consent Management Platforms for obtaining user consent in line with data protection requirements, allowing for the processing of information in real time for the safe personalization of customer experiences for opted-in users.
Cookie-Free Server-Side Capabilities
With the shift away from third-party cookies threatening to impact the ability to tailor the site, more companies are looking beyond traditional web scripts to server-side solutions that will allow them to deliver experiences via API.
There are a number of benefits to transitioning to APIs, from improved performance to centralized code control, greater security, and experience continuity from channel to channel. But most important to the conversation of cookies and privacy is that the same data companies have always relied on to personalize can now be used without them, safely and over the server.
Unique to Dynamic Yield, our Experience APIs can be called from either the client-side, server-side, or both, allowing teams to take a hybrid approach – all with the team's architecture and privacy concerns in mind.
Everything you can do within our admin console can also be done completely programmatically through our APIs, with Dynamic Yield's entire Experience OS available on the server-side.
Identity Protection Within Email Personalization
With the enhanced privacy mode Apple rolled out as part of its iOS 15 update limiting the tracking capabilities of invisible pixels, many were concerned about the impact on email personalization.
But given Dynamic Yield's privacy standards ensure everything we do happens within safe boundaries, our Experience OS does not behave in the way Apple seeks to prevent. In fact, we welcomed it as a milestone in Responsible Personalization.
Dynamic Yield's email personalization services:
Don't use invisible pixels to infer identity
Don't use IP addresses to infer identity
Rely on explicit identifiers
The choice of explicit identifier used is our customer's
Of those explicit identifiers, user identity is protected in email
For example, some brands opt for hashed emails while others, Customer ID. Both ensure that the user identity is protected in email campaigns.
When embedding a Recommendation or Dynamic Content blocks, you explicitly state the distinguisher ID as a parameter to the image and link tags, in this case – hashed email.
Where respect for end-user privacy and the ultimate CX meet
Privacy can no longer be viewed in a vacuum, as companies must start to proactively assess their efforts as a whole, from the data they collect to how it's processed, who it's shared with, and the ways that it's used.
Operating against the highest set of privacy standards, companies who partner with Dynamic Yield can deliver meaningful experiences while protecting end-user rights and privacy with our promise of Responsible Personalization.