This article is an excerpt from Dynamic Yield's comprehensive guide entitled "Vision to Reality: The Resources, Processes, and Cultural Mindset Necessary for Personalization Success." Each chapter highlights critical areas organizations should address internally and includes expert POVs from a handful of the most trusted in the industry. Chapter two outlines a straightforward framework of the key roles found within any functional, well-oiled personalization team.
As personalization becomes the cornerstone of digital strategies across industries, marketing leaders are faced with transforming current team structures and operational workflows to reap the benefits of what they sow. After all, tailoring experiences to the individual involves a lot of moving parts and potential implementations, many which transcend marketing channels. This requires facilitation between various stakeholders and departments many teams may not yet be accustomed to.
Even those well-versed in the land of A/B testing, who already possess a test and learn mentality (a personalization program's foundation), recognize the transition – from delivering what works best on average for everyone to truly personalized interactions based on a person's long-term behavior, affinities, and real-time data – is significant.
Not to mention the changes being brought on by a whole new set of modern digital interfaces, forcing marketers and developers to work much more closely together to engage with audiences in meaningful ways through connected devices (IoT), kiosks, in-store devices, and more.
So in this wild west of customer experience management, how should organizations establish a support system that will sustain and scale their efforts?
Every personalization team is personal
It's important to acknowledge there is no one-size-fits-all model for a personalization team. One organization may flourish with a particular roster of individuals, and another may thrive with an entirely different set of roles. Nor is there a tried-and-true approach to building one – many hire for new positions and some leverage an existing talent pool to tackle the host of new use cases and applications.
In some cases, project ownership and responsibility are moved from one team to another, where current members of the org can come together to oversee activities in the department and implement ideas as owners of a personalization program. However, companies of different sizes and industries will experience varying levels of available budgets, resources, and talent when developing a personalization program – therefore, one setup cannot be adapted universally.
But while it's fair to say a personalization program will largely be defined and revolve around the needs of the customer, as well as the tool a company employs to serve individualized experiences across various channels, there will be many functions that remain consistent, regardless of the factors indicated above.
The starting lineup of any successful personalization team
Without getting into the rigorous process teams must adopt to effectively scale campaign creation, there are certain functions needed to take an experience from A to Z. Starting with ideation to prioritization, mockup, development, segmentation, experience setup, QA and launch, all the way through validating the results of the experience.
Below, find a straightforward framework of the key roles found within any functional, well-oiled personalization team:
Weighted equally in terms of their contribution to the program, individuals from Product, Development, Marketing & Merchandising, and Optimization & Analytics roll up to an Executive Leader to form a unified (all housed under one department) or cross-functional personalization team (with each role sitting in separate departments).
Within each function, a variety of potentially suitable titles can be substituted in to meet the role requirement based on an organization's needs and available resources. What's more important are the jobs each individual will perform, its impact on the workflow, and ultimately, the end-user experience.
Getting more granular, we can see the specific duties associated with each respective role: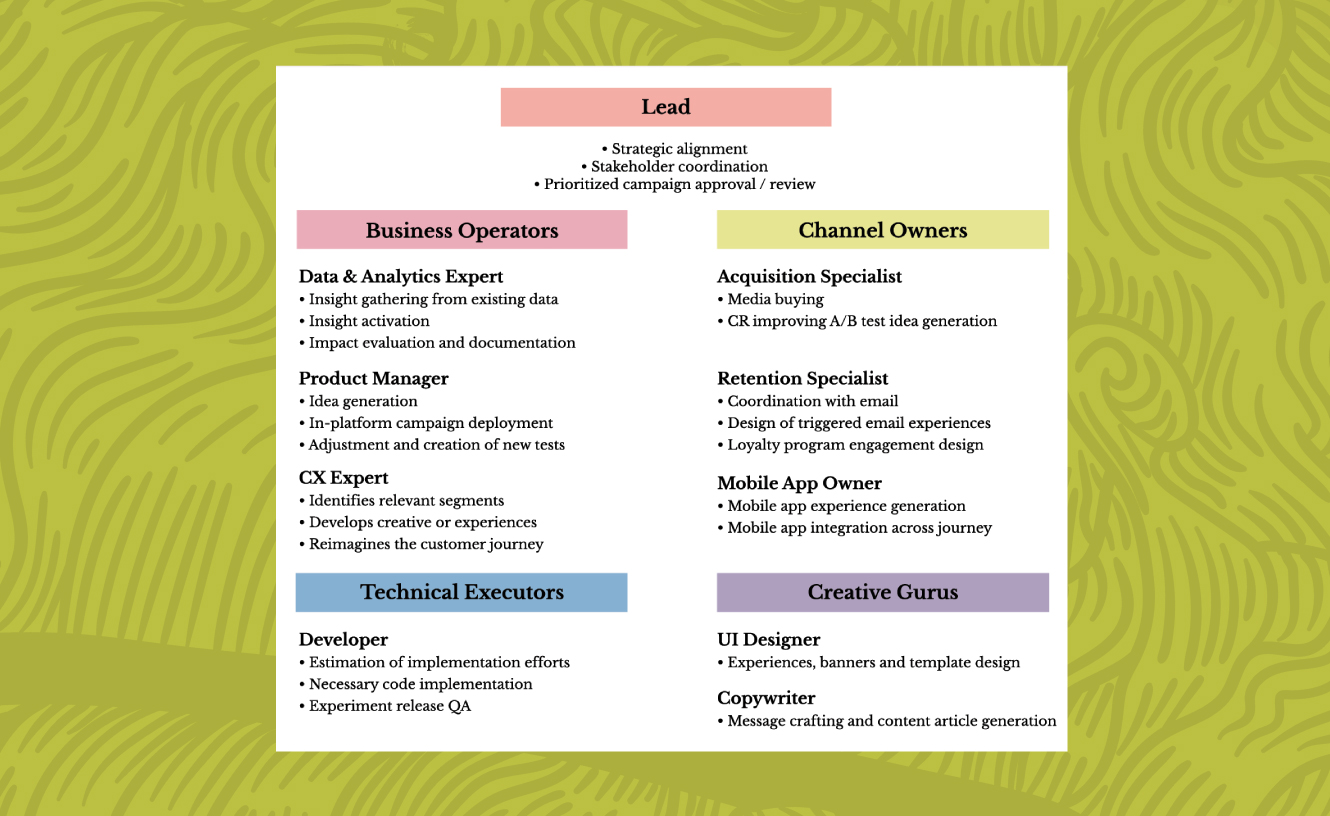 In addition to the fact that each of these roles has the freedom to sit anywhere within the org, many of them do not necessarily have to be dedicated to personalization full-time. With proper governance and process built around ideation, prioritization, campaign creation, execution and analysis, personalization can prosper across business units.
When it's time to consider an agency
Alternatively, instead of allocating stakeholders from within or building a team from the group up, an organization may choose to partner with an agency. Either for assistance in strategic and tactical execution or the complete management of a personalization program. A good agency will work with what resources are available to accommodate an org's specifics needs in a hybrid fashion, bringing a wealth of experience, industry knowledge, and a network of seasoned contacts to the table.
Teams should be mindful, though, that less ownership over a program could result in a lack of insights and know-how into how personalization should be operationalized, leaving them at the mercy of an agency. If considering this route, executive leaders should ensure an agency is not only able to prioritize desired projects but that they also possess the right expertise when it comes to applying a tailored approach to a given industry.
Close
No matter what the makeup of an organization, certain jobs and responsibilities must be carried out to support mission-critical elements of a personalization program. An organization must identify whether these will be accomplished by designating certain stakeholders internally or even externally, after which, they can then begin to iron out initiatives as well as how they will bake personalization into current workflows and processes.
Want to better understand the in-depth process of implementing a personalization campaign? Be sure to grab your copy of "Vision to Reality," and flip to Chapter Three, where you'll find a framework designed to scale experience delivery.