Using in-store purchase data to enhance the online shopping experience
Discover how you can merge offline and online data to create a 360-degree view of the customer and predict the next best product or content for visitors.
While typically siloed from the shopping experience, the online world can learn a lot about visitor behavior and preferences from offline purchase data. With Dynamic Yield's Offline Purchase Data Ingestion Tool, brands can finally consolidate data from both anonymous and identified users to create greater harmony between the two important shopping channels.
With the shuttering of once-dominant brands like Payless ShoeSource, Toys R Us, Sears, and more, it's easier than ever to view brick-and-mortar stores as obsolete, rendering eCommerce as the new gold standard for consumer shopping. However, this sentiment fails to recognize that online transactions account for less than a quarter of overall retail sales. Not simply a byproduct of the invaluable experiential elements physical retail can provide, according to Deloitte, digital interactions influence 56 cents of every dollar spent in-store.
Indicative of the modern customer journey, one which involves multiple touchpoints and transcends both on and offline channels, stories of the retail apocalypse have been greatly exaggerated, blinding many to the bigger picture at hand. The future of retail is fluid, and brands who hope to withstand the test of time will invest in connecting, analyzing, and acting on each individual interaction, regardless of purchase channel.
However, until now, much of the offline shopping experience has been siloed, with teams struggling to merge what happens in-store with their efforts online. Without a central data integration between both channels, marketers have been left to guess the next best product or experience to serve upon a customer's next visit to the site, diminishing the ability to truly cater to their distinct needs.
Bridging the gap between two worlds
There are two types of data that fall under offline purchases: anonymous and identified. Identified purchases include attributes connected to a customer, such as a phone number, email address, loyalty number, or mailing address. A purchase is considered anonymous when the transaction cannot be tied to a specific customer, which, unfortunately, is typically the case for retailers who have lacked the technical capabilities to do so.
But while anonymous offline purchase data is still incredibly useful for understanding and influencing behavior, connecting it to an actual person is most desirable, as it allows for enhanced targeting and recommendations, providing a more cohesive shopping experience.
That's why Dynamic Yield has been working to help brands consolidate all of this important information, and now supports the ingestion of in-store POS data for both identified and anonymous transactions.
Retailers can continuously send anonymous and identified data through a field-based ingestion to provide customers with a hyper-personalized shopping experience. Later this year, brands utilizing the identified purchase data will be able to send this information in real-time via API.
Create a daily CSV upload of

offline purchase data or ingest via API (coming soon)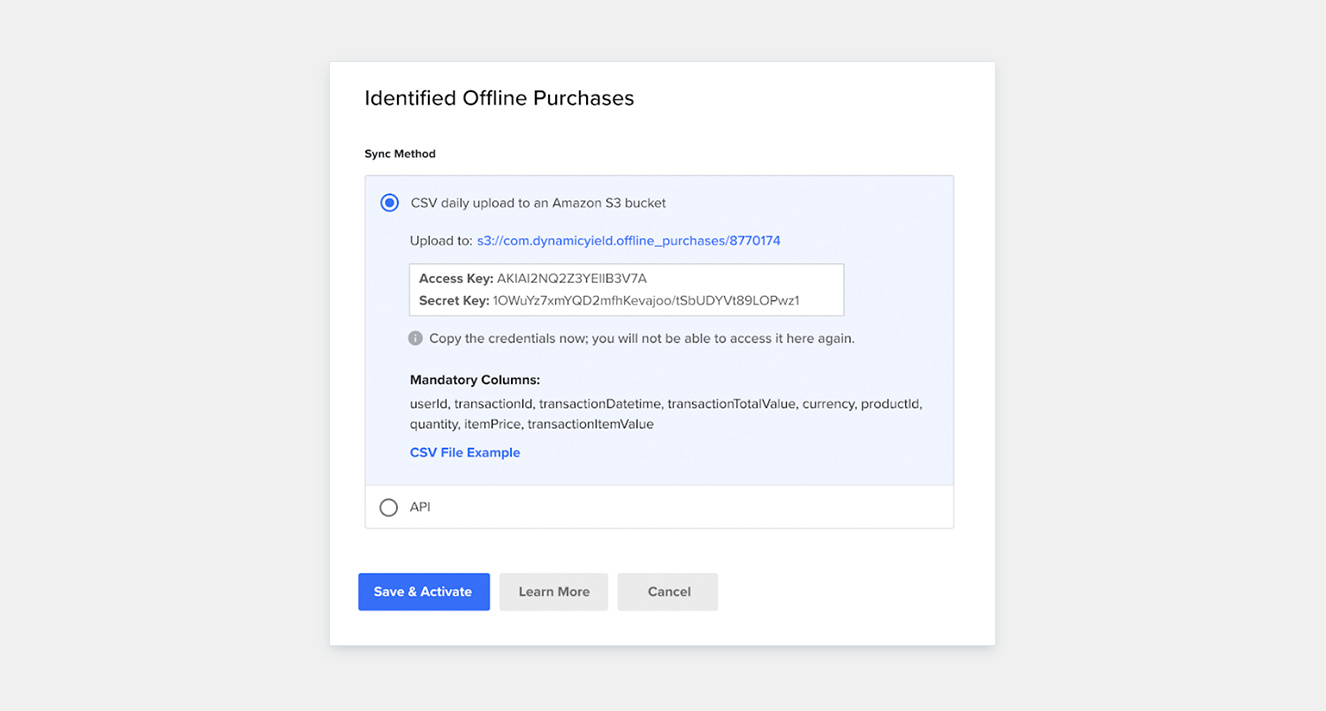 An enhancement of Dynamic Yield's Data Loader feature, which already allows customers to onboard CRM data, PII user data, content feeds, and more, this new capability is part of a larger investment in our Customer Data Platform (CDP) offering. With it, marketers can more easily onboard, consolidate, and activate critical data for the delivery of highly tailored experiences across the entire marketing stack.
The many ways your online business can benefit from offline purchase data ingestion
Whether it's through recommendations, targeting, or messaging, there are dozens of ways to improve shopping experiences with identified offline purchase data.
Refined affinity-based personalization
Each interaction a customer has with a brand, whether it be viewing a product, adding an item to the cart, or ultimately purchasing a product indicates their preferences to different brands, colors, styles, and even price range. This information, which is used to make up an individual's unique Affinity Profile, can be extremely powerful for predicting the most relevant experiences to deliver. But these Affinity Profiles are only as strong as the data that's been collected.
By combining offline transactions with online activity, a user's Affinity Profile is further refined, increasing accuracy of targeting for those who have made a purchase in-store. For example, a marketer might build a segment consisting of those who recently made a purchase offline and serve them with a relevant offer upon arriving to the site, converting them into online shoppers.
Coupon and product recommendations targeted to shoppers with an affinity to flannel shirts based on in-store purchases



Strengthened product recommendations
As there is a natural correlation between offline and online preferences, historic purchase data can be a goldmine for rendering more personalized product recommendations. For example, a repeat floral dress shopper in-store would likely be interested in seeing dresses or products with floral patterns upon visiting the site online – learnings that can be applied not only on an individual basis but across the site's traffic.
On one hand, anonymous offline purchases can be used to enrich more global strategies such as "Most Popular" and "Bought Together." While on the other, identified offline purchases can be leveraged to maximize recommendation performance per shopper, either by presenting products frequently purchased with recent offline purchases or excluding items from recommendation tray that were previously purchased in-store.
Products Frequently Purchased With' recommendation strategy served to shoppers based on in-store purchases



More personalized emails
These days, consumers' inboxes are littered with emails from retailers in hopes of generating repeat purchases, but if they want to cut through the noise, they'll have to get personal with their email campaigns. With access to identified offline purchase data, marketers can better speak to the recipient's needs.
For instance, those who prefer to shop in-store and rarely interact online can be easily targeted with promotions for campaigns happening in-store. And email messaging can better reflect this segment's offline purchase behavior based on the location they frequent the most.
Email targeted to shopper with recent in-store purchase of flannel shirt



Influencing action on a whole new level
The benefits of offline purchase data collection go beyond catering to sophisticated customer preferences. It can also impact in-store shopping experiences, local inventory, and change the way retailers interact with their customers. By onboarding and retaining purchase data in a centralized place, brands can break free of the silos long-afflicting the offline world and provide better end-to-end shopping experiences.
Learn more about Dynamic Yield's Customer Data Platform capabilities, contact us here.