Moss Bros. suits the modern man through personalization
Popular British menswear retailer drives a 9.7% uplift in revenue per user after optimizing the entire suit shopping journey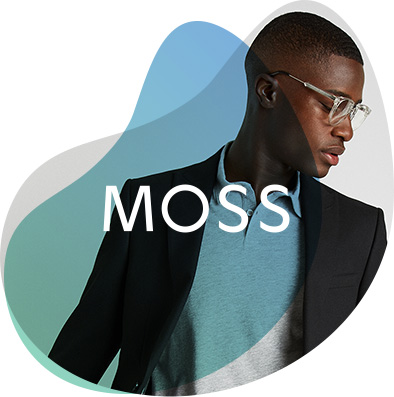 Uplift in revenue per user from optimizing the site navigation
increase in purchases by inserting recommendations on PDPs for paid search traffic
Moss Bros., UK's leading formalwear retailer, is an industry veteran. Founded in 1851, the company has over 130 stores as well as dedicated online sites for the United States, Ireland, and the UK, selling to customers all over the world. With a diverse customer base and versatile range of products, Moss Bros. sought to recreate the personal, tailored touch of its in-store experience for online shoppers. To pull this off, Moss Bros. teamed up with Dynamic Yield, using the powerful personalization platform to guide users to the perfect suit based on their distinct needs. After launching a number of experiments, the retailer was able to achieve several key business objectives, including a 9.7% uplift in revenue, a 5.4% increase in purchases, and a notable reduction in cart abandonment.
"Much like buying a suit, one of the most important factors of the online experience is how well it is tailored to the individual. We wanted to really take how personal traditional suit shopping is and recreate that for our eCommerce customers, and Dynamic Yield has provided us with the tools we need to match, fit, and meet their needs."
Moss Bros. is home to a variety of brands, offering menswear in every color, shape, and style, making it all the more important to deliver a tailored experience. To better match individual shoppers to the right products, Moss Bros. was in the market for a solution that would allow its team to: 
Easily experiment with and optimize the layout of the homepage 

Simplify and streamline the navigation experience

Surface product recommendations on product detail pages 

Trigger exit-intent overlays to recover shoppers' carts 
That's when Moss Bros. turned to Dynamic Yield's intuitive personalization platform.
Personalized the homepage layout
One of the most valuable pieces of digital real estate, Moss Bros. wanted to maximize the impact of its homepage. The retailer launched a Multi-Touch Campaign (MTC) targeted at "Sales Shoppers," which allowed its team to test 5 different banner elements under one experiment against a controlled version of the site, each highlighting a specific promotion, deal, or items at cost-efficient price points.

Then, using a separate experiment, Moss Bros. delivered products reflective of local weather conditions. The resulting top-to-bottom homepage personalization proved beneficial, positively influencing purchases among both audiences.
Reordered the site navigation to surface relevant product categories
With a vast product catalog, Moss Bros. recognized how important the navigation experience is to discovery. To better guide shoppers to the most relevant categories, the team experimented with another Multi-Touch Campaign, this time, optimizing the top menu. The first experience involved reordering and simplifying the categories included, while the second tested their naming conventions, for example, altering "Suits" vs. "Suits & Tailoring." Both navigation optimizations within the MTC ultimately led to a 9.7% uplift in revenue per user.
Tested product recommendations on PDPs to optimize pay-per-click traffic
Moss Bros. invests in Google Product Listing Ads (PLA) to drive traffic to its site. After analyzing the behavior of users from the pay-per-click (PPC) traffic stream, the team learned those who landed on product detail pages (PDPs) were bouncing at a fairly high rate. To encourage users to continue browsing, Moss Bros. used Dynamic Yield to insert recommendations above-the-fold. Measured against PDPs without recommendations for this same audience, the retailer witnessed a 5.4% increase in purchases.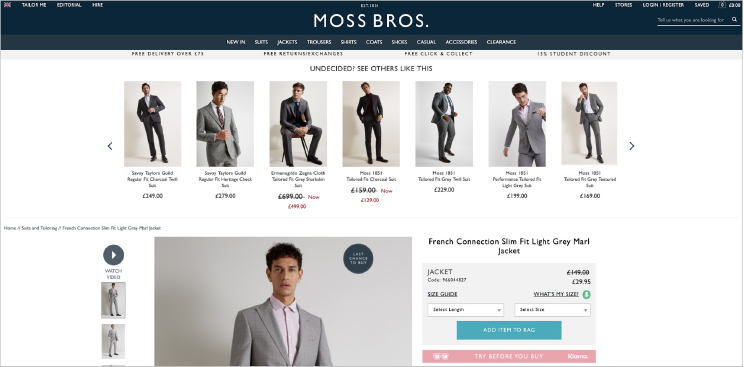 Triggered an exit-intent popup to recover cart abandoners
The online shopping experience is highly fragmented, with visitors often abandoning a session due to interruptions or distractions. To help shoppers easily pick up where they left off, Moss Bros. triggered exit-intent popups on both desktop and mobile devices based on user behavior and time on page. The "Email me my bag" strategy prompts shoppers to submit their contact info – once shared, an email is sent with a link to restore all items from their cart, creating a seamless shopping experience.
When shopping for menswear, details are everything, and sifting through endless brands, shapes, and styles can take the excitement out of any formal occasion. Realizing the key to matching users with the right suit meant tailoring the online experience, Moss Bros. enlisted Dynamic Yield to better reflect their needs. Upon launching a number of personalized experiences, including a cohesive Multi-Touch Campaign on the homepage, the team was able to generate impressive results, notably a 9.7% uplift in revenue per user and a 5.4% increase in purchases.