Maximizing the Inbox: Email Personalization with The Warehouse Group
New Zealand retail group utilizes recommendation widgets in themed emails for a 14% uplift in click rate and reduced operational costs, deploying over 40 modules of content across 3 brands with a single send
Uplift in click rate by including recommendation widgets in themed emails based on available algorithms
hours per week saved in operational costs
modules of personalized content deployed with a single send
Already long-time experts in personalization, The Warehouse Group — New Zealand's largest retailer, home to five brands known for household goods, tech essentials, clothing, and everything in between — has never stopped looking to find the next level of innovation in their strategy. Email was their target: as a necessity to outperform competition, they knew they needed to optimize the content landing directly in customers' inboxes.
Yet until recently, the idea of personalizing emails for each recipient remained out of reach, requiring extraordinary manual effort that did not justify the ROI from this channel. By adopting Experience Email with Dynamic Yield, The Warehouse Group was suddenly empowered to deliver over 40 different modules of personalized email content, across three brands, with a single send. They quickly implemented a themed email strategy anchored around recommendation widgets and available algorithms to drive a +14% uplift in click rate and save 28 hours of operational costs per week.
"Investing in true email personalization that enhances our ESP capabilities was one of our best decisions. We've seen an uptick in engagement, meaning the content is resonating, and we've done it with a fraction of the time and resources."
Standing out in the inbox is increasingly difficult
In a shifting digital world, email remains a critical and effective method for driving sales and customer loyalty. Email popularity has steadily increased throughout the pandemic, with 62% of consumers preferring to receive information via email rather than on a company's website.
Yet with this popularity, consumers' inboxes have grown oversaturated with competitors and spam — meaning that the quality and relevancy of email content is more important than ever.
When evaluating its email strategy, The Warehouse Group has long been aware of two things:


It is essential to maintain a regular inbox presence for its three major brands: The Warehouse, Warehouse Stationery, and Noel Leeming.


In order to stand out, build brand loyalty, and generate revenue, they need to consistently deliver unique and relevant content for each subscriber.
However, The Warehouse Group also faced a significant (but common) problem: how do you consistently churn out quality email content without overtaking a team's bandwidth? The ROI from their email channel did not justify the time investment needed to create personalized, engaging content for each recipient, and without the right tool, that was an unsustainable vision anyway. Email had become a channel maintained purely for brand visibility, without a real solution for optimizing — and as such, The Warehouse Group was looking to simplify it and free up time on their team.
The launch of Experience Email in their personalization engine, Dynamic Yield, empowered The Warehouse Group to not only reduce the amount of time it took to create email content, but to optimize and improve the quality of that content for individual recipients. Excited by the possibilities, The Warehouse Group decided on a scalable rollout plan that allowed the team to run different types of email campaigns and personalization efforts from a single platform. They pivoted their email strategy to take advantage of this tool and work towards delivering personalized emails at scale.
As a first step, the Warehouse Group revamped their email content strategy to center around already available algorithms in Dynamic Yield, applying them to recommendation widgets which plugged directly into their ESP.
Once the widgets were added to the ESP, the algorithms did most of the work automatically, generating which products to show in emails based on the applied filters and eliminating the need for a manual build. The result was a seamless, low-lift process with high-quality content.
Utilized algorithm filters to easily create engaging emails around a theme
In this email, themed as "Our Top Picks," The Warehouse Group used a popularity algorithm with the filters set to show only 5-star rated products with 4 or more reviews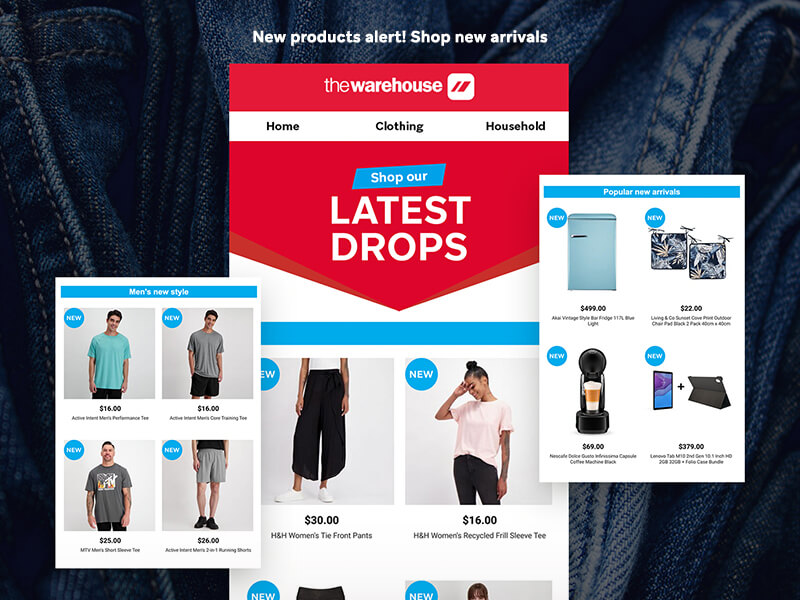 Themed "New Arrivals," this email uses the same popularity algorithm as above, filtered differently to show only recently-added products
The Warehouse Group applied this themed email strategy to its three largest brands: The Warehouse, Warehouse Stationery, and Noel Leeming. The frequency was three emails per brand per week, which totaled about forty recommendation modules deployed from single sends.

The content-to-effort ratio was immediately obvious: the use of Experience Email yielded better variety for a fraction of the time.
The Warehouse Group freed up 28 hours per week of operational costs while maintaining their pre-existing email cadence across three brands.
They also saw an engagement increase across the brands, with an overall 14% uplift in email clicks in the first few months — indicating that with more relevant content, subscribers are more motivated to consistently open emails and browse. Over time, The Warehouse Group expects this to create increased revenue and brand loyalty.
Expansion is the next, easy step. The Warehouse Group sees the opportunity to try more personalized algorithms and introduce dynamic content to continue increasing the value of their emails for customers.
Personalization experts know that email isn't just "nice to have"
Personalization has become a consumer expectation, and email — as the most popular customer touchpoint — cannot afford to be left out. Yet with no feasible way to deliver personalized email content manually, investing in a scalable email personalization program is the key to building true one-on-one relationships with customers, creating brand loyalty, and increasing product discovery outside of the website or storefront. By starting simply and using existing algorithms and filters in Dynamic Yield to build themed emails with Experience Email, The Warehouse Group has already taken huge steps to distinguish itself in the inbox, all while saving the bandwidth of its team — another reason why they have been named winners of the
Personalization Expert Award.