Tottenham Personalizes the Fan Experience
Spurs Crafts Individualized Customer Journey with Dynamic Yield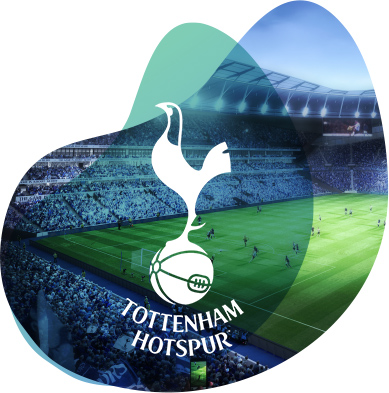 Increase in conversion rate
from mobile homepage due to mobile web personalization
Boost in revenue per session from Dynamic Yield's social proof templates
Positive ROI after deployment due to ease of implementation
A consistent fixture atop the Premier League table, Tottenham Hotspur is a football club in North London built on the motto "to dare is to do." After looking at 40 vendors, Tottenham selected Dynamic Yield to bolster its eCommerce business by creating a cohesive, personalized customer journey for each visitor. With Dynamic Yield, Spurs reimagined the mobile website, optimized the conversion funnel, and crafted unique experiences around major events, such as match results and kit launch. Personalization paid off, delivering positive ROI in just one month thanks to notable increases in conversion rates and revenue per session.
"Dynamic Yield has given us a platform to continually enhance and improve our online experience. The system is pivotal to driving our online offering, allowing us to deliver the greatest possible relevance to our fans throughout the online journey. This has helped drive improved user experience and crucially we have seen increases in key performance metrics, such as revenue per user and conversion rate."
Tottenham uses its online store, "Spurs Shop," to sell everything from the club's latest kit to White Hart Lane themed Monopoly to its millions of fans around the world. As they redesigned their website and stadium, the club sought to capture visitor behavior across multiple touchpoints to target visitors with relevant content and merchandise to enrich the fan experience. In addition, Tottenham witnessed a lower add-to-basket rate among significant mobile user segments. To remedy this behavior, they needed a solution that would enable them to surgically target these site visitors with bullet-proof strategies. In particular, the eCommerce team at Tottenham required a solution that would:
Integrate data from across sites, devices, and CRM to power one cohesive experience and give Tottenham full ownership of the data
Allow non-technical people to easily make instant website changes
Offer personalization, recommendations and automated optimization in one platform
Provide mobile-dedicated templates that can be targeted at underperforming segments
After evaluating about
40 vendors
across the personalization and optimization category, the club turned to Dynamic Yield.
Personalized layout of mobile website based on user behavior
Engaging mobile visitors requires a sleek interface with an acute awareness of the unique idiosyncrasies of mobile shoppers. While many eCommerce sites simply repurpose the desktop website Tottenham used insights from Dynamic Yield to optimize its mobile website. For Spurs, the navigation blocks below have a particularly high clickthrough rate on mobile and tablet but were stuck at the bottom of the page, identical to the desktop design. Once Dynamic Yield pointed out highlighted the performance of the blocks on mobile, Tottenham moved the blocks above the fold, driving 4X as many clicks. Creating this mobile first experience also decreased bounce rate by 31% and increased conversion rate for mobile homepage visitors by 40%.
After the initial success, Spurs also refined these key navigational blocks to serve relevant content based upon user behaviour in order to give a tailored and relevant experience. In doing so, the Click Through Rate on these mobile blocks has gone up to 50%.
Served contextually aware recommendations based on stage of buyer journey
For first time visitors, Tottenham deployed a banner highlighting the local weather with relevant product recommendations based on the current conditions.
For example, on a rainy London morning, the widget would highlight Spurs hoodies while on the rare sunny afternoon, polos, kits, or other appropriate products were shown.
For repeat visitors, Tottenham used this real estate to showcase recommendations based on previous purchases, leveraging Dynamic Yield's affinity algorithm to drive higher engagement and revenue per user.
Finally, the club recommended products in cart based on the current value of items in the basket, encouraging users to hit shipping thresholds to increase conversions and order values. This increased spend on items of £10 or less by 35% year-over-year, helping to achieve higher average transactions values.
Split test the mobile product page to boost engagement
To understand how users interacted with mobile product pages, Spurs targeted split tests by audience type, ultimately landing on a new design for mobile product pages that boosted revenue per session by 9%.

Tottenham has adopted a culture of experimentation and now continually improves its mobile website with a constant cycle of analysis, test planning, test implementation, and reviewing results.
Highlighted benefits of buying directly from Tottenham to increase cart additions
Having identified smartphone segments as 41% less likely to add products to their bag, Tottenham analyzed their data further and discovered these segments were:
Largely driven by email and social channels
Earlier in their buying journey, and
More likely to be newer and younger than the average visitor.
Leveraged out-of-the-box templates for social proof, geo-targeting, and contextual navigation
As with all of the Spurs' personalization deployments, testing several, different variations was a key part of the process. For the free shipping message, Tottenham found that a yellow background drives the highest revenue per session increase in the UK, while cyan performs better in most other markets.

Spurs also experimented with several variations of a social proof messaging with the template highlighted below, driving a 10% increase in revenue per session.
On mobile, Spurs leveraged an out-of-the-box navigation template (below) and set targeting rules based on the stage of buyer journey to improve retention, generating a 15.3% increase in revenue per session. Following these successes, Spurs used these insights to further develop functionality to enhance the experience on their online shop.
Implemented Dynamic Yield on Media site to merge data and target effectively
As part of Tottenham's strategy to provide fans with a personalized experience throughout every interaction with the club, Tottenham implemented Dynamic Yield across additional digital products, including their media and news site—a step that enabled Tottenham to get to know their fans even better and cater to each individual.

In doing so, Tottenham discovered numerous additional segments, each of which demonstrated a particular behavior. For instance, a large cluster of segments was characterized as very unlikely to purchase products and instead, were more interested in consuming "gossip." In serving these segments content that relates to the exclusivity of news (as opposed to simply pushing them to complete a purchase), Tottenham sought to generate greater engagement and value for the business than direct commercial messaging:
These messages received 1294% more interaction vs. commercial messaging, meaning that Spurs were still able to generate value by data capture rather than just through direct commercial messaging.
By personalizing experiences at every stage of the conversion funnel, Tottenham created a seamless shopping experience for club supporters across devices. To continue to set the standard in fan experiences, the Spurs now plan to craft individualized fan journeys beyond its Media and eCommerce sites. Using Dynamic Yield to capture digital, transactional, and CRM data, Tottenham aims to bridge the gap between the online and physical world to deliver the right content at the right time to fans online, in the new stadium, and around the globe.