AI-Infused email personalization that adapts to every customer
Pick up where your ESP left off. Transform static emails into fully personalized, adaptive email experiences to drive higher sales, loyalty, and engagement.
Brands already driving higher sales, loyalty,
and engagement with Experience Email
Effortlessly create personalized,
highly converting emails
Use a drag and drop builder to create content blocks or entire emails within minutes, designed to render perfectly on any device, email client or web browser.
Recommendations
DYNAMIC CONTENT
TEXT
HTML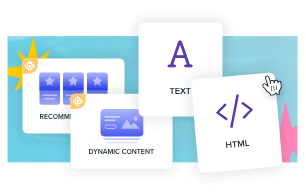 Create and customize every part of your emails with a no-code builder.
Drag and drop content blocks onto your email designs.
Edit, preview, and send test emails within a single flow.
Select from a variety of stunning templates or design your own.
Nudge customers into more repeat purchases with recommendations
Drag and drop AI-powered product recommendation blocks directly into your emails and turn one-time buyers into repeat customers. Use your shoppers' entire order history to predict and showcase the products that are most likely to be bought by each individual customer.
Recommend products within emails, and improve CTR and conversions
Predict each customer's next purchase through deep learning AI.
Serve multiple recommendation widgets within the same email.
Guarantee relevance with open-time decisioning.
Accelerate performance and build
brand loyalty with Dynamic Content
Drag and drop Dynamic Content blocks to deliver individualized experiences to different audiences, right at open-time. Your customers will never be distracted with irrelevant content in their inbox again.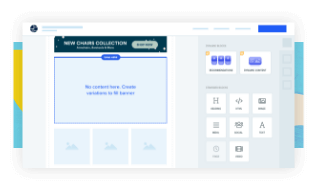 Leverage powerful audience segmentation directly from the Experience Email builder.
Meet your customers exactly where they are in their journey with your brand with open-time relevancy.
Reduce development time with dozens of striking and highly customizable out-of-the-box templates.
Be relevant with
precise email targeting
Dynamically adapt email content and recommendations to audiences based on their shopping behavior, affinities, cross-device behavior, and more. These segments can then be used across the Dynamic Yield platform to personalize product recommendations, content, behavioral messages, and more.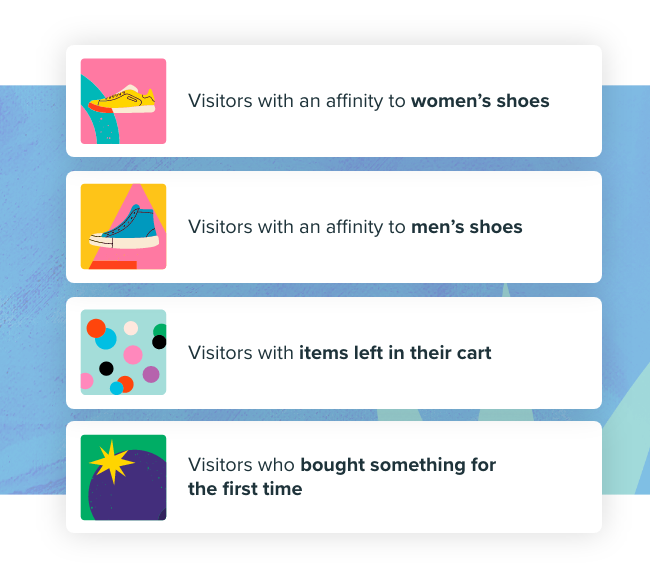 Use your web and app data to make the emails even more relevant.
Combine real-time and historical behavioral data, transactional data, and personal data.
Analyze segments to discover performance metrics and identify targeting opportunities.
Leveraged cross-device data to achieve 2x conversion uplift from personalized emails →
Visitors with an affinity to women's shoes
Visitors with an affinity to men's shoes
Visitors with items left in their cart
Visitors who bought something for the first time
Repeating customers with a lifetime value above $500
Visitors with an affinity to accessories
Returning visitors who have made a purchase on mobile
Returning visitors with an affinity to sale items
Trigger targeted emails on a
one-to-one level
Set timely, automated triggering events based on real-time behavior to send timely emails when customers are most likely to engage, like in the event of cart abandonment, a product price drop, a lack of activity shown in the past week, and more.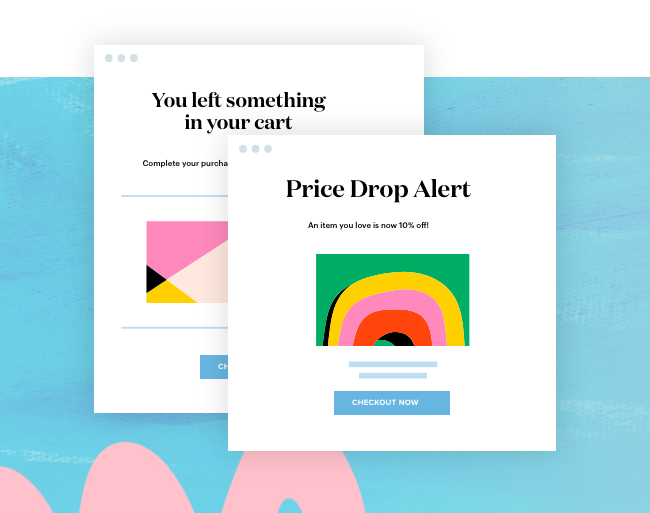 Seamlessly integrate with your ESP
Push your personalized emails directly to your preferred email service provider with one click. Dynamic Yield is integrated with or works seamlessly with major ESPs, CRMs, marketing automation, and other email platforms.
Email personalization resources to
fuel your efforts
Useful information on some of the strategies, tactics, and examples you can implement to ensure your triggered email campaigns are as high-impact as possible. READ ARTICLE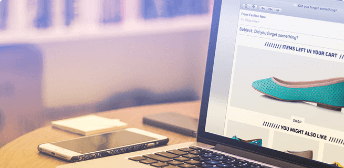 Learn how to recover lost sales through abandoned cart emails — with Pro Tips from Levi's, Under Armor, Ray-Ban, and other eCommerce leaders. READ ARTICLE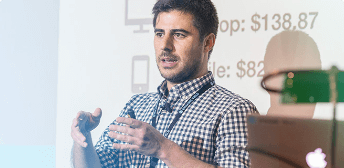 Liad Agmon, Dynamic Yield CEO, explains how marketers can balance the need to deliver high impact email campaigns with positive customer experiences. WATCH VIDEO
The end-to-end solution for all your
personalization needs