&
SurveyMonkey Integrates with Dynamic Yield
Trigger your surveys at the right moment, for the right customers using Dynamic Yield's integration with SurveyMonkey. Customers using SurveyMonkey to collect feedback can now easily trigger CX surveys at unique moments in the customer journey. Customers can then leverage Dynamic Yield's robust audience data to target specific segments and then use the collected responses to further personalize the customer journey.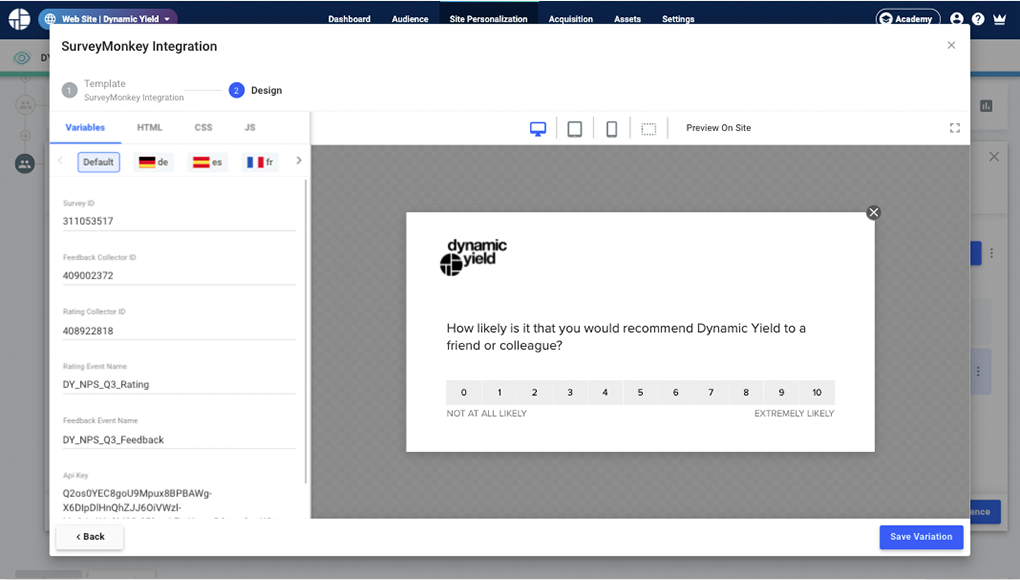 Key Benefits
Leverage Dynamic Yield's triggering capabilities to display SurveyMonkey surveys during unique moments.
Easily create surveys, quizzes, and polls using the SurveyMonkey interface, and trigger them using the Dynamic Yield platform for any audience, at the right moment. Surveys can be triggered based on pageview events, exit-intent, mouse clicks, page scrolls, and more.
Use Case Examples
Trigger a survey for first-time visitors that show signs of exiting the checkout flow and ask them to provide feedback about their shopping cart experience.
Engage with customers who have just completed a purchase by triggering a survey inquiring about their experience with your brand.
Utilize survey data collected in SurveyMonkey to inform and segment audiences on Dynamic Yield and personalize customer experiences accordingly.
Learn more about SurveyMonkey with Dynamic Yield