The gold standard for recommendations: An APMEX case study
We caught up with Andy Mueller, Director of Digital Analytics at APMEX, about why breaking down silos between data is essential to connecting with consumers on a one-on-one basis and how recommendations can surface relevant products for every type of buyer persona.
Since 1999, Oklahoma-based APMEX has sold over 130 million ounces of gold and silver in 60+ countries across the globe. And with more than 10,000 precious metals in stock, the company boasts $14 billion in transactions, earning the #1 spot for specialty retailers in Internet Retailer Magazine.
While operating in a niche market, fusing both retail and finance, APMEX wanted to be seen as best in class when it came to the traditional eCommerce experience. To deliver, the team knew it needed to discover the real motivations of its shoppers.
We caught up with Andy Mueller, Director of Digital Analytics at APMEX, who discussed why understanding customer personas is essential to the company's digital efforts and how product recommendations have helped the brand better connect with their customers.
Crafting best in class digital experiences
To gain a deeper level of understanding of its visitors, APMEX set out to:
Fully integrate their technology stack, especially its CRM
Analyze and identify high-value segments in real-time
Optimize product discovery for a vast assortment of SKUs
As Andy explains, "We needed a really sophisticated understanding of our segments, personalization techniques, and targeting. When I came into the company a couple of years ago, that really was the core focus of what we were trying to do from a data perspective."
Connecting and consolidating data from multiple sources for enhanced segmentation
Given APMEX's extremely diverse customer base, data integrity and customer segmentation were paramount. In order to gain a 360-degree view of its customers for real-time activation, the company made sure to connect and consolidate all of the available data from across its marketing stack.
The team integrated various first- and third-party solutions including its CMS, email service provider, tag management platform, ad serving platform, web analytics solution, and more.
Next, the team pushed all of the incredibly valuable customer scoring, persona, product classification, and purchase prediction models its data science and analytics teams had built into the same, unified ecosystem. Then, it used those sophisticated models to segment and assign a score to each user based on their financial value and engagement.
Andy explains, "It's not like, say, sportsgear.com, where, maybe you're into kayaking or mountain climbing and I can deliver experiences catered to that, right? We've gotta get to the motivation and the means really quickly. Do you have the money to spend? Are you interested in investing? Are you a collector?"
So, with its data unified and robust segmentation logic applied, APMEX was ready to not only personalize at scale but also increase the impact of one of its most valuable tools for product discovery, its recommendations.
Targeting each visitor with relevant product recommendations
Given the time-sensitive market and number of unique buyer personas, matching users with relevant products from a massive inventory requires APMEX to identify, understand, and act on important behavioral and contextual signals, oftentimes, on the fly.
For example, users who arrive on the site and immediately begin looking at extremely rare pieces and collectibles are seen as displaying VIP and elite user behavior. Representing an extremely small percentage of APMEX's customers (less than 0.25% of shoppers), Andy explains, "These customers are looking at very niche, high-margin items. We're able to recommend coins worth hundreds of thousands of dollars that typically, the average person would just never look at or never care to see."
In another case, APMEX targets those who have shown an affinity to gold versus silver the appropriate collectibles immediately upon returning to the site, mixing in other related and popular items of varying price ranges to tease out additional interests and preferences. The engagement data is then used to continuously optimize the recommendation experience.
Left: recommendation widget for Gold buyers; Right: recommendations for Silver buyers
Over time, his team has implemented a variety of recommendation widgets to ensure the right products are targeted to the right audience.
Experimenting with recommendation strategies across the funnel
From global and affinity-based product recommendation strategies to collaborative filtering-based suggestions – Andy knew how important A/B testing the various algorithms and widget placements would be to the team's ability to generate long-term revenue uplifts.
Homepage recommendations
The homepage facilitates product discovery, and on both mobile and desktop devices, APMEX needed an effective way to showcase best-selling products to both new and returning visitors. Because the price of precious metals can fluctuate, the team used this unique element of their business as an opportunity to recommend "Best Buys," or items considered to be 'value buys' based on the most up-to-date data.
Doing so allowed them to go a step further beyond the "Most Popular" product recommendation strategy – often deployed on the traditional eCommerce homepage – and recommend the best deals and savings possible to each site visitor.
Best Buys homepage recommendation widget
In addition to "Best Buys," APMEX recommended "Top Picks" on the homepage, displaying five specific items above-the-fold. Looking to nudge users closer to checkout, they used badges to denote which items were top picks or on sale. The team surfaced products across categories in this widget, increasing the likelihood of displaying products that would resonate with every type of shopper.
Top Picks homepage recommendation widget
Product detail page recommendations
With thousands of unique precious metals in the store's inventory, the team at APMEX knows users can get lost while searching for the perfect product as they browse through page after page. To ease the discovery process, the team tapped a number of different recommendation strategies on product detail pages (PDPs) for users browsing a particular category.
An especially popular recommendation strategy they deployed on PDPs was the "Bought Together" strategy, which surfaced products related to the current item in view. This strategy enabled them to surface suitable products for every customer and presented an upsell opportunity for those with items already in their carts.
Related products PDP recommendation widget
Recommendations on the APMEX Education Center
Many turn to APMEX in search of educational content to understand the differences between precious metals. While some users arrive organically via search traffic, others arrive at APMEX's Education Center after browsing through different PDPs to find answers to questions they have about a specific type of metal or coin. Knowing this, the team stretched the value of this resource by marketing specific product categories related to the article a user was reading.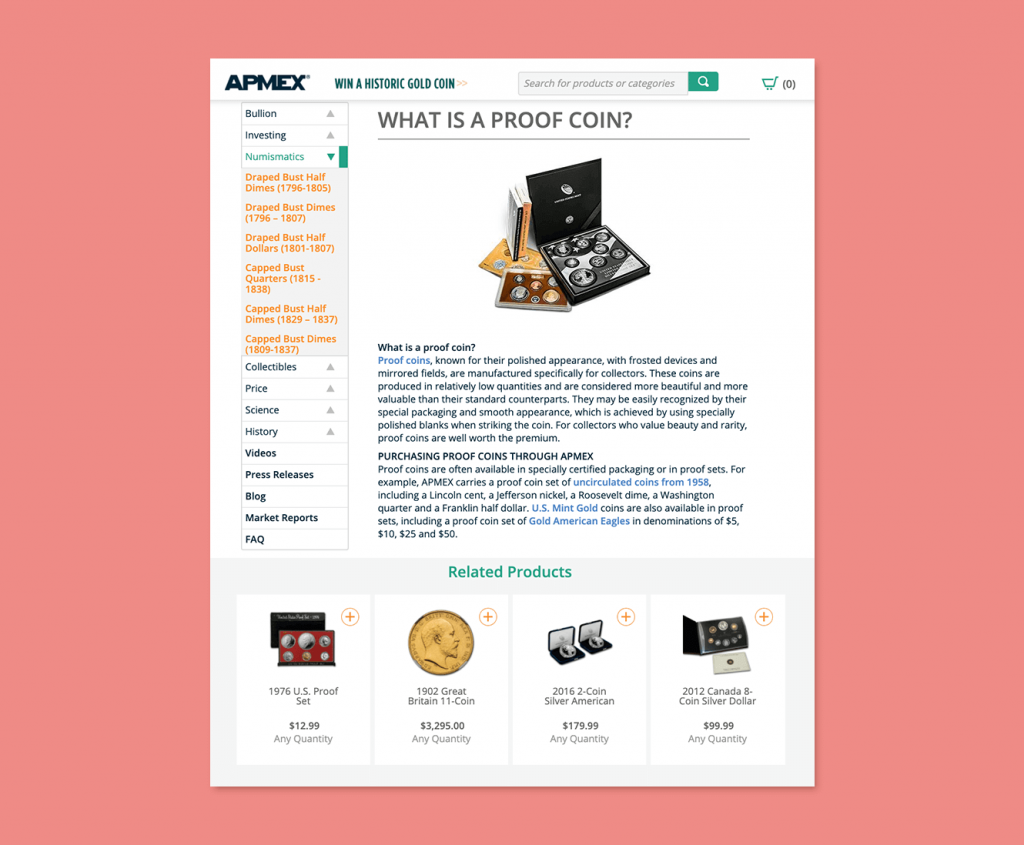 Related products recommendation widget in APMEX's Education Center
The key takeaway
Recommendations, while just one element of personalization, are an extremely useful tool for creating tailored, on-site experiences. By unifying its data sources, APMEX has been able to better understand who its customers are, where they are coming from, and where their interests and affinities lie, helping them surface the most relevant products for each customer, drive revenue, and build a best-in-class digital experience.