Building customer-centric digital experiences: An Elkjop case study
We caught up with Julie Nielsen to learn why customer-centricity has become the heart of experience creation at Elkjop and how focusing on user behavior has supercharged the organization's ability to create highly-engaging experiences, boost conversions, and gain a competitive edge.
Home to 400+ brick and mortar stores and over 25% of the consumer electronics market share in the Nordics, Elkjop has become a household name in northern Europe. Relevancy is top of mind for the retailer, and in order to properly deliver experiences that will resonate with consumers, they turned to personalization to serve more tailored product recommendations and refine its search results.
With a massive product catalog, the European giant has traditionally functioned under a product-centric model. But to continue building off their existing market dominance, Elkjop understood the importance of layering its customers' needs into its operations. This would allow them to:
Improve product discovery across the shopping journey
Connect both online and offline digital interactions
Eliminate silos in their customer experience
We caught up with Julie Nielsen, Senior Web/User Experience Analyst at Elkjop, to learn more about her organization's digital transformation, how the company has prioritized its optimization efforts, the unique challenges her organization has faced along the way, and the successes they've been able to achieve.
A more intent focus on search optimization
Early on in its journey into eCommerce, Elkjop recognized the importance of the search function. As a result, after partnering with FACT-Finder, they decided to start displaying relevant suggestions and thumbnail images in the search field dropdown, helping consumers quickly and efficiently navigate to their desired products.
Additionally, Elkjop strategically ranks products on results pages to display items most relevant to each user. These results are optimized automatically in real-time using their AI-driven site search solution, which boosts items with the highest click-through rate (CTR) the next time someone searches for the same phrase.
These search optimizations have been especially helpful as the seasons change and have helped them account for words that have different meanings depending on context.
Personalized filters are true discovery drivers
After assessing its site behavior, Elkjop found that users who interact with their filters are 10% more likely to convert. With this knowledge in hand, the team knew it was time to focus on filtering, especially on mobile. They began adding the most-used filters from each of their product categories to the top of the product results page. And to make the experience more visually appealing, they displayed images alongside each filter to represent the product category.
Change takes time, and Julie explained that even with the smallest, subtle changes to the filtering experience, her team witnessed more engagement and less drop-off, which exposed a new learning: filters can have a major impact on the discovery experience for their site visitors.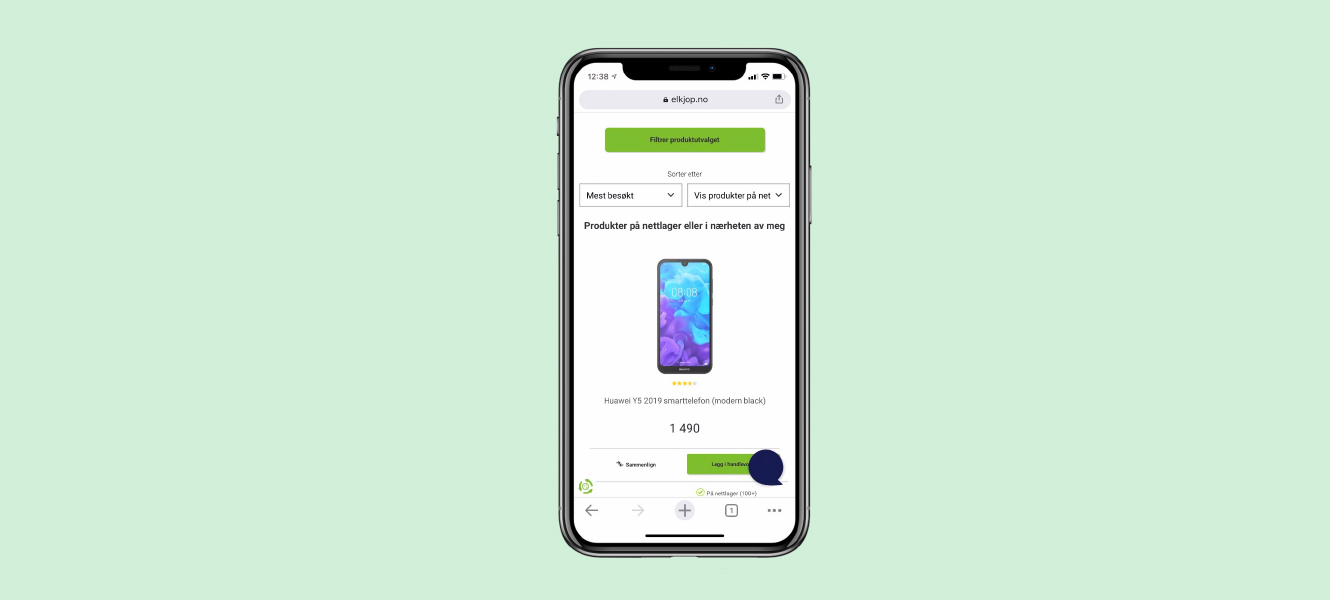 Filter menu visible atop product pages on mobile
Being user friendly requires being mobile-friendly
A mobile-friendly site can make-or-break a business, and Elkjop identified this as an area it needed to invest in. Historically, the retailer's navigation wasn't very intuitive, especially on mobile devices, and Julie explained that her team believed optimizing their navigation experience would result in an uptick in sales across their digital channels.
They could go macro, tailoring the navigation to a larger segment of users, or micro, according to each user's affinities. Preferring the more granular approach and with affinity scores in hand, Elkjop was able to better understand their customers' shopping preferences and start pushing preferred categories to the top of the site navigation menu, making for a simpler, quicker, and more intuitive product discovery process overall.
Featured product categories listed atop product listing pages help guide users' navigation experience
Context and intent are key when tailoring product recommendations
With its eyes set on increasing conversion rates, Elkjop focused more intently on both bolstering discovery and better catering to consumers' wants and needs. This created a strong case for more tailored product recommendations.
Julie explained that the main objective with personalized recommendations was to ease the path to purchase, which is why the retailer expanded the range of its widgets across the entire site. Doing so resulted in successfully setting 16 different strategies, such as recently viewed and affinity-based recommendations, live on a number of pages, including:
As they did with filters, Elkjop began engaging with users in small, incremental ways, such as by using pop-ups featuring product recommendations. Understanding consumer behavior helps better tailor these interactions and present more relevant products. For example, when a user adds a new mobile device to their cart, Julie's team began recommending device insurance plans to these users. She explains:
"Analyzing the performance of minor site and UI changes has also been a major game-changer for us, helping us determine which changes yield positive or negative sentiments from our customers. This information helps inform which changes or optimizations our eCommerce team decides to make going forward."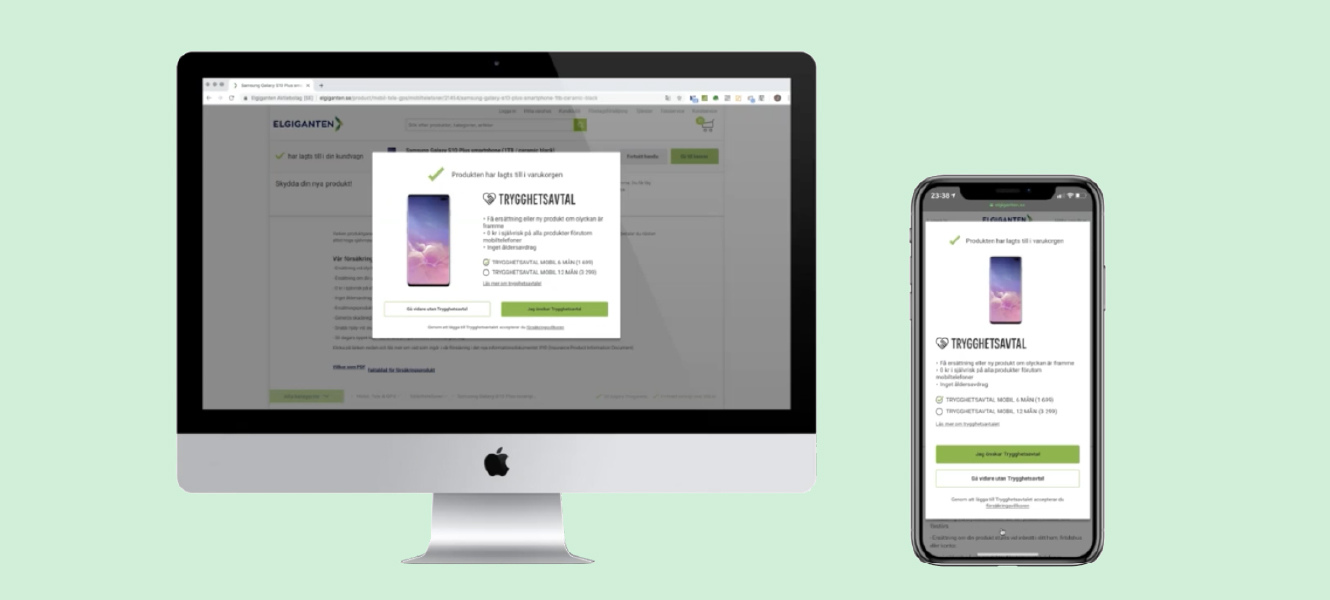 Example of a product recommendation overlay widget featuring insurance plans, which resulted in a 362% increase in insurance plan conversions
Staying ahead of the customer experience curve
Elkjop is a perfect example of the benefits of taking a customer-centric approach to marketing. By focusing on its consumers and their unique behaviors, the company has been able to create highly-engaging digital experiences and gain a competitive edge. The organization's recent digital transformation has also enabled the business to connect online and offline experiences, helping them build loyalty and drive conversions. And now that the retailer has put a sustainable, scalable personalization program in place, its team will continue championing the importance of tailoring experiences and continue witnessing positive, long-term success.
Want to hear directly from Julie Nielsen, Elkjop's Senior Web-/User Experience Analyst at Elkjop? Tune into this on-demand webinar, no form fill required.