The Roles & Structure of an Agile Personalization & Optimization Team
Defining the roles and responsibilities of a scalable personalization and optimization team. Learn how to structure an agile team!
As personalization becomes the cornerstone of digital strategies across industries, marketing leaders are faced with transforming current team structures and operational workflows to reap the benefits of what they sow. After all, tailoring experiences to the individual involves a lot of moving parts and implementations, many which transcend marketing channels. 
However, despite understanding that a great customer experience and sustainable growth is the result of a coordinated effort, many organizations struggle to choose suitable champions to take ownership of these responsibilities. Requiring a level of facilitation between various stakeholders and departments that many are not yet accustomed to, even those well-versed in A/B testing, who already possess a culture of experimentation, recognize the transition – from delivering what works best for the average user to truly personalized interactions based on a person's long-term behavior, affinities, and real-time data – is significant.
So in this wild west of customer experience management, how should organizations establish a support system that will allow them to be agile and scale their efforts? 
Every personalization and optimization team is personal
It's important to acknowledge there is no one-size-fits-all model for an experience optimization team. One organization may flourish with a particular roster of individuals, and another may thrive with an entirely different set of roles. Nor is there a tried-and-true approach to building one – many hire for new positions and some leverage an existing talent pool to tackle the host of new potential use cases and applications.
The Inspiration Library
Discover over a hundred real website personalization examples from around the world to kickstart ideation
For example, it makes perfect sense that the individuals who are responsible for performance and revenue-generating growth also run experience optimization initiatives. These roles are already focused on reducing acquisition costs, optimizing funnels, and increasing ROI. But as web personalization demands a much more customer-centric approach than that of conversion optimization, a dedicated CX professional should be brought in. It is, therefore, expedient to look at the whole marketing process to aid in allocating the right stakeholders.
When it comes to project ownership, in an ideal world, cross-functional experts would come together to oversee activities and implement ideas under one department. Though, because companies possess varying levels of available budgets, resources, and talent, this setup may not be universally adaptable – more on that below.
Common customer experience team layouts
Based on our long history working with brands in the A/B testing, CRO, and personalization space, there are a few distinct models we've seen implemented when it comes to organizing their teams.
The part-time model
One individual with an existing marketing slash operations role is tasked with spending a specific percentage of their time to project managing experience optimization efforts by coordinating resources and activities across business teams to deliver campaigns.
Benefits:
Program receives consistent focus through part-time ownership
Challenges:
Longer execution timetables due to lack of departmental representation
Reduced interdepartmental expertise applied for maximum incrementality
Limited execution capabilities without development resources
The designated owner model
One individual is designated to managing A/B testing, optimization, or personalization efforts in a full-time capacity, ensuring campaigns are effectively orchestrated at the department level and aligning efforts through the centralization of strategies and insights. Additionally, each of the business teams involved has a point of contact within that area of expertise and is responsible for coordinating each of their deliverables.
Benefits:
Program receives consistent focus through full-time ownership
Heightened program visibility through creation of new department
Better collaboration and application of internal expertise
Challenges:
Limited execution capabilities without development resources
The dedicated team model
One individual owns personalization on a full team of SMEs that coordinate and deliver the program objectives. Member(s) assigned to personalization work to ensure campaigns are effectively delivered in a cross-functional team that includes business and technical expertise that can independently operate the program.
Benefits:
Program receives consistent focus through full-time ownership
Heightened program visibility through creation of new department
Better collaboration and application of internal expertise
Accelerated rate of deployment, effectiveness, and gains
Development resources remove technical limitations
Challenges:
Increased expectation and demands due to deliver incremental returns
The starting lineup of any successful personalization team
While it's fair to say an experience optimization program will largely be defined by the factors previously stated, there are many functions that will remain consistent, regardless of whether a program is driven by an eCommerce, merchandising, or digital team.
Without getting into the rigorous process teams must adopt to effectively scale campaign creation, there are certain functions needed to take an experience from A to Z. Starting with ideation to prioritization, mockup, development, segmentation, experience setup, QA and launch, all the way through validating the results of the experience.
Below, find a straightforward framework of the key roles found within any functional, well-oiled personalization team:
Weighted equally in terms of their contribution to the program, individuals from Product, Development, Marketing & Merchandising, and Optimization & Analytics roll up to an Executive Leader to form a unified (all housed under one department) or cross-functional personalization team (with each role sitting in separate departments).
Within each function, a variety of potentially suitable titles can be substituted in to meet the role requirement based on an organization's needs and available resources. What's more important are the jobs each individual will perform, its impact on the workflow, and ultimately, the end-user experience.
Getting more granular, we can see the specific duties associated with each respective role: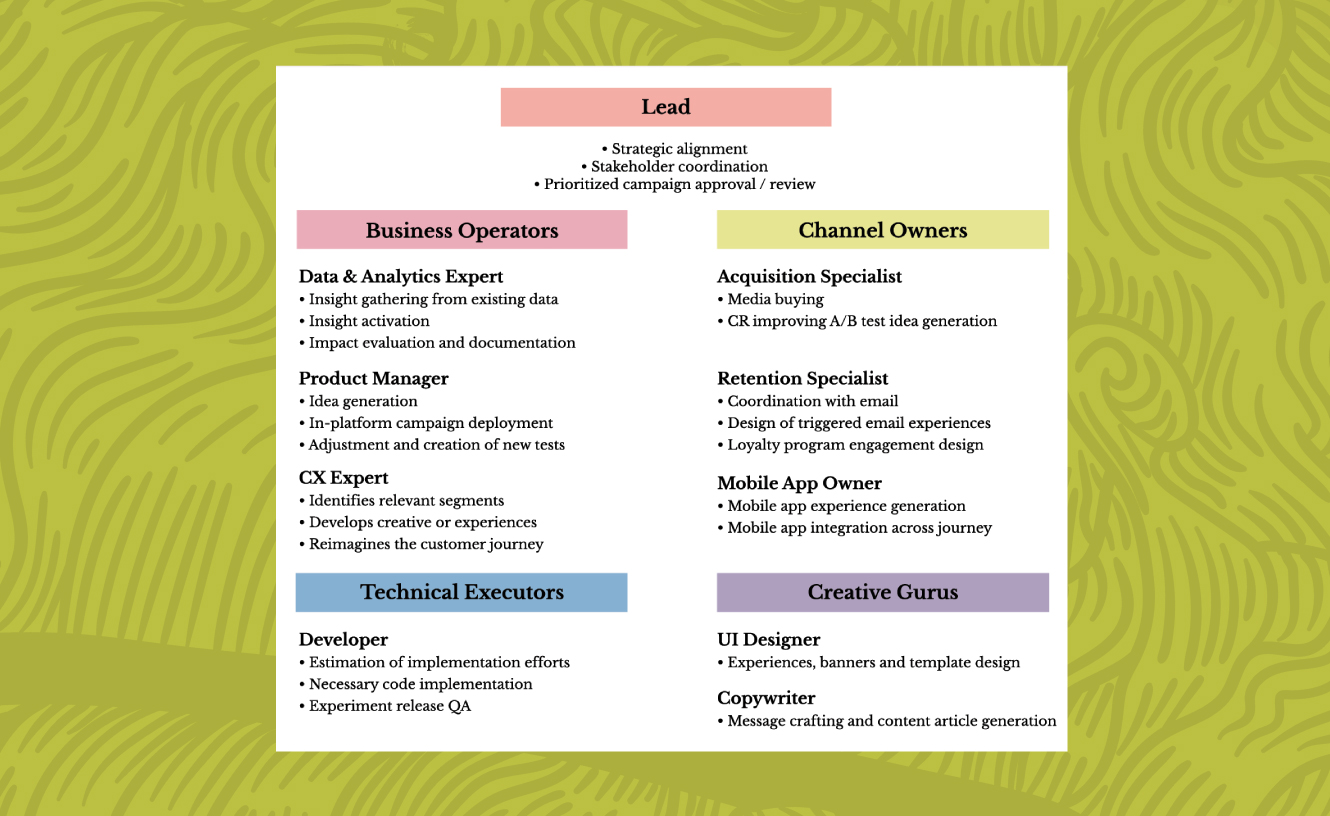 Again, each of these roles has the freedom to sit anywhere within the org. With proper governance and process built around campaign management, personalization can prosper across business units.
When it's time to consider outsourcing responsibilities
If an organization isn't able to allocate stakeholders from within or build a team from the ground up, they may choose to partner with an agency for assistance in strategic and tactical execution or the complete management of a program. A good agency can work with what resources are available to accommodate an org's specifics needs in a hybrid fashion, bringing a wealth of experience, industry knowledge, and a network of seasoned contacts to the table.
Teams should be mindful, though, that less ownership over a program could result in a lack of insights and know-how when it comes to operationalizing personalization, leaving teams at the mercy of an agency.
In addition, many technology solutions provide professional services on top of the strategic consulting hours already offered to clients, allowing teams to augment their efforts while also becoming more independent, so executive leaders should lean on and utilize as many of those resources to them as possible.
In summary
No matter what the makeup of an organization, there are certain responsibilities that must be met to ensure mission-critical elements of an experience optimization program are tended to. And regardless of whether those individuals are part of a dedicated or cross-functional team, the most important piece to getting it right lies in breaking down rigid working silos and promoting effective facilitation between the different stakeholders.