Guidelines for running effective Bayesian A/B tests
In this post, we describe the basic ideas behind Bayesian statistics and how they feed into business decisions you will need to make at the end of a test.
A/B testing is a great way to compare alternative experiences or possible modifications to your website or digital properties. By running the two experiences in parallel and deciding at random which visitors land on which version, you get an honest comparison of which one delivers better performance.
Once you get the data from your test, you need reliable and informative ways to summarize them and reach conclusions. The Bayesian approach to doing statistics is a great way to accomplish this.
Here we describe the basic ideas behind Bayesian statistics and how they feed into the business decisions that you will need to make at the end of a test. We first present the approach to data analysis.
Then, we illustrate how data analysis leads to natural solutions for questions such as:
Which variant drives better results?
How much better are those results?
Can we be confident in our conclusion?
What if we want to test more than two variants?
What sample size is needed for a Bayesian A/B test?
Can a test be terminated early if results look clear?
What is Bayesian Statistics?
Bayesian statistics is named after the Reverend Thomas Bayes who lived in Britain in the 18th century and was responsible for proving Bayes Theorem. The guiding principle in Bayesian statistics is that you can use the language of probability to describe anything that we don't know and want to learn from data. As we will see, this is an ideal language for discussing many of the questions that are most important to business decisions.
When you run an A/B test, the primary goal is to discover which variant is most effective. To do so, you compare the results with the two methods. The Bayesian analysis begins by looking at the KPIs for each of the variants. The data gives us information about their value but always leaves some uncertainty. We describe uncertainty using a probability distribution. We can simulate results from the distribution to understand how it looks.
The histogram in Figure 1. is typical of what you might get from your analysis. It shows the statistical distribution of difference in click-through rate (CTR) between A and B. Most of the curve is to the right of 0, providing evidence that A has a higher CTR. The fraction of the curve to the right of 0 is a great summary of that evidence – it is called the Probability to Be Best (P2BB). In Figure 1., P2BB is 0.699, in favor of version A.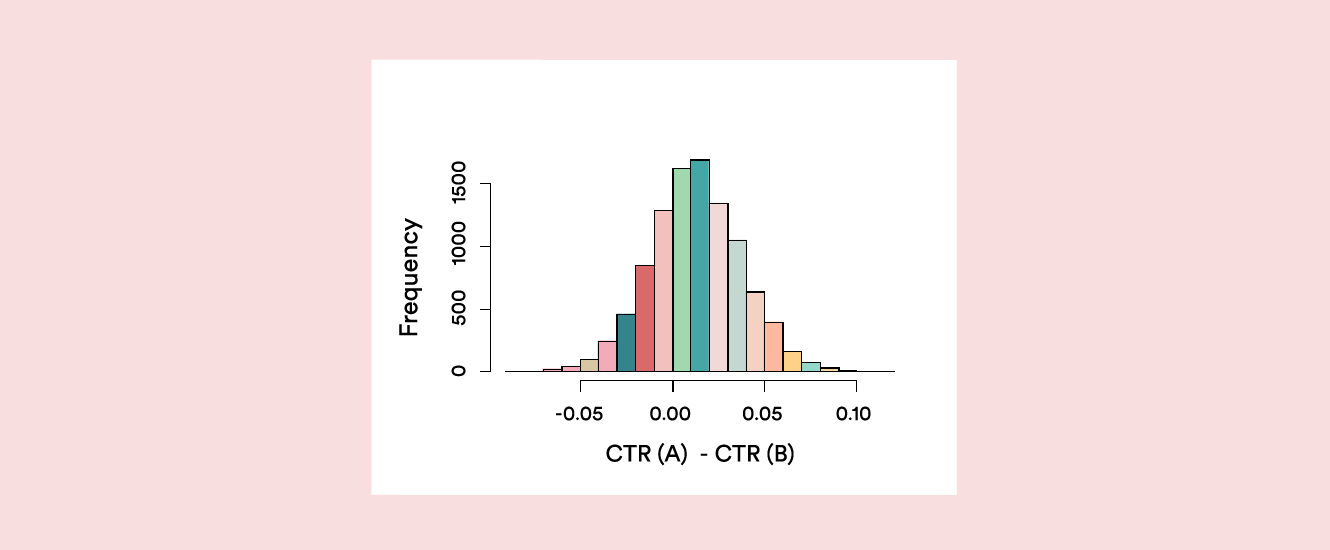 Figure 1: Probability function for the CTR for A minus the CTR for B
If you have three or more variants, it is still easy to compute the probability of being best (P2BB), with probability split into three pieces, one for each variant.
How does Bayesian analysis work?
You need to start the Bayesian engine running with a prior probability distribution that reflects what you think about the KPI before seeing any data. The prior is then combined with the test data to obtain a posterior distribution for each variant. Figure 1. would be the posterior distribution for the difference between the A and B variants.
You need the prior to make things work, but when the volume of data is large – and that is almost always the case in A/B tests – the posterior is quickly dominated by the data and virtually "forgets" the prior; so you don't need to invest too much thought about how to choose the prior. It is possible to work with some standard choices for priors without affecting the analysis.
It is helpful to contrast the Bayesian summary with the "classical," Frequentist approach you might have studied in an introductory statistics course. In the classical approach, either A is better than B, B is better than A, or they are identical. The question "what is the probability that A is better" is not part of the lexicon – you can't give an answer, and in fact, you're not even permitted to ask the question!
The classical paradigm does use probability, but only to describe the experimental data, not to summarize what you know about a KPI. That's why you can't make a summary like "the probability that B gives a positive uplift over A is 98%." And that's why we think the Bayesian summaries are so much better suited for business decisions.
For more on the different viewpoints when it comes to the Bayesian vs. Frequentist approach to A/B testing, check out this article.
What length of time is needed to run an a/b test?
In making these decisions, it is important to think about "what might go wrong" with the testing engine. You want your test to be sensitive to possible bugs. Often bugs are related to failures of the random allocation over time so that natural time trends in your KPIs bias the results. If there are weekly trends in your data, then you need to run an A/B test for two weeks to make sure that the engine is successfully handling them. If there are diurnal trends (but not weekly), you can afford to run shorter experiments. There may also be special events that suddenly increase or decrease the number of visitors to your site, or change the composition of visitors, affecting the performance of an experience. You may want to hold off on making any decisions until you see whether such issues have an impact on your results.
The considerations noted above will suggest a minimum time frame for running your experiment that ensures representative coverage in the A/B test of typical future site visitors. Often, these will dictate the length of time for the test.
How large a sample size is needed for a Bayesian test?
The sample size paradigm for Bayesian testing asks how narrow you want your final probability functions to be. You will probably want to focus on the probability function for the difference in KPIs between the two variants, as shown in Figure 1. And you will already have an idea what sort of difference could be important for your business; that gives a guideline for how narrow you want the function to be.
You will also need to provide information on likely values for the KPIs. Often one of the versions is already running, so you can use historical data for this purpose. For new versions, you will need to think about what effect they might have. If the test includes multiple versions, the same ideas apply and the same inputs are needed.
The basic inputs needed to compute a sample size depend on the nature of the KPI:
For binary KPIs like CTR or installation rate, all you need are the expected rates for each version
If you are looking at purely continuous KPIs like revenue per conversion, you will need to supply an estimate of both the typical conversion size and the variation in size among those who do convert
For a "mixed" KPI like revenue per visitor, you will need the average, variation, and an estimate of the fraction who will convert.
There are straightforward formulas you can use to determine the sample size, and also helpful A/B test sample size calculators.
What if there are more than two versions in the test?
The same sample size formulas are relevant, but here we distinguish between two goals: (1) finding the best and (2) showing that the standard version is not the best.
What is different about the second goal?
Suppose you have two new versions that you want to compare to the standard. Your best guess gives almost the same expected KPI to each of the new versions, with both of them improving over the standard. With very similar KPI's, you will need a large sample to know which of the two new versions is better than the other. But if you expect both to be better than the standard, you can "rule out" the standard version with a much smaller test.
To further illustrate the idea:
The current experience is getting a CTR of 1%. A new version is proposed with the expectation that it will increase the CTR to 1.2%. The expected difference is 0.2%, so you need an A/B test that will tell you what is the true difference to a higher resolution. A good rule of thumb is to aim for a resolution that concentrates 95% of the Posterior Distribution in an interval that is the size of the expected difference.
In this example, that means narrowing down the difference so that you are 95% certain about an interval of length 0.002. To achieve this level of accuracy, you will need a sample of 83,575 visitors to both pages. What if even a 10% improvement in CTR, to 1.1%, is critical? Then you would need to know the difference up to, at most, 0.1%. That will require a sample size of 319,290 for each version.
Now let's look at an example involving revenue per visitor:
A common scenario (often referred to as the Pareto principle)is that most visitors don't provide any revenue and, among those who do, a small number of "big fish" pull up the average, and also the standard deviation.
The current landing page has a conversion rate of 1%; on average, converters spend $20; the standard deviation in the purchases of converters is $25. That means the average revenue per visitor is $0.20. Marketing thinks that the new version will bring in more purchasers, upping the conversion rate to 1.2%, but will decrease the proportion of "big fish," so that the average conversion drops to $19 and the standard deviation to $22.
That translates to an average revenue of $0.228, an expected improvement of $0.028 per visitor. The A/B test will need to be large enough to narrow down the 95% credible interval for the difference in average revenue to no more than the expected difference, i.e. to $0.028. We will need 397,830 visitors to each experience to achieve that level of accuracy.
What if we want a stronger guarantee that we will find the important difference?
We advised above setting the sample size to control the width of the 95% credible interval. It is easy to reduce the chance of missing a valuable change by insisting on a higher level of probability, say 98% or 99%, but at the expense of increasing the sample size.
Can you stop a test early?
The probability that A is better (or worse) than B provides a natural metric to track as the test progresses. And a strong signal from the P2BB statistic can be used to guide early stopping. However, early stopping needs to be done with caution.
First, the Bayesian summary is not completely immune to data peeking. The P2BB will drift up and down during an experiment. This is especially true if there is no difference in performance between the variants, as in A/A testing. In that case, you will see that the P2BB increases and decreases as you collect more data. The fact that it crossed a threshold (like 95%) at some point during the test is not a guarantee that it would remain above the threshold if you wait until the planned termination time.
Second, it is always risky to stop before observing at least one full time cycle. Version B might be better for visitors at the start of the cycle, but worse for those later in the cycle. If you stop before the end of a full cycle, your results may be biased.
If you want to stop early, think about using stricter criteria for an early stopping point. For example, if you see that the probability becomes extreme (say above 0.999 or below 0.001), you can feel safe in stopping and making a decision. If there really is a difference between A and B, you can still expect to reach those thresholds relatively quickly.
Finally, we also reiterate the importance of waiting for time trends to reveal themselves in your test. You don't want to decide on the basis of a short time window only to find that the results are very different later in the day or week – suppose weekday visitors respond better to A than B, but that trend flips on the weekend. Making a decision Wednesday from an experiment that began on Tuesday might lead to a bad decision.