Shopping cart abandonment recovery strategy
Follow this proven strategy being used by some of the world's leading brands to reduce shopping cart abandonment throughout the customer journey.
In today's eCommerce industry, shopping cart and checkout abandonment are all too common behaviors among online shoppers. As our own data concludes, the average shopping cart abandonment rate today is around 72% and aggressively cutting into retail profits. As a result, many retailers have made abandonment reduction a primary goal and are devoting more and more resources towards achieving it. Fortunately, there are various tactics and personalization strategies that reduce cart abandonments to a minimum and induce greater returns.
To reduce cart abandonment and drive further sales and returns, eCommerce merchants should start by actively tracking and analyzing shopping cart abandonment KPIs. Many retailers find it effective to differentiate between checkout abandonment and cart abandonment. While cart abandonment refers to dropouts of customers with products left in their shopping carts and who had not yet begun the checkout process, checkout abandonment refers to customers who had abandoned the merchant's site during the checkout process.
The 3-stage shopping cart abandonment timeline
By learning about the behavioral characteristics of each group of "abandoners," merchants can tailor segmented experiences and execute personalized campaigns on the three stages of the abandonment "timeline," i.e. pre-abandonment, display of abandonment intent and post-abandonment.
Pre-abandonment
It's difficult to gauge visitor intent during the pre-abandonment phase (after all, your visitor may be just browsing your site without any true intention to buy) but it's probable to assume that some of the causes for their eventual abandonment may come from a user-experience (UX) perspective.
If your website seems untrustworthy or illegitimate then no one will buy from it. A trustworthy website can reduce hesitations and concerns and have a significant effect on users' behavior.
Trust may be affected by external factors, such as demographic variables, or prior, related experience, and by internal factors such as security seals, shipping policies, customer testimonials, and more.
Customers need to feel welcome and personally secure with the site they are purchasing from. Broken links, low-quality images, unresponsive pages, and site timeouts can cause visitors to lose trust in your brand and lose confidence in their purchasing decisions.
Displaying recognized verification seals and logos, allowing easy access to customer product reviews, and providing full disclosure on security policies, are three very effective ways to inspire trust in your brand and build confidence in your site.
According to Statista, unexpected costs, such as high delivery charges or hidden fees, constitute the most common cause for abandonment.
Simplifying the checkout process, providing upfront prices, clear payment methods and transparent shipping costs, can preempt customer inconveniences and dramatically reduce pre-abandonment dropouts.
In addition, refraining from mandatory registration requirements prior to completion of checkout (i.e. enabling optional guest checkout) may also increase conversions among pre-abandonment visitors and lead them through the purchase funnel more quickly and efficiently.
Simple, clear, and convenient site usability can often make the difference in turning a comparison shopper into a loyal customer.
Another powerful tactic to use pre-abandonment is to use the metadata you collect about your visitors to serve personalized product recommendations. Personalizing recommendations is not only a guaranteed strategy for improving recirculation, increasing monetization, and reducing exit rates but is essential to providing shoppers guidance, encouraging them to complete their purchases, and refrain from abandoning their carts. Remember, 85% of online shoppers are more likely to shop from brands that offer personalized discounts and offers.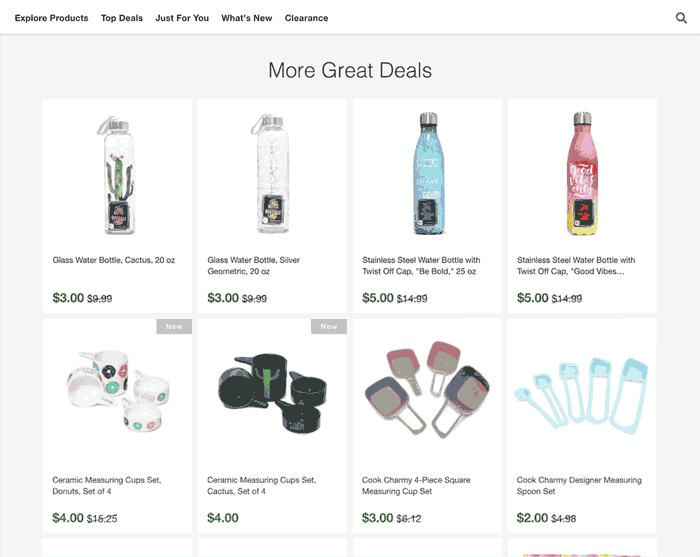 Abandoned cart recovery example
from an innovative eCommerce site: Crafting a personalized product feed to minimize abandonment by improving product discovery.
More on this use case →
Display of abandonment intent
There are a number of telling actions and intent signals on the shopper's part that trigger the alarm for potential abandonment. However, there are effective, automated personalization and shopping cart abandonment solutions that enable you to recover in real-time and turn those potential abandonments into conversions.
In a reality where most websites offer an overwhelming amount of content, consumers may feel lost. Using sophisticated behavioral targeting algorithms, eCommerce organizations can serve personalized and highly engaging messages to visitors upon display of exit intent.
Upon display of this behavior (such as an aggressive mouse movement to x-out of the page) triggering an incentivized overlay with limited-time offers, free shipping, money-back guarantees, or an inducement to sign up to a newsletter, is a powerful way of keeping visitors engaged prior to returning to their referral source.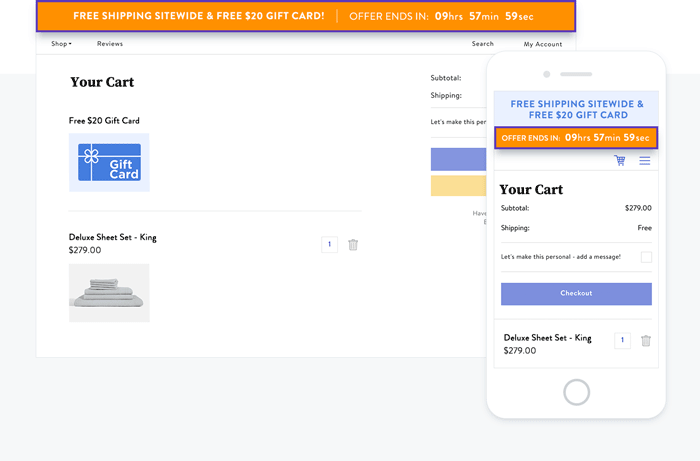 Shopping cart abandonment example
from a popular bedding and linen retailer: Using urgency messaging to encourage coupon redemption.
More on this use case →
Of course, that does not mean you should offer free shipping to anyone. Be smarter than this. Offer free shipping only when there's a business justification for this. You can do it for product types, based on average order value (AOV), geographies, etc.
To illustrate, let's say your visitor was just hit with unexpected shipping costs and has now decided to leave your site rather than proceeding to checkout. Upon noticing your visitor's exit intent, you can effectively re-engage by automatically triggering an exit-intent overlay or notification with a targeted promotion for completing the order now.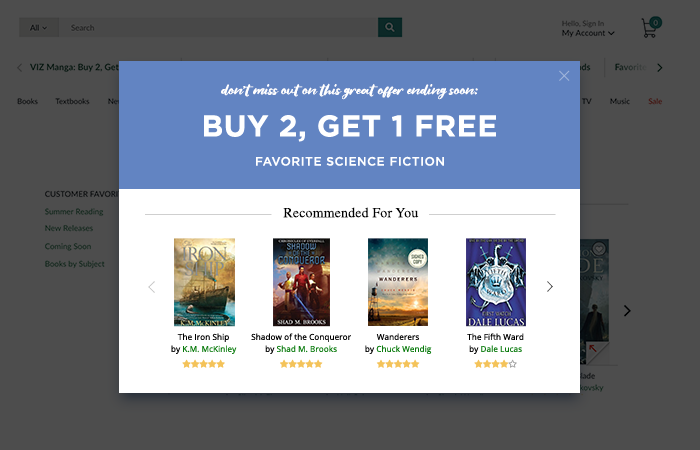 Shopping cart abandonment example
from one of the largest booksellers in the U.S.: Serving personalized incentives using exit-intent overlays based on user affinity.
More on this use case →
Another interesting strategy that is simple but yet effective in reducing shopping cart abandonment is to deploy flashing tab notifications that change the title of the abandoned browser's tab in order to grab the user's attention and drive them toward a purchase if they already have items in their cart:
Shopping cart abandonment example
from one of the largest fashion retailers in East Asia: Programming flashing tab notifications to re-engage tab abandoners.
More on this use case →
Another truly innovative use case for minimizing cart abandonment was deployed by one of Germany's leading retailers in the household appliances category: In order to prevent abandonment, this brand identified customers who were highlighting the product name with their mouse cursor (likely with the intention of copy-pasting it in another tab in order to price-shop) – and then displayed a surprise coupon code that grabbed their attention and encouraged many of them to convert during the same session.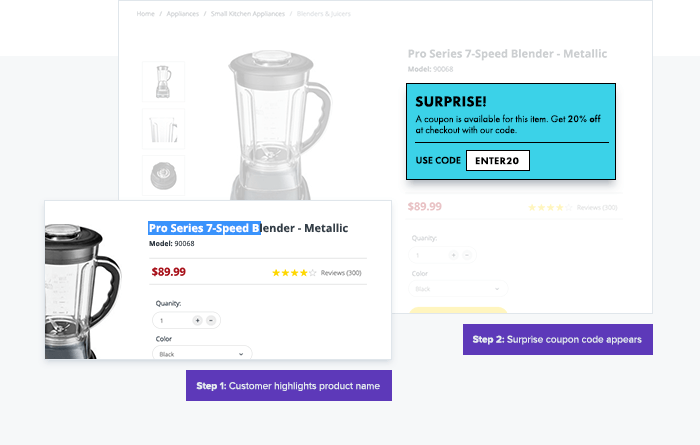 shopping cart recovery example
from a household appliances sub-brand of one of Germany's leading retailers: Targeting price shoppers with a surprise coupon.
More on this use case →
Post-abandonment
If your customer has abandoned their cart then there are a number of retargeting strategies and technologies you can leverage to encourage them to return. For example, merchants can retarget abandoners through personalized display ads, reminding them that they still have items in their carts and offering exclusive deals upon returning to complete their purchases. Personalized ads make use of a user's browsing cookies when they have visited a website to retarget these users with highly relevant promotions for products they have already displayed an interest in.
While online retargeting ads can be effective, marketers would be wise to invest in email campaigns that remain at the core of digital acquisition and customer retention. eCommerce brands can run personalized abandonment email campaigns notifying shoppers when out-of-stock items have been replenished or offer discounts urging shoppers to complete the purchases they left behind. According to Listrak, initial emails, sent three hours after a consumer abandons a cart average a 40% open rate and a 20% click-through rate (source). 
Shopping cart abandonment example
from one of the world's largest online grocery retailer: Sending time-based cart abandonment emails with recommendations.
More on this use case →
While sending personalized marketing messages is an extremely effective strategy to encourage returns, soliciting feedback from customers can help reveal the factors which led to shopping cart abandonment.
Regularly sending out surveys to your visitors and customers helps you stay on top of your customers' expectations, and informs you as to the most relevant and effective marketing strategies to employ in order to reduce future abandonments.
To conclude, shopping cart abandonment recovery solutions can be extremely effective for re-engaging customers throughout the various abandonment stages. Customer expectations are becoming increasingly demanding, and eCommerce merchants responsible for
omnichannel retailing
should embrace innovative new ways of meeting their needs on a personal level, across the customer journey.
Looking for more inspiration? Find over 100 website personalization examples, many which involve abandonment and engagement strategies to reduce cart abandonment.