Analyzing your unique selling propositions by audience to inform testing strategies
Build a repository of your brand's unique selling propositions to generate ideas, inform testing strategies, and understand your consumers. Here's how.
Once you've identified your Primary Audiences, the next crucial step is to determine what matters most to each audience. You may already have some understanding or assumptions about what is important to your customers. But a successful personalization program requires more than just assumptions. It is critical to thoughtfully lay out the unique selling propositions of your brand, agree on these as an organization, and then build a testing strategy accordingly to determine which points perform the best with your different audience segments. This data will inform many other decisions across the organization and can lead to a significant uplift in key metrics over time.
We know it's not easy work, which is why we've written this guide to help you ask the right questions and track performance over time. Here, we won't cover the specifics of A/B testing, but we'll set you up with the right information to begin those tests.
Step one: brainstorm your brand's assets
There are many benefits to building a list of unique selling propositions (USPs) with your Primary Audiences in mind. One: this will serve as a repository of ideas to test content, messaging, images, and more. Two: tracking the performance of each USP over time will give you important insights about what does (and doesn't) matter to your consumers in each segment.
In the brainstorming phase, we recommend opening up a spreadsheet and starting with a list of the important aspects of your brand that you think matter to consumers.
In the example below, you can see a template we've filled in from the point of view of a (fictional) Coffee Subscription Company that delivers beans to your door. Our unique selling propositions might look like the following: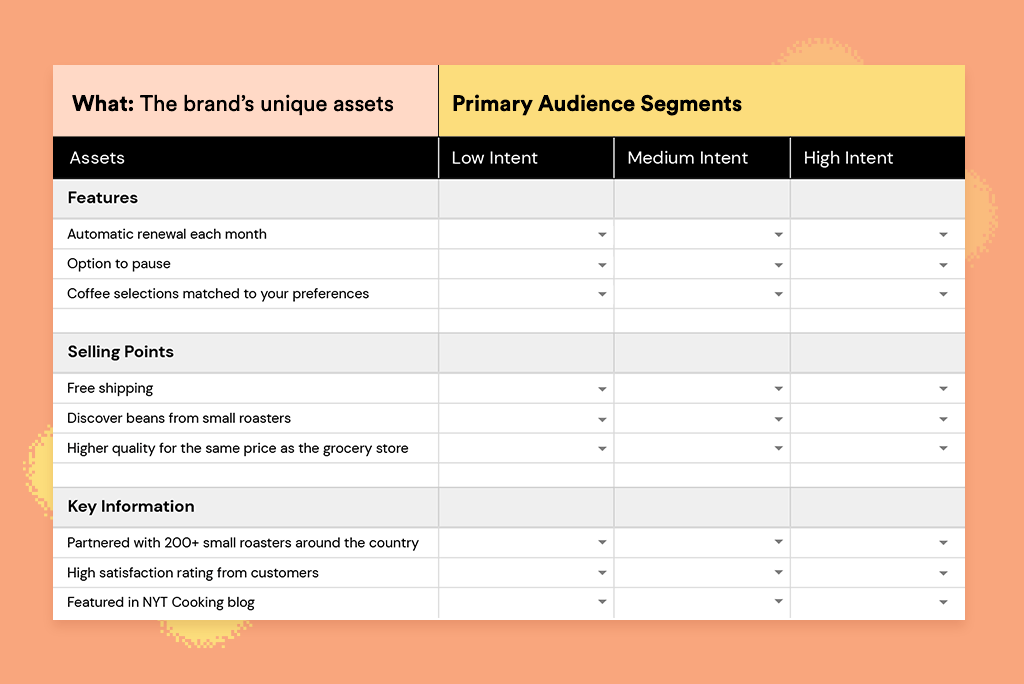 This sample spreadsheet has been populated with the unique selling propositions that may appeal to consumers of this (fictional) Coffee Subscription Company.
Features
A feature is an element on your website that a visitor can interact with. In general, they enhance the shopping experience and can increase product discovery.
For our Coffee Subscription Company example, features include the ability to pause an existing coffee subscription, adjust renewals (or trigger them automatically), and update taste preferences to switch up what will arrive in the subscription box. This will look different depending on your industry. Some other examples of common features include:
Virtual try-on
In-store appointment booking
Product finder quizzes
Location finders
Virtual stylist chat (different from a call center)
Calculators or quote builders
Identifying the features that are most important to your brand and are most important to site visitors will help you clean up landing pages and provide a more streamlined experience.
Selling Points and Key Information
Identify the unique information that would compel a visitor to purchase with your company over a competitor.
In this example, selling points for the Coffee Subscription Company include free shipping, the price point, and the element of easy discovery (a subscription box will expand your taste for minimal effort). These points will differ by industry, of course. Here are some other examples that may look familiar:
Generous return policy
Long warranty
Option to split payments
Fit or durability
Eco-friendly/sustainable
Competitive quote rates
Loyalty savings program
Capstone products (key items that your brand is well-known for)
Closely related to the selling points is other key information that a consumer might want to know when deciding to make a purchase. For our fictional Coffee Subscription Company, this information includes the fact that they are partnered with 200+ small roasters around the country (translation: variety and support for small businesses), they have a high customer satisfaction rating, and they were recently featured in the New York Times.
Again, key information will differ by industry and by brand. Some other examples include:
Brand or product awards
Endorsements
Customer reviews
Social proof (such as "trending on TikTok")
If you're struggling to identify unique selling propositions, try auditing the website from the perspective of a consumer. Consider additional insights that your business knows, such as the highest-performing ads, the social posts that have received the most engagement, and the emails that have had the highest click-through rates. Read through customer reviews to find out what people love.
The bottom line:
Don't rush through this step, and make sure to get buy-in from other departments if possible. Having a clear, aligned understanding of your brand's assets will streamline the path to personalization and ensure that you receive useful information from your testing strategies.
Step two: define this information by audience
Once you have the list of your brand's assets, create a first hypothesis about which information will be most relevant to your different Primary Audience segments.
Take a look at the hypothesis we built for the fictional Coffee Subscription Company: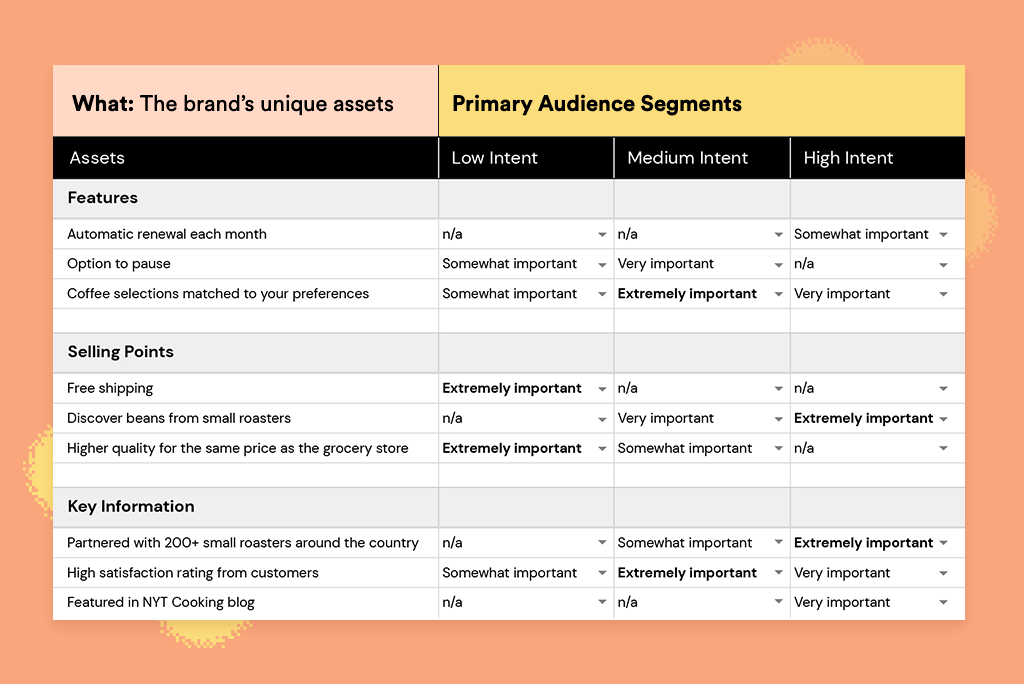 In this example, each point has been ranked by importance for each Primary Audience segment.
The primary audiences for this fictional Coffee Subscription Company are intent-based and segmented by Low, Medium, and High intent. Remember that this is just an example: your primary audience segments may look different, or may not even be intent-based.
Regardless of how you are thinking about your primary audiences, it is important to form a hypothesis about how important you think each brand asset will be for each audience segment. In the example sheet above, we have specified this with Somewhat, Very, Extremely, or not applicable for each line item.
A hypothesis like this one is highly useful and should be the foundation for your comprehensive testing strategies. As data comes in, you can update your sheet accordingly to track which selling points are actually performing the best. The results may surprise you.
The bottom line:
Identifying the gap between your hypothesis and the actual content performance will provide critical, data-backed insights that will help you understand your consumers, benefiting the entire company and providing a roadmap for your personalization program.
Taking it a step further
An exercise like this one can be useful for more than just your brand's selling points; it can also help you identify key differentiators between products and product categories, and it can help you find out which products perform best for your different Primary Audiences.
Once you feel comfortable with your overall brand assets, try applying this exercise to your product categories or individual products.
In this example, we have applied the exercise to a (fictional) credit card with travel benefits:
Here, we've written down the unique selling points for a single product (a fictional travel credit card). We have made a hypothesis about which pieces of information will perform best for each audience segment.
Doing this exercise for your products, or at least product categories, will help you gain clarity on selling points, identify testing opportunities, and discover which messages resonate best with each Primary Audience, enabling you to optimize every single page on your site.
This data creates a strong foundation for understanding your consumers, paving the way for true 1:1 personalization.