Who:
One of the UK's leading football clubs
Strategy:
In order to encourage new customers to buy directly from the official club shop, the football club identifies visitors who are researching prices and serves personalized notifications that explain why loyalty matters.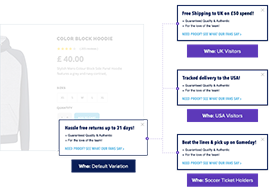 Hypothesis:
Building customer loyalty is an essential element of any business' long term growth, and educating customers on the benefits of being a loyal customer is a great first step toward achieving it. Smart notifications can help draw a user's attention to a message, personalized to the individual to increase relevance and encourage engagement. These loyalty notifications are great for reaching shoppers while they are still in the discovery phase, and if done properly, will turn one-time shoppers into lifelong brand loyalists.
Templates that can be used to achieve this:

Your Dynamic Yield account comes preloaded with a rich library of personalization templates, so that you can launch personalization use-cases instantly without requiring any additional design and development effort.

Discover the Template Library