Who:
A large consumer insurance services company in the United States
Strategy:
To drive user action, the company leveraged visitor contextual data such as weather and location, to craft relevant and engaging homepage experiences. Using this data, the company was able to deploy welcome messages, email signup overlays and more to personalize experiences for first-time, anonymous visitors in real-time.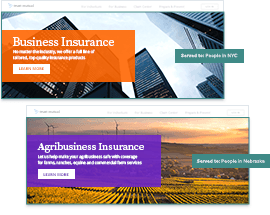 Hypothesis:
In order to capture the attention of new site visitors, generic homepage banners won't cut it. These first-time visitors need to be welcomed in an inviting and personal way. Using contextual data, such as weather data for a user's geo-location, brands can increase site engagement. For example, an insurance company can serve a promotion for flood insurance on the homepage to new site visitors in tropical regions to connect with them on a more individual level. By doing so, new users can easily find what they might be looking for, diminishing their likelihood of visiting another site.