Who:
A large French online casino company
Strategy:
To generate anticipation and excitement among site visitors, the iGaming company displayed an overlay when a customer arrived at the site, using a countdown-based timer to drive urgency.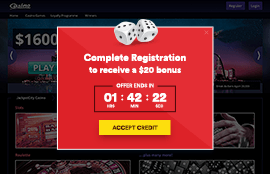 Hypothesis:
The use of urgency messages is powerful when companies are trying to raise awareness about an exclusive or time-sensitive promotion. This strategy keeps offers top-of-mind and encourages users to act fast and act now. For returning site visitors, who may have forgotten about a sale, display a countdown timer upon arrival to nudge them to take action. Gamers will likely act on the promotion due to fear of missing out on a good deal, ultimately increasing site conversions.