Who:
A large publisher of pet-approved health info
Strategy:
In order to increase Android app downloads of their native mobile app, the publisher used a Dynamic Content banner on the mobile website, constantly optimizing the copy and call-to-action.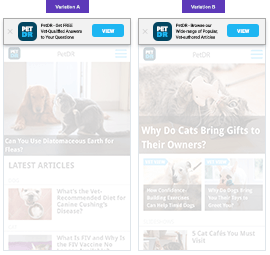 Hypothesis:
Mobile users often find themselves on a brand's mobile site, but these sites tend to be less sophisticated than a brand's mobile app. In addition, downloading a mobile app has an element of permanence; the icon lives on a user's screen, increasing the likelihood a user will organically re-engage with the brand on a consistent basis. This activity can be encouraged by triggering a top banner bar when users are identified as browsing on a site using their mobile device. Further, elements of the experience such as copy, CTA, and content can be optimized, allowing brands to determine the winning variations that drive new MAUs for different segments over time.
Templates that can be used to achieve this:

Your Dynamic Yield account comes preloaded with a rich library of personalization templates, so that you can launch personalization use-cases instantly without requiring any additional design and development effort.

Discover the Template Library