Who:
Southeast Asia's largest hotel network
Strategy:
The hotel network entices its visitors to complete bookings with personalized, time-sensitive coupons that appear on hotel pages. Visitors receive their codes on varying hotel pages based on each visitor's likelihood to book a room currently in view, and the coupons disappear if not redeemed within a set amount of time.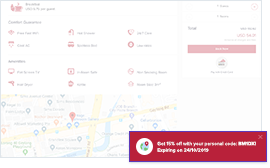 Hypothesis:
The nature of travel planning often includes a great deal of research, exploration, and evaluation before finalizing a decision, which can lead to hesitation and delay the booking process. Unsure of the exact right option to settle on, sometimes visitors need to be incentivized with the right deal to motivate them to act. While on a hotel page, for instance, marketers can serve time-sensitive coupons, personalized to the visitor based on their likelihood to book. By introducing this new consideration, the individual's reservations will take a back seat to taking advantage of a great offer, providing them the confidence they need to make a decision.
Templates that can be used to achieve this:

Your Dynamic Yield account comes preloaded with a rich library of personalization templates, so that you can launch personalization use-cases instantly without requiring any additional design and development effort.

Discover the Template Library