Who:
Large discount retailer selling all items at a flat rate
Strategy:
In order to overcome the deterrent of high shipping costs for low priced items, the discount retailer used a single multivariate multi-touch test to identify the optimal flat shipping cost for any item at any cart value, leading to enhancements throughout the entire supply chain.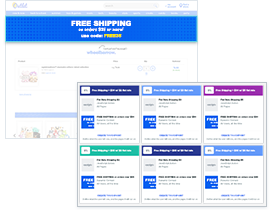 Hypothesis:
For brands looking to better optimize the checkout experience, appropriately matching the value of the items in the cart to the cost of delivery can have a massive impact on whether or not a shopper moves forward with a purchase. Through multivariate testing, marketers can identify which configuration of elements is the most successful in terms of conversions, whether it's "Free Shipping" vs "$5 Flat Rate Shipping" or another combination of options.