Who:
Online lingerie and loungewear brand
Strategy:
To keep users at every stage engaged, the retailer created contextualized bottom bar notifications on both mobile and desktop devices. Message variations included "complete quiz", and "get free 2-day shipping". Different notifications were presented to different audience segments based on-site behavior.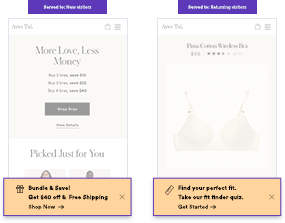 Hypothesis:
Using bottom-bar notifications is just one of the many ways to catch a user's attention. One way to encourage site visitors to engage with these notifications is by prioritizing different messages for different audience segments, ensuring each call-to-action resonates with who it is being served to. For example, encourage cart abandoners or users who have browsed multiple products to complete a purchase by offering "free 2-day shipping" using the bottom bar notification.