Who:
Large International QSR
Strategy:
On kiosks and digital boards, this large international QSR used personalization to prioritize products that fell within a customer's loyalty point range. On the menu, the company added a personalized banner with the customer's name and their current point count; items available within that point range subsequently appeared first on the menu, with easy buttons to immediately add them to the cart. By making this information prominent, the company was able to 1) promote the loyalty program and remind customers of the rewards associated with repeat business; 2) increase product discovery by highlighting new products available to try "for free" with points; and 3) get customers thinking about items they'd like to have, increasing the chance that a customer would overspend their point count and generate additional revenue with a larger cart size. Overall, this strategy led to a lift in revenue from returning customers and increased engagement with the loyalty program.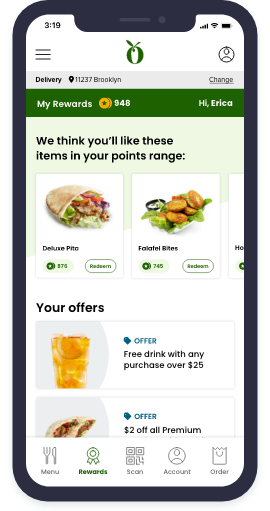 Hypothesis:
Companies see more revenue overall when their returning customers are both incentivized to continue spending and delighted by exposure to new products. A loyalty points system works well to achieve both of these goals, but only if the customer is aware of the program and the perks available to them at any given time. Personalization allows for a one-on-one experience that can keep each individual informed of their unique loyalty perks. By implementing the above strategy, this leading QSR hoped to maximize the benefits of its loyalty program, increase product discovery, and achieve a lift in revenue.